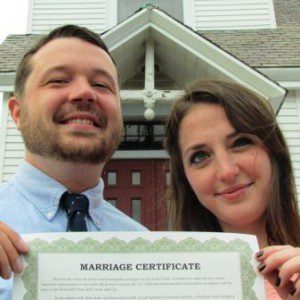 Here's a question that I've actually received a number of times: There is an error in my name as it appears on my marriage certificate. I am very unhappy in the marriage. Does that mistake mean that my marriage is null and void and I can walk away without having to go through a divorce? 
Hey, that would be easy, wouldn't it? I wish the IRS would spell my name wrong when they mail me things and then I wouldn't owe taxes!  You know things do not work this way.
Scrivener's error dates back to previous centuries when a "scrivener" would copy a document down word-for-word.  This occurred before the invention of photocopiers, scanners and other such devices.  Being human, scriveners made mistakes.  So the law decided that such minor errors would not defeat the legality of a document.
For example, scriveners hand-wrote deeds into the books of a registry of deeds.  Property boundaries in such deeds might contain a typographical error. This failed as a defense for your neighbor to claim part of your yard if in fact it was an honest mistake.
Even today, clerks and others face the task of entering data into public records.  So, in your case, a clerk may have made an innocent mistake entering your name into the system to produce your marriage certificate.  So, if you entered the marriage with the intent to marry, the typo provides no "get out of jail free" card, invalidating your marriage.
My answer to your question comes in as a no.  The typographical error or other mishap in the creation of the document provides no simple escape valve.  The scrivener's error concept continues despite the invention of scanners, copiers and other devices.  The human factor means honest mistakes are made.
Name Wrong on Marriage Certificate – Now What?
Errors in legal documents sometimes happen even though they are to be avoided at all costs.
You may or may not have had the opportunity, or the emotions of the moment may have deflected your full focus. But, this provides one of many examples indicating that one should never sign a document or accept a document without reading it first. Even those pesky lengthy gym membership and cell phone contracts jammed with small print should be read in their entirety before signing.
Here are more legal topics: click here.