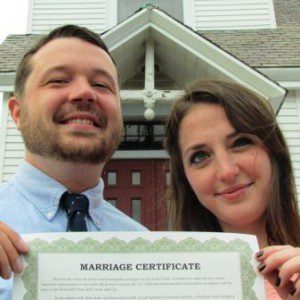 Here's a question that I've actually received a number of times: There is an error in my name as it appears on my marriage certificate. I am very unhappy in the marriage. Does that mistake mean that my marriage is null and void and I can walk away without having to go through a divorce?
Hey, that would be easy, wouldn't it! I wish the IRS would spell my name wrong when they mail me things and then …. no, you and I can't even think this way.
Scrivener's error is a term meaning something similar to a clerical error. For example, in the description of the property boundaries in a deed there may be a typographical error. This does not, without more, mean you own your neighbor's yard.
In your case, if it was an innocent mistake on the part of the clerk who entered your name into the system to produce your marriage certificate, and if you entered the marriage with intent to marry, the typo is not a valid "get out of jail free" card, invalidating your marriage.
Name Wrong on Marriage Certificate – Now What?
If you're getting a divorce you'll need a copy of the marriage certificate to submit to the court.  But, you'll still need to go through the full process in order to obtain the divorce.  Errors in legal documents are not a pretty thing, but it does happen.
You may or may not have had the oppportunity, or the emotions of the moment may have deflected your full focus.  But, this is one of many examples indicating that one should never sign a document or accept a document without reading it first.  Even those pesky lengthy gym membership and cell phone contracts jammed with small print should be read in their entirety before signing.
Here are more legal topics: click here.