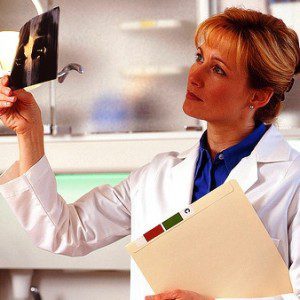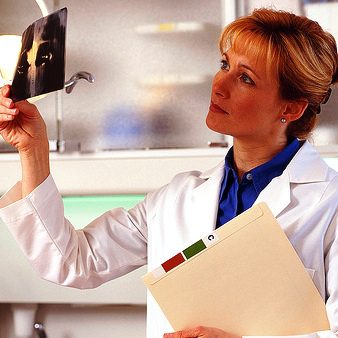 Heavy impact on the human body can fracture bones.  This seems obvious.  But, in a court of law, cause and effect and the extent of damages must be supported by expert medical testimony.
For example, a passenger in a motor vehicle breaks an arm when the driver looks down to change the radio station, losing control and driving into a tree.  In a minority of simple cases like this, the cause and effect might be so clear that the courts have held that no expert testimony is required.  However, one case like this dragged through the trial courts and the state supreme court before this result was achieved.
So, anyone alleging personal injuries must have evidence from an expert.  Physicians and other medical care practitioners can qualify as experts where their education, training, experience and other factors qualify them to testify about the nature of an injury and the fact that it was caused by a particular act of negligence.
Plaintiff's Burden of Proof
"But I was the one that was hurt, why do I have to prove anything?"  This is a frequent complaint.  But, in court, the injured person who brings the case, the plaintiff, has a burden of proof to show by a preponderance of the evidence that they were injured as a result of the negligence of some other party.  This burden is achieved where there are medical records establishing what the injuries were, how they progressed, to what degree the patient may have been disabled, and other factors.
Sometimes this might be proven where the actual physicians or other medical providers are willing to testify based on their own observations as the treatment providers.  Most times, because some doctors are in fact too busy, or simply don't want to participate in the legal system, justifiably or otherwise, a reviewing doctor is required.
Medical Records as Inadmissible Hearsay
"Can't I just show the judge or jury my medical records?"  This raises evidentiary issues.  Medical records are hearsay.  Sometimes there are ways around this.  Each state has its own rules of evidence.  In many, hospital records can be introduced into evidence where a statutory procedure for business records or, specifically, hospital records is properly followed.  In a very few states, there is a process for getting the physician who kept the record to sign an affidavit, and if the statutory procedure is followed, the record itself is in fact allowed into evidence.  In Massachusetts this is available under MGL c. 233 Section 79G.  However, again, in many states this is not available.
Because records are hearsay, it is in fact often required that a live medical expert witness be brought to the courtroom to testify.
Expert Testimony – Presentation
This summary scratches the surface of many substantive, evidentiary and procedural issues confronting anyone going to trial.  Do not be like the guy I saw in court once who represented himself, closed his eyes to the procedural requirements, only to see opposing counsel successfully object to all of the evidence, resulting in a dismissal.