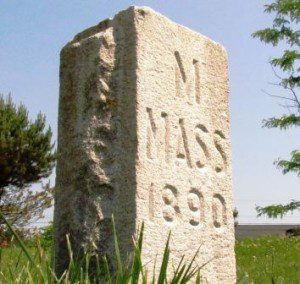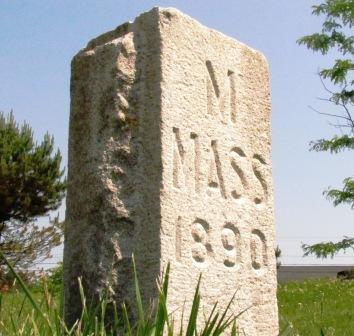 Granite monuments designate boundaries between states at many spots as a physical reminder of state lines.  People cross the lines every day with hardly a thought.  But, state lines pose barriers to residents of one state, attempting to bring a resident of another state into the local court.
Bringing a resident of another state into the local court requires personal jurisdiction.  This requires a showing that the court can reach out and touch someone in another state under a 'long arm statute' forcing them to defend themselves in the local court.  Also, that process may not violate due process under the U.S. Constitution.
The out-of-stater must have what the law calls "minimum contacts" in the state where jurisdiction is sought.  The issue comes up with internet sales across state lines.  This often involves a computer listing, not a series of interstate contacts.
Long-Arm Jurisdiction in Contract Cases
Internet sales challenge traditional jurisdictional concepts.  So, courts developed a sliding scale approach, weighing the nature and quality of web activity.
At one end of the scale are people or businesses whose web presence knowingly and repeatedly transmit files over the net.  This activity justifies personal jurisdiction in another state.
At the other end of the scale are those who simply post information on a website, viewable worldwide.  Passive websites doing little more than making information available anywhere rarely raise grounds for the exercise of personal jurisdiction.
Between those two extremes, courts consider the nature and extent of information exchanged and the level of interactivity between buyer and seller.
So, there was no jurisdiction in Massachusetts where a resident bought what turned out to be a claimed fake antique car from a New York resident over eBay.  There was no evidence the New Yorker had any contacts with Massachusetts other than the single sale.  [Ginsburg v. DiNicola, U.S. District Court, 2007.]
A similar result came when a New Hampshire resident purchased equipment with claimed defects from a New Jersey resident over eBay.  The court ruled that the out of state private seller did not engage in sufficient activity to make it fair and reasonable under the Constitution to require them to defend the case outside their home state.  [Metcalf v. Lawson, NH Supreme Court, 2002.]  As of this writing, this rule is followed in a majority of U.S. states.
Long-Arm Jurisdiction in Accident Cases
In the injury context, an out of state resident who commits a negligent act in the state will nearly always be subject to long arm jurisdiction in the state where they caused damages.  It is the causing of an injury by a negligent act in the state that extends long arm jurisdiction.
Disclaimer Civil & Criminal Long-Arm Distinguished
Finally, these are civil cases.  Those who break criminal laws in one state and try to hide in another state find that the long arm of the law has less difficulty reaching out and grabbing them.  This civil law summary does not apply to criminal proceedings.