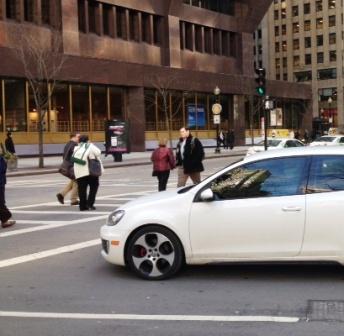 Motor vehicle accidents happen more often than not due to driver inattention. Jabbering on the cell phone, texting, eating, drinking, turning to communicate with passengers, daydreaming and many other distractions reduce driver attention.
Unfortunate but true, tragedies like this are not uncommon. More people are using phones every day as our technology world continues to update, and when boredom hits behind the wheel, it is a source of entertainment.
Cell phones and accidents present growing legal issues.
Whether the distraction breaks a state law or not, any cause of driver distraction, legal or not, is negligence when it causes a collision.
Cell Phones and Accidents in Court
One court clarified that issue in a case in which a woman crossing the street in a crosswalk was hit and killed by a car whose driver had been on the cell phone. Prosecutors obtained cell phone records. Admitted into evidence, the records revealed the driver had been on the cell phone making and receiving a number of calls in the 35 minutes before the crash, even in the minutes immediately leading up to the collision.
A jury convicted the driver of negligent homicide. The driver appealed, claiming cell phone records should not have been admitted and seeking reversal of the conviction because cell phone use while driving, at least for adults is not prohibited in the jurisdiction.
Can Legal Use of Cell Phone While Driving Constitute Negligence?
On appeal, justices explained that the issue is not whether cell phone use is legal or not. The issue is whether inattention caused by cell phone use or any other "legal" activity, resulting in the failure to avoid hitting a pedestrian in a crosswalk demonstrates negligence. The jury's conviction of the driver was upheld.
The case is a motor vehicle homicide matter. The level of carelessness required to establish criminal negligence is much higher than that for ordinary negligence. So, if evidence of cell phone use can underlie a sustainable criminal conviction, it is fairly clear that such evidence can underlie the lower standard in civil cases such as ordinary motor vehicle accident injury cases.
Cell Phone Records in Court
Admission of cell phone records was sustained as relevant. The court found the probative value of the evidence was not substantially outweighed by the danger of unfair prejudice, confusion of the issues, or misleading the jury. This is why in car accident cases, cell phone records are regularly requested and subpoenaed on drivers alleged to have negligently caused accidents and injuries.
The case summarized above, State v. Dion, was decided February 8, 2013 by the NH Supreme Court. Cell phones and accidents create issues in civil negligence cases in all 50 states. Cell phone use, whether legal or not, texting and other distractions causing driver inattention and resulting in car accidents can underlie findings of negligence in most if not all jurisdictions.