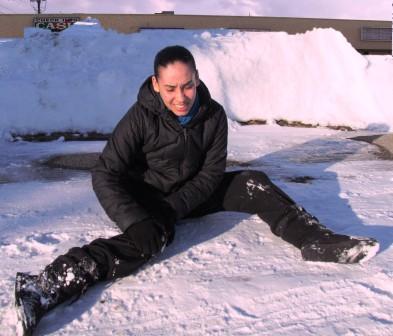 Snow and ice cases, where injuries are claimed for a slip and fall, present unique issues.
A slip and fall on slippery snow or ice can cause serious injuries.
But, the happening of an accident and injuries does not automatically entitle the injured person to a recovery.  Fault must be established on the part of the property owner.
New England courts have actually stated that where snow is a part of life, people are expected to know how to safely walk in it.  The general standard in many states, including Massachusetts and New Hampshire where my offices are licensed, is that in order to establish negligence one needs to show that the property owner failed to reasonably maintain the premises.  Negligence only occurs when a landowner fails to do something that a reasonably careful person would do, or does something a reasonably careful person would not do.
Here's one explanation:
at 10 o'clock at night on a Sunday evening, you can't expect a landlord to be out there saying, "Oh, it's now 32 degrees. I'm going to throw out some salt and sand." It just doesn't happen that way. Property owners are not required to guarantee the safety of those on the property.
On the other hand, where dangerous accumulations of slippery snow and ice remain hours after the end of a storm in front of a large mall, establishing fault is more likely.
 Snow & Ice Injury Negligence Standard
Under the now obsolete "Massachusetts Rule" there was no liability for a natural accumulation of snow and ice, sometimes called an "act of God."  Instead, courts held property owners liable only where an artificial accumulation caused injury.  Classic artificial conditions were tire ruts through slush, which later froze into tripping hazards.
The Massachusetts Supreme Judicial Court overturned that law in 2010 in the case of Papadopoulous v. Target Corp.  The case involved a shopping mall and appears to warn commercial property owners to step up snow and ice clearing efforts to a reasonable standard.
New Hampshire courts hold a "duty to maintain reasonably safe conditions" as the subsantially similar snow and ice standard.
Duty to Clear Ice and Snow
Applying the reasonable care standard is done case by-case.  Factors include the amount of foot traffic anticipated on a property, the magnitude of potential risks, plus the burden and expense of removing snow and ice. A landlord might not be duty-bound to go out in the middle of the night and spread salt and sand.  But owners of malls and other commercial properties are much more likely to be held to a duty to clear ice and snow in parking lots after a reasonable period of time following a storm.
Establishing what is reasonable also varies depending on the type of property; a single-family home, an apartment complex, a store or a nursing home.
Snow and Ice Cases
Here are some actual snow and ice cases successfully handled by my office:
Woman fractures leg on patch of black ice at bank entrance.  Photographs showed that bank had done building renovations including removal of gutters, which were all piled up in back of building, where they were not doing their job of preventing water from snow melting on the roof and dripping down onto entranceway, freezing.
Ankle fracture caused by ice on stairway leading to community building.  Uneven cement steps with slippery aluminum edges, allowed pooling water which froze, and was concealed under incompletely removed snow.
Grocery store had roof gutters draining directly into parking lot, which sloped down and away from building.  Snow melted during day, water poured in stream across parking lot, which froze at night, causing ribbon of black ice.