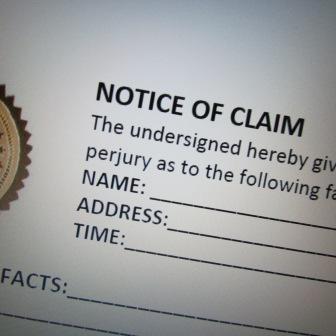 Notice requirements compel those injured in an accident to notify proper authorities within a certain time frame.  Otherwise, they lose the ability to make a claim.
Many people understand statutes of limitation. Such laws give an injured person a certain number of years after an accident to file a proper complaint in a court with jurisdiction, or the case is barred forever.
By contrast, notice provisions require proper notification within a set time after an accident.
Notice Requirements Vary by Type of Claim
Auto insurance companies require reasonably prompt notice after a car accident.  This applies to claims for property damage, payment of medical bills, payment for your lost wages and other claims.
State laws sometimes require 30 day notice after a slip and fall accident.
Suing the government, any government at any level, nearly always requires compliance with numerous legal requirements, one of which is often an initial "notice of claim".  After that, "presentment" procedures require injured parties to spell out the substance of the claim and to provide documentation long before the statute of limitations runs.  The theory is the government must be given an opportunity to consider settlement before a lawsuit is filed.
Each state, each municipality, and the federal government all have their own procedural statutes and regulations imposing a variety of notice rules.
An extreme example is presented by auto insurance uninsured claims.  It is not unusual for an auto insurance policy to require that notice be given to police either immediately after a collision, or no later than 24 hours after the accident.  Without proper notice the insurance company will deny an uninsured claim.
Form of Notice
There is no such thing as a standard form notice of claim.  There may be official looking documents in allegedly legal software or in big box stationery store document packages.  But, each statute and regulation specifies the content and form of notice that is required.
For example, the notice required after a slip and fall on government property, and a notice for the same slip and fall on private property are distinct documents, not to be confused with a notice to a claimant's insurance company preserving the right to bring later claims for medical bills, lost wages or other claims.
Notice Requirements: Quick Action Needed
Some procrastinators might understand the concept of a statute of limitations and play chicken with the law by waiting until the last minute.  But, it's often far more important to give notice of the claim very soon after the accident in order to preserve the right to make a claim later.
Notice requirements are one of many reasons why retaining an experienced personal injury attorney as soon as possible after an accident is critical, to ensure that important rights are not unintentionally waived.