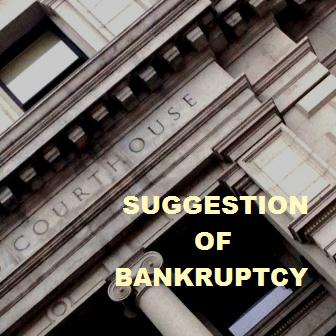 A Suggestion of Bankruptcy is a document filed in court giving notice that one of the parties in a pending case has filed bankruptcy.  If the party is a defendant the filing stops the case by virtue of the automatic stay of bankruptcy.  However the document can also be filed by plaintiffs, requiring the court to take notice.
Suggestion of Bankruptcy Requirements
The Suggestion of Bankruptcy includes the caption of the case, stating the names of all parties in the case, as well as the proper identification of the court and the docket number.  Other items include the party's Bankruptcy Court case number and date of filing.
If filed on behalf of a defendant, the Suggestion of Bankruptcy includes a simple statement that the civil action in which the suggestion is being filed is founded on a claim that would be discharged.
Bankruptcy attorneys filing the Suggestion of Bankruptcy clearly indicate that the document is filed only for informational purposes, and does not constitute a notice of appearance by that attorney.  This clarifies that the purpose of the document is as notice of the fact of the bankruptcy filing, but that the attorney is not in any manner now appearing for the party and is not drawn into the case in the other court.
Suggestion or Order?
The filing of a bankruptcy brings an order for relief, with full power of a federal injunction.  It is automatic.  The immediate effect stops all collection activity against the debtor including lawsuits.
Contrary to popular belief, attorneys do not "tell" courts what to do, but rather we usually present arguments.  However in this case, the document "suggests" that the court's action has been stayed by operation of 11 U.S.C. § 362, the provision of the U.S. Bankruptcy Code creating the automatic stay.
Suggestion of Bankruptcy Filed After Bankruptcy Filing.
Debtors sued by collection attorneys sometimes ask whether they can just file a suggestion of bankruptcy.  Won't that make the collection attorney back off?  The answer is no.
The Suggestion of Bankruptcy is filed after a bankruptcy filing, as notice of the filing.  In one case a court found the filing of a Suggestion of Bankruptcy where a bankruptcy had never been filed a willful abuse of the judicial process.  [In re: Hackney, Bankruptcy Court, M.D. Fla, 2007]  Most collection attorneys have heard it all and are unlikely to back off under a promise or a stated intent to file later.
Legal Precision Required
Some jurisdictions call the document a "Notice" of Bankruptcy.  Some courts don't accept the document, or have particular requirements as to other documents or information required simultaneously.
The above overview presents a summary of what attorneys can do to notify courts of the automatic stay of bankruptcy.  Such documents and the bankruptcy filing itself should never be done by anyone other than experienced counsel in the jurisdiction.  My office represents consumer bankruptcy clients in New Hampshire and Massachusetts.