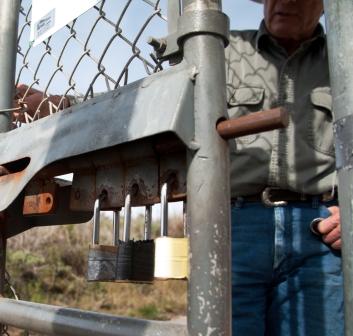 Spoliation of evidence occurs when a relevant document or physical evidence is destroyed, altered or intentionally withheld.
Courts can impose punitive sanctions against those who damage or destroy evidence.
The legal theory holds that a party's destruction of evidence shows consciousness of wrongdoing or motive to avoid evidence.
Spoliation of Evidence Penalties
In one case a bicyclist sustained traumatic brain injury when a large metal gate suddenly swung open into the street, causing the cyclist to fall, striking the pavement.  After the accident but before trial, the gate was removed and destroyed.  As punishment for spoliation, the court prohibited the property owner from arguing at trial that the gate was secured the day of the accident or that the gate had not been blowing out into the street.
The appeals court upheld sanctions.  The appeals court explained that the loss of the evidence prejudiced the injured party's ability to present his case fairly.
In another case a landlord was barred from presenting evidence relating to porch columns in an area where a visitor fell, sustaining serious injury.  Before trial the columns disappeared.  In this case the injured person's attorney was allowed to question the landlord, in front of the jury about the unavailability of the columns.  Sanctions for spoliation of the columns included a jury instruction that jurors could draw an adverse inference due to the unavailability of the evidence.
Evidence Destruction is "Pernicious"
Courts have held that the destruction of relevant evidence has a pernicious effect on the truth-finding function of civil law.  The doctrine of spoliation permits the imposition of penalties where a party to a law suit negligently or intentionally loose or destroy potentially relevant evidence even when the spoliation occurs before the case is filed.
Penalties also came into play where a hospital negligently lost or destroyed medical records essential to a malpractice claim.
In another case the owner of a machine used to compact aluminum cans destroyed the device shortly after the machine malfunctioned, crushing a man's arms and causing other catastrophic injuries.  The injured person's attorney was allowed to argue to the jury that owner of the machine destroyed the device in order to hide evidence of negligence.
Spoliation of Evidence Notice and Penalties
Penalties for spoliation of evidence can include dismissal of the wrongdoer's claim, entering judgment against the party, excluding crucial expert or other witnesses, and allowing adverse inferences against spoliators.  Spoliation of evidence law varies widely from state to state.  After an injury or accident it can be critical to retain an experienced personal injury attorney immediately to formally notify others to preserve relevant physical evidence or documents.