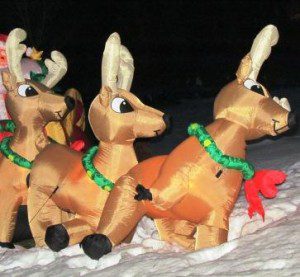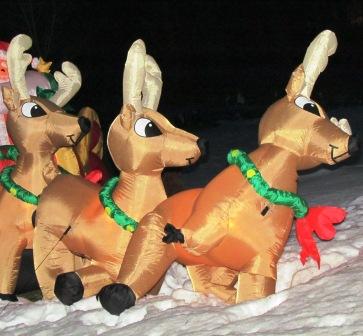 The Three Reindeer Rule summarizes the law on when government Christmas displays are acceptable.
U.S. Supreme Court "Three Reindeer Rule"
In Lynch v. Donnelly, a 1984 U.S. Supreme Court decision, the court found that religious elements of a display were proper where they were part of a larger holiday expression including Christmas trees, Santa Claus and other such symbols.  There's no Constitutional violation in a display on government property of a nativity scene where it's included as part of a larger display including a variety of non-religious symbols.  The case analyzed a privately sponsored display on government property in Pawtucket, Rhode Island.
Some legal observers remarked that a nativity scene might find acceptance if three reindeer were placed around it.  Also known as the 'endorsement test', the Three Reindeer Rule requires municipalities to place a sufficient number of secular objects in close enough proximity to a nativity scene to render the overall display sufficiently non-religious.
"No holiday season is complete … without one or more First Amendment challenges to public holiday displays."
Those words were penned by a New York federal judge in a case exploring the issue of why some New York schools allowed a Chanukah menorah and an Islamic star and crescent, but not the Christian nativity scene.
Annual Challenges to Public Christmas Displays
Contrary to popular belief, no U.S. Supreme Court case has ever prohibited government at any level from displaying Christmas trees on public property.  In fact, the Court held the opposite in the 1989 case of County of Allegheny v. ACLU, holding that Christmas trees, unlike menorahs are not religious symbols.
Although Christmas trees once carried religious connotations, today they typify the secular side of Christmas.  In County of Allegheny the court observed that many Americans place Christmas trees in their homes without subscribing to Christian beliefs.  So, when a municipal tree stands alone in front of a government building, it is not considered an endorsement of Christian faith.
The Supreme Court in Lynch also declared Christmas a National Holiday observed for two centuries.  Celebrations of such public holidays, the court explained, even if the holidays have a religious aspect, serve a legitimate non-religious cultural purpose.
Beyond The Three Reindeer Rule
A Massachusetts Registry of Motor Vehicles office just south of Boston got one single complaint about a Christmas tree, wall decorations and a Santa  Claus in 2012.  The display was quickly removed.  One complaint brought the dreaded RMV to its knees, when it is likely the display fully complied with the law.
Parents went to a Christmas recital in King's Park, NY in 2013 and heard the kids sing "Silent Night" with religious references sanitized.  School officials removed phrases such as "Holy Infant" and "Christ the Savior" trying to keep from offending non-Christians.  Problem was, many parents were offended and "embarrassed" by the scholastic editing.  The administration later apologized.
To turn a phrase by a famous columnist many Christmases ago:
Yes, Virginia, there is a Santa Claus.  He's down, but he's not out.
______________________________________________________________________________________________
Christmas, 2013 blog post borrows portions from an article © 2012 Eagle-Tribune Publishing Co. by Andrew D. Myers, published in Derry News "ABOUT THE LAW".