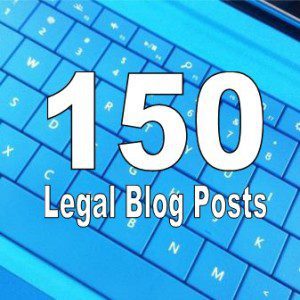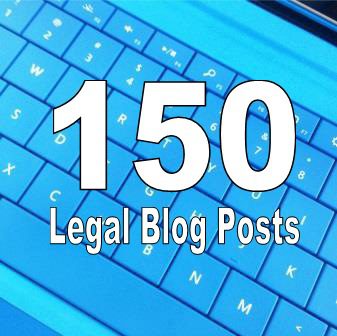 The Law Offices of Andrew D. Myers announce that we have now posted 150 blog articles.  This milepost indicates the sharing of legal basics, the highlighting of legal trends and analysis of breaking new case law.
Many of our legal blog posts focus on our two primary practice areas, personal injury and bankruptcy. But the office legal blog also explains the status of the law on such diverse topics as drones, the growth of surveillance cameras seemingly everywhere, privacy rights and health care.
Here is a review of some of the topics we've shared:
Personal Injury Blog Posts
Many of our legal blog posts cover the basics.  These are the building blocks of what a personal injury case is all about.  But often these basics are not fully explained as they should be to those who need to know.
What is Negligence Law? What is a Tort?  Negligence Law Basics
Contingent Fee Agreements  What is a Contingent Fee Agreement
Slip and Fall Accidents  My case is open and shut.  Isn't it?
Injuries on the job and workers compensation accidents  Workers Compensation Basics
Preexisting Injuries and Conditions  Preexisting Injuries & Conditions
Claims against the government  Suing the Government
Why not to wait in filing a personal injury claim  Passage of time no friend to a claim
Never give "Statements" without an attorney  Statements and Caution
The most frequently asked question by clients and potential clients:  What is my personal injury case worth?  Here's the answer.  What is my Case Worth?
Emotional Distress  What Makes an Emotional Distress Case?
Liens on Personal Injury Cases  Personal Injury Case Liens
Bankruptcy Blog Posts
Our bankruptcy blog answers the basics that potential clients, clients and casual readers find helpful:
Should I file Bankruptcy?  What basics should be considered?  What are the Basics of Bankruptcy?
Bankruptcy Discharge  Bankruptcy Discharge
Bankruptcy "Means Test" – Chapter 7  What is the Bankruptcy Means Test
Bankruptcy: Moral? Ethical?   Is Bankruptcy Moral and Ethical?
Bankruptcy Schedules Focus on Key Categories of Filer's Finances  Bankruptcy Schedules
Bankruptcy: Include all Assets Income and Debt  Bankruptcy Requires Disclosure of all Income, Assets and Debt
Charge Off:  What is it? Do I still Have to Pay Charged Off Debt?  What is a Charge Off?
Other bankruptcy issues blogged here address timely concerns covered in the news, but with the legal angle clients always ask about:
Too Broke to go Bankrupt  How can one be Too Broke to go Bankrupt?
Discharge of student Loans in Bankruptcy: Exception to Rule  Discharge of Student Loans
Other Legal Blog Issues
Drones: What's the Law on Small Private Drones? Where can they fly?  What About Privacy?  Drones and the Law
Health Care Decision or Court Review of Congressional Power?  Affordable Care Act Decision, What did it Really Say?
One Person's Trash – Another Person's Evidence  Is Trash Private?
Adverse Possession Law: Boundary Disputes  Adverse Possession 
Surveillance Cameras: When do The Violate Privacy Rights?  Reasonable Expectation of Privacy
We post new articles frequently.  Our blog attracts comments from around the world.  Even other attorneys have contacted our office asking for information after finding this blog in their research.
Readers of the legal blog articles can always comment, suggest a new article or ask legal questions by scrolling down on this page to "Leave a Reply", filling out the quick form, then clicking on "Submit Comment".  Or, go to the last page of this site and "contact us".