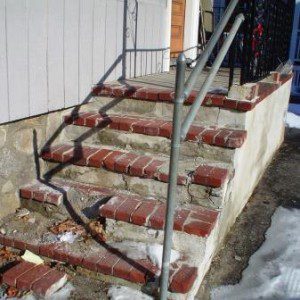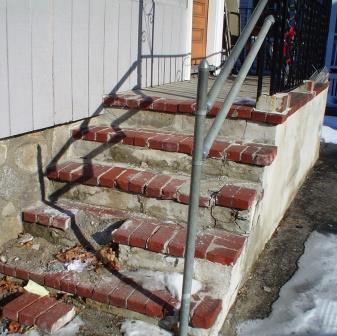 Stairways in deplorable condition cause injuries.  But believe it or not, insurance companies vigorously defend property owners who allow outrageously dangerous conditions to exist.
The stairway shown here caused ankle, back and foot injuries when a tenant, attempting to go around the obvious defects in the stairway, was thrown to the ground by what looked like a good step that shifted under her weight.  The level of the insurance company's efforts to defeat the valid claim were highlighted when, after a deposition, the insurance company attorney bragged that he "could have" made the injury victim cry.
In another case of an accident caused by property dangers, the injuries required shoulder surgery with extensive rehabilitation and physical therapy.  The insurer started its settlement offers barely out of the single digits, demanding that the injured senior citizen "be reasonable".  That case settled for $75,000 after a year of litigation in Massachusetts Superior Court.
Defective Property Law
Property owners have a duty to act as a reasonable person under all of the circumstances including the likelihood of injury to others, the probable seriousness of such injuries, and the burden of reducing or avoiding the risk.  The courts have also said this:
If a property owner knows or reasonably should know of a dangerous condition on its property, whether arising from an accumulation of snow or ice, or rust on a railing, or a discarded banana peel, the property owner owes a duty to lawful visitors to make reasonable efforts to protect lawful visitors against the danger.

Papadopoulos v. Target Corporation, Massachusetts Supreme Judicial Court, 2010, citing 2007 case of Sheehan v. Roche Bros. Supermarkets.
The issue to those suffering even traumatic permanent injuries from such accidents is the legal requirement that the property owner act as a reasonable person.  This presents a jury question.  What constitutes "reasonably safe" and was the owner's conduct reasonable?
Defending Property Dangers: Insurance Company Tactics
Rather than focus on the question of a property owner's reasonable conduct, the insurance defense will turn things around on the injured person's conduct:  What kind of shoes were they wearing?  What were they carrying?   Were they on any kind of medication?  Drinking?  Were they looking down at the ground?  Were they looking up and away?  Do they have a criminal record?  Did they have distractions such as children or a pet?  Were they talking on the cell phone?  How much do they weigh?
These only scratch the surface of insurance defense tactics to turn the tables on those injured.
When Property Dangers Cause Injury
Contrary to popular belief there is no "open and shut case" anytime an injury takes place due to negligent maintenance of a property.  More on that in another blog article.
Sometimes, not always, where injuries take place in a store or other commercial property a legal theory known as mode of operation can help.
So, prevailing in a 'slip and fall' or 'trip and fall' case requires thorough knowledge of specific legal standards and how they apply to recover for injuries.  This area of negligence law is generally called  premises liability law.