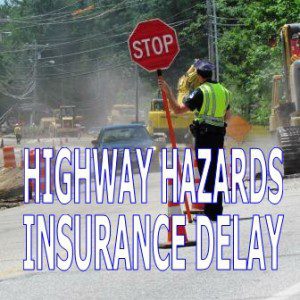 January 9, 2002, a Massachusetts woman sustains catastrophic injuries including permanent paraplegia when a tractor trailer hits the rear end of her car.  Ten years later, after what one judge called a legal odyssey including unfair and deceptive acts by an insurance company, she was awarded $22 Million.
The 46 year old woman stopped for a patrolman directing traffic around a worksite alongside the road.  After she came to a full stop, an 18-wheel tractor trailer struck the rear of her car, pushing it down an embankment.  The force of impact pushed the car's trunk into the back seat.
Conscious, the driver of the motor vehicle lost all feeling below the waist.  As a result of the accident she suffered serious injuries including a fractured spinal cord and broken ribs.  The motor vehicle accident left her a paraplegic, unable to walk.
Accident Liability and Injuries
The truck driver was cited criminally for operating negligently to endanger and later took a plea.  But clear liability and extensive severe damages did not stop the insurance companies from delaying and dragging their feet.
Insurance companies dragged their feet for over two years before making their first settlement offer of $2 million, far below their own internal case evaluations.  At mediation, the offer increased to $3.5 million, but the insurance adjuster walked out without offering the full amount of his authority and the case went to trial.
The cost of anticipated future medical care alone was estimated at over $2 million.  The injured woman remained in the hospital for over three months where multiple treatments included spinal fusion surgery.  She was confined to a wheelchair.  Even after intensive physical therapy, her catastrophic injuries left her needing assistance with nearly every vital life function.
Calculating Pain and Suffering
Insurers argued that in serious injury cases, where an accident causes permanent injuries, damages are not reasonably clear until a jury reaches a verdict because pain and suffering damages are unclear and unquantifiable.  The court rejected this argument, holding that it contradicts the legal obligation of insurers to make prompt and fair settlements.  Regardless of substantial pain and suffering in a case of clear liability, insurance companies are obligated by law to make a settlement offer within 30 days of a proper demand even if quantifying substantial pain and suffering is required.
Jury Verdict
At trial the jury returned a verdict totaling $11.3 million.  But insurance company delay did not stop.  Instead, the insurance company appealed on what the court called "unusually feeble arguments".  Knowing the appeal would drag out for years the insurance company tried to avoid full payment, offering $7 million.
Settlement & Unfair and Deceptive Insurance Practices
Apparently drained by the experience, the family of the injured woman settled, accepting just under $9 million.  But, they reserved their right to bring a separate action for unfair claim settlement practices.  Each state has different laws in this area, Massachusetts law penalizes insurance companies engaging in unfair and deceptive acts or practices in the business of insurance.
Ultimately, the court found insurance company conduct in violating the law was both willful and knowing.  The law on unfair and deceptive insurance claim practices invoked a doubling of the initial verdict, bringing the final award to $22 million.  The court recognized the final award as "enormous" but explained that insurance company conduct justified doubling the jury verdict.
Rhodes v. AIG Domestic Claims, Inc., decided by the Supreme Judicial Court of Massachusetts on February 10, 2012 involved several insurance entities.  One, only "on the hook" for the first $2 million, was found not to have violated the law because it offered its limits before the first trial.  The above conduct and verdict applied against the "excess carrier" which insured the truck driver's company in excess of the first $2 million.
This is one of many cases of insurer delay and defiance to laws requiring prompt fair settlement of claims.  For another case click here.  A Rutgers University professor documents such practices nationwide in detail in the book Delay, Deny, Defend.