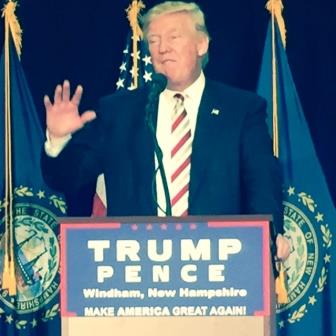 Donald Trump, according to some, discovered lightning in a bottle.
"His rise is not due to his supporters' anger at government,  It is a gesture of contempt for government, for the men and women in Congress, the White House, the agencies."

Peggy Noonan, Wall Street Journal, p. A11, August 1, 2015.
Trump, offending other candidates, infuriating TV and newspaper people, and affronting others, has at the very least harnessed a force powerful as lightning.
"Bombastic, Ridiculous, Ill-prepared, Belligerent".
Let's call Donald Trump names, some of the so called experts seem to think.  Check it out.  These are the opposite of "boring, status quo, smug and spineless".
Someone who actually put some thought into the race said this:
Meet the new boss.  Same as the old boss.  We have to do something different.  He's different.  If it doesn't work we'll fire him.

Peggy Noonan, WSJ, Aug. 1, 2015.
New Hampshire
New Hampshire's presidential primary plays a historic role in selecting Presidents. New Hampshire has the first in the nation presidential primary. New Hampshire residents cast the very first actual ballots at the polls for presidential candidates.
Iowa has caucuses first, but caucuses present an entirely different, more insider-driven process.
In the years I've lived in New Hampshire I've met Jimmy Carter, Bill Clinton, both of the George Bushes, John Glenn and many others. I ate lunch in the diner around the corner from one of my offices and Jeb Bush was walking around meeting and greeting, followed by reporters from everywhere.  Ohio Governor John Kasich, in the same diner, walked across the room to come shake my hand.  Unbeknownst to me there were network TV cameras behind my back, shooting in through large glass windows, as people called me saying they had seen me on national TV shaking the candidate's hand.  This is normal in New Hampshire, no big deal.
Apart from its historic role, New Hampshire's primary provides a huge boost to our economy. Hotels, restaurants, event halls and many others benefit. More important, we provide candidates the opportunity to meet people face to face to talk to us as individuals, before they're drawn into the media-only campaigns later.
Wall Street Journal columnist Peggy Noonan says Trump's insult of John McCain didn't hurt him, not because his supporters hold any dislike of McCain.  Instead, they see it as proof that Trump "will take the bark off anything."
Country Club Republicans Despise Donald Trump
Sure, candidates like Trump stage media events in New Hampshire. But they also have to meet people in diners, house parties, parades, country fairs and other places. New Hampshire people get to test candidates as actual people. Before the country club Republicans elsewhere pontificate over their martinis deciding whether the candidates are "proper".
Maybe Trump's popularity comes due to the fact that we're in an era when every day someone is offended by something.
Conversely, Trump wakes up every morning not caring who he might offend.
Donald Trump & Art of the Deal
The book by this title provides insight in autobiographical form on Trump. I found it a good read. As the Chicago Sun-Times observed about the book "Like him or hate him-just don't ignore him". Another reviewer proclaimed:
"Donald Trump is a deal-maker. He is a deal maker the way lions are carnivores and water is wet."

The San Diego Union
At a time when far left and far right polarize the political parties and compromise is a bad word, and where the status-quo sweeps problems under the rug, having a deal maker, however brash, fascinates America. Liked or hated.
Why is Donald Trump on a Legal Blog?
The president of the United States is the ultimate law-man. In addition to being 'commander in chief' the president carries ultimate authority in executing the laws of the United States under Article II of the U.S. Constitution. The President vetoes laws found to be repugnant, signs the 'good ones' and decides which ones get attention and which ones do not.
The President also shapes the law by nominating U.S. Supreme Court justices.  In an almost unprecedented move Trump releases lists of his picks for the top court during the presidential campaign.  In May 2016 he listed 10 possible Supreme Court picks and again in September 2016 he released the names of 10 more people from whom he would select Supreme Court nominees.
When Trump first announced he was running for president most thought he was a summer news story that would fade as the leaves fell off the trees.  But he battled and fought his way through the primaries, starting with New Hampshire's first in the nation primary.  As of the date of this writing the tarnish has come off the bottle containing the lightning as Trump appears in for the fight of his life.