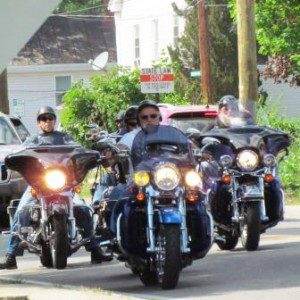 Car accidents happen every day. 11 percent of all motor vehicle accidents involve motorcycles. The National Highway Traffic Safety Administration also reports that motorcyclists are 35 times more likely to experience a fatal accident than those in passenger vehicles. While some believe most motorcycle accidents are caused by aggressive motorcycle operators, in fact most motorcycle accidents happen because car and truck drivers fail to look for or see bikers. Head injuries pose the leading cause of death in motorcycle crashes. NHTSA statistics indicate that helmet use reduces the likelihood of crash fatality by 37%. Many states require helmet use. There is no mandatory helmet use law in three states: New Hampshire, Illinois and Iowa.
Causes of Motorcycle Accidents
Bad weather is often a factor in motorcycle accident.  Other causes include ignoring traffic signs, not using turn signals, speeding, driving in the wrong lane, drunk driving, road rage, road construction or defects, inexperienced drivers, inattentive drivers and lane splitting. Lane splitting happens when a motorcycle drives between two lanes of stopped or slowly moving cars, usually in heavy traffic. Lane splitting often causes accidents. Most states prohibit lane splitting, and even where the practice is allowed, rules of the road require that it be done in a 'safe and prudent' manner. One of the most dangerous threats to motorcycle riders presents itself when cars make left turns into the path of a cycle. Most often the cycle is going straight through an intersection or passing the other vehicle.
Open Door Motorcycle Accidents
Open door motorcycle accidents take place wherever there is street parking. These entirely preventable accidents happen when people in a parked car open a door directly in the path of a moving motorcycle. The person opening the door clearly failed to pay attention, or simply glanced but did not look for a smaller moving vehicle like a motorcycle.
Rear End Motorcycle Accidents
Sudden stop collisions and rear ending are also common. Motorcycles are smaller so they have the ability to stop faster than other vehicles. Drivers of other vehicles, following too closely and driving too fast for conditions, then can't stop in time and slam into the cycle. Roadway defects and hazards also put riders at risk. The fact that cycles are smaller than other vehicles increases the risk of a serious accident, and catastrophic injury, when encountering potholes, objects in the road, animals, uneven lanes, rain, puddles or grooves and bumps in the road.
What to do After Motorcycle Accidents
Cycling is a way of life for many, offering much more than simply a way to get from point A to point B. But, motorcycle accidents nearly always involve serious injuries, requiring medical treatment which racks up big medical bills.
Those injured in motorcycle accidents deserve compensation for the injuries caused by the negligence of others. It goes without saying that those injured will have a much better chance of obtaining maximum financial compensation with an experienced motorcycle accident attorney.
---
Source: Traffic Safety Facts, NHTSA, 2012 Data, Motorcycles, DOT HS 812