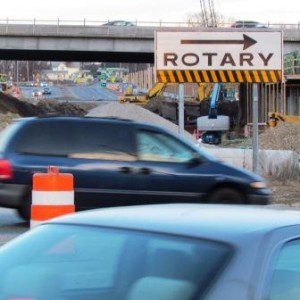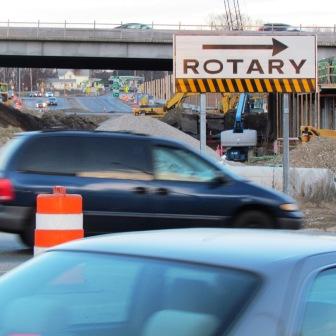 Traffic rotaries send traffic looping around in a circle instead of meeting at an intersection.  In the U.S. they exist largely but not entirely in New England.  Rotaries started out in Europe but were imported to the U.S. as an alternative to controlled intersections.
Highway "experts" claim rotaries aid in the smooth movement of vehicles into and out of a circular pattern.  The Insurance Institute for Highway Safety expounds the virtues of the smooth flow of traffic at forced slower speeds.  The American Auto Association or AAA claims rotaries assist the smooth flow of traffic in heavily congested areas, ensuring traffic never has to come to a stop.
Are Traffic Rotaries Safe?
Traffic engineers and "experts" claim rotaries force drivers to reduce speed because they must yield to other drivers already in the circle.  It's also claimed that because every car is driving in the same direction the chances of head on collisions are reduced.  Rotaries still host other types of collisions:  T-bone accidents, sideswipe accidents, rear-end accidents and others.
Rules of the road tell drivers to yield to vehicles already in the rotary.  But rotaries often exist in heavily congested areas.  This means that those yielding to the traffic in the rotary can wait seemingly forever.  So instead, drivers barge into the rotary without a safe opening, causing traffic jams and collisions.
"It's a free-for-all with the victor usually being the most intimidating driver."

Boston Globe, quoting Boston driver in August 3, 2006 article "Driving in Circles"
Multi-lane rotaries present their own dangers.  While drivers could go around more than once until a safe opportunity arises to move to the right lane and exit, drivers more often cut across lanes, forcing others to slam on the brakes, swerve or take other evasive action.
What's the Difference Between a Rotary and a Roundabout?
While rotaries tend to have multiple lanes, roundabouts usually squeeze traffic into only one lane.  That and the fact that roundabouts are smaller leads to slower speeds.  The design features of roundabouts mean that bad drivers can't weave between inside and outside lanes or get outmaneuvered by more aggressive drivers.
Many traffic engineers favor roundabouts with their purportedly slower speeds, reduced risk of high speed accidents, and the claimed ability to stop reckless drivers from weaving back and forth between lanes.
Rotary Dangers
People from areas that do not have rotaries face confusion the first time they face a traffic circle.   Highway Departments in many states publish brochures and blogs explaining "how to drive" a roundabout or rotary.  But confronting a rotary for the time is not the time to stop and read.
After any accident causing injuries the insurance paperwork and questioning can be intimidating.  Often in an accident that is not 100% clear, the "gotcha" attitude of aggressive drivers and their insurance companies can feel threatening.  The best way to navigate the confusion is to retain an experienced injury attorney.
Massachusetts Traffic Rotaries
The rotary in the photo connects Interstate route I-93 and Massachusetts route 110 in Methuen, MA.  At the time of this blog a four-year $66 million ongoing construction project aims to replace the existing rotary with a "partial cloverleaf interchange".  While traffic experts ballyhoo claimed rotary advantages, MassDot says the project will "alleviate traffic congestion and improve safety."