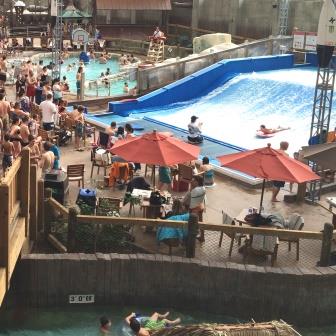 When visiting the waterpark, people expect a relaxing fun day in the sun with family and friends. At the same time, waterparks can present risks of their own. The International Association of Amusement Parks and Attractions, IAAPA, reports that 83 million people visit water parks in the U.S. each year, and approximately 5,200 leave with waterpark injuries.
Waterpark injuries sometimes happen because people virtually fly down the slides. Engineers designing waterslides often propose height and weight restrictions. When restrictions aren't followed there can be problems. If people gain too much speed on a slide, they could injure themselves when they are launched into the pool at the bottom, and could crash into an object or hit their head and drown.
Waterpark Injuries: Facts and Circumstances
Pools at the bottom are specific to the speed that the average rider will travel and need to land in without injury. However, if the person's weight exceeds the maximum weight to still have low risk of injury, that person should not be allowed on that ride. If waterpark employees fail to weigh a rider, or allow people on rides despite noncompliance with the rules, the resulting negligence on the part of the waterpark can give rise to a claim for damages.
Most common waterpark injuries include drowning, head injuries, back injuries, lacerations, dislocations, scrapes, suffocation, choking, lacerations from objects on a slide, or falling off a ride. A less obvious risk comes from many types of potentially hazardous bacteria that can be found in the water. The Centers for Disease Control (CDC) and the Model Aquatic Health Code (MAHC) have regulations requiring all waterparks owners or operators to monitor bacteria levels treat the water as needed to prevent illness.
Legal Aspects: The Negligence Formula
Waterparks have a legal duty to provide a reasonably safe facility, preventing injury, taking reasonable precautions and posting warning where waterpark injuries are reasonably foreseeable. Waterpark employees carry the responsibility to enforce the safety rules and policies by monitoring the guests while within the waterpark. Lifeguards are required to operate the rides with due care and monitor guests while within the water attractions. Additionally, the waterpark must maintain stairs, ramps, parking lots, and walkways with the same duty of due care to prevent the risk of injury.
If a waterpark is negligent in maintaining and operating the park and rides, the injured guest may be able to bring a claim for damages if negligence can be proven. Establishing negligence requires proof that the waterpark owed a duty to the park guest, that the duty was breached that the breach directly caused injuries. While the legal requirement of causation is often taken for granted, causation can be the most difficult element to prove.
Waterpark Employees
Negligence of the park employees can cause injury to others, especially if a resort promises that a lifeguard is on duty, but there is none. Generally speaking, where injury results from the negligence of an employee typically the victim will be unable to hold the employee legally accountable, but will be required to hold waterpark owners or operators liable. However, where an employee acted purposefully or recklessly and that conduct goes beyond the workers job description and duties, then some states will allow a direct claim against the waterpark employee. Examples of such actions that are beyond the scope of the employee's job duties and tasks include sending guests down the slide while knowing another guest is still riding, shoving, hitting, or tripping as well as other similar dangerous actions.
Is Injured Person's Conduct Held Against Them?
Negligence on the park of the park guest is common, and can prevent the guest from receiving compensation or reduce that compensation. Ignoring signs such as "no running", or "no lifeguard on duty" and acting recklessly can be viewed as putting one's own safety at risk. Where park rules and warnings are blatantly ignored an injured guest's conduct becomes an issue. Once proven, the guest holds comparative or contributory negligence, preventing them from being eligible to receive more than a percentage of compensation, if any.
When a park guest is injured, the waterpark will try to claim the assumed risk defense since engaging in high speed, wet slides can be considered inherently dangerous. This means that the guest knowingly and willingly visited the waterpark with slippery surfaces, which is easy to predict there is a high risk of becoming injured if the guest does not use caution. However, if a ride has been improperly maintained, or is not operating properly when the guest becomes injured, then that is beyond the scope of assumed risk, and the guest will likely be able to bring a claim for damages and receive compensation.
More on comparative fault, contributory negligence and "assumed risk" at this link.
Causes of Waterpark Injuries
Slip and fall injuries happen, and are considered reasonably foreseeable in that guests spend the day walking on wet and slippery surfaces in the waterpark. Other hazards include water slide malfunctions and defects, entrapment on a ride, falls from water slides, collisions on water rides, overcrowded pools, lifeguard error, failure to enforce weight and height restrictions, failure to have lifeguards on duty and improper park maintenance. Such failures often go beyond the assumed risk a park guest is blamed with and therefore the waterpark's defense will likely fail.
To avoid liability when a guest becomes injured, the waterpark must post clear warning signs including risks of the slides and pools, must properly train all park employees and attraction operators, maintain all attractions, walkways, and parking lots, regularly examine and inspect attraction slides and all equipment, and confirm that employees are operating all attractions properly as well as instructing the guest on how to ride the slides safely.
Resort owners of all types often attempt to protect themselves by adding disclaimers to the tickets required to enter. The language printed on the ticket often says that upon injury, the ticket holder will be unable to hold the waterpark liable. While such small print waivers can often fail, where guests sign a waiver of liability, the resort owner may have a better defense against claims, subject to the discretion of a court.
Waterpark Injuries and Common Sense
Without question, waterparks present dangers. But they usually provide an enjoyable day as long as rules are followed and owners take reasonable safety measures. If owners and operators reasonably maintain the waterpark the risk of injury is significantly lowered.