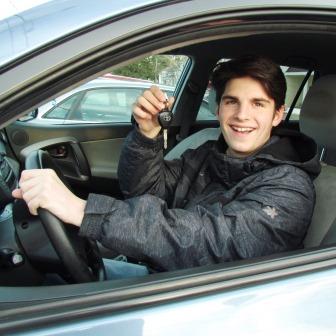 Teen car accidents kill, on average, approximately 6 teenagers each day in the U.S.
That number, according to the Centers for Disease Control & Prevention makes motor vehicle crashes the leading cause of teenage deaths.
Overall, more than 30,000 people die in car accidents every year in the U.S.
National Transportation Safety Board research also confirms more than 2 million injuries in car accidents annually.
Of all age groups, teenagers experience more car accidents than others. On average, about 963,000 teens are involved in motor vehicle accidents each year. 383,000 of those teens sustain injuries. 2,865 of those motor vehicle accidents involve fatalities.
According to the Centers for Disease and Control & Prevention, approximately 6 teenagers die every day in motor vehicle accidents. This makes motor vehicle crashes the leading cause of teenage deaths.
Teen drivers between 16 and 19 face a much higher risk of getting into a motor vehicle accident than any other age group. Causes vary but the top 5 reasons for teen car accidents include:
1. Driver Inexperience
Driving experience comes with time. In the first years of driving, teens are still relatively new to driving and not as skilled at driving in a variety of weather conditions or at night than more experienced drivers. Driving requires practice. It can take years before new drivers feel completely comfortable behind the wheel. Experience brings a higher ability to handle all types of road and driving conditions, to react quickly, and to withstand distractions from passengers.
Faster reaction times comes from practice and experience. Faster reaction times and smarter reactions help when drivers face split-second hazards. Such dangers include an animal in the road, the sudden stop of traffic ahead, a vehicle veering into the lane, or sudden changes in road conditions. Newer drivers with slower reaction times face a higher likelihood of a collision in such circumstances.
2. Distracted Driving
All age groups fall victim to distracted driving. But combined with the relative inexperience of new drivers, distracted driving raises the risk of teen car accidents. Distracted driving includes driving and eating, texting, talking on the phone, and adjusting the radio.
Of all the above distractions, using the cell phone tops the list of activities causing teenage accidents. Texting, entering data, emailing, and talking on the phone all divert attention away from concentrating on the road. Such distractions account for 12% of teen crashes according to the AAA Foundation for Traffic Safety.
Research found that a teen driver's reaction time slows down to that of drivers in the age group of 70 and older while using a cell phone and driving.
For more information on distracted driving visit here.
And to read about the dangers of texting while driving visit here.
3. Intoxicated Driving
Alcohol impairs everyone's ability to drive but combined with a teen's inexperience, it greatly heightens the risk. Teens have proven to be more open to participating in dangerous behavior and less likely to shy away from being a passenger in an intoxicated person's vehicle. Out of all teen fatalities caused by car accidents, one-quarter of the fatalities were caused by accidents that occurred due to drinking and driving.
4. Reckless Driving
Male teenagers are especially prone to reckless driving. Studies claim they tend more towards relatively dangerous driving stunts like street-racing. Both genders, the studies show, pursue reckless driving like tailgating, speeding, improper lane changes, rushing through changing traffic lights, failing to yield and failing to come to a full stop at stop signs.
Nighttime speeding poses special danger since it is harder to see the road ahead from a long distance, compared to daytime conditions. With minimal experience, teen drivers need to make sure they are extra cautious after dark and obey all posted speed limits.
5. Driving With Teen Passengers
Teenage passengers pose a major distraction to new drivers. The AAA Foundation for Traffic Safety study found 15% of all teen crashes happened due to the teen driver interacting with one or more teen passengers. The risk of an accident double when the teen has only one teenage passenger in comparison with driving alone. That risk triples when the teen driver has 2 or more teenage passengers.
Peer pressure from teen passengers significantly increases the potential for teen car accidents. Bad influence has been found to encourage inexperienced drivers to engage in racing, drinking, using drugs, and more. The potential for a loss of focus on the road and an increased chance of an accident is obvious and documented in the research cited in this blog article.
The most common types of accidents occurring in this category include driving off the road, rear-ending another vehicle, or crashing into another vehicle while attempting a left turn.
Teen Car Accidents Happen
People never expect car accidents to happen to them, but when they do, it's best to know what to do. It is very important to teach safe driving habits, as well as the steps they should take if an accident does occur. These steps can be found by visiting here.
Although injuries and car accidents tend to go hand in hand, failure to buckle up combined with the above listed causes for teen car accidents increase the risk of serious injury or death when a collision happens. The NHTSA reports 55% of teens killed in car accidents were not wearing seatbelts. To ensure safety, new drivers must develop the habit of strapping on seatbelts before starting the car.
Finally, parents, if your teen has friends who practice unsafe driving methods or are intoxicated while driving, teach your teen the importance of speaking up and not getting into a vehicle with someone in that condition.
---
Sources:
Using Naturalistic Driving Data to Examine Teen Driver Behaviors Present in Motor Vehicle Crashes, AAA Foundation for Traffic Safety, June 2016.
Traffic Safety Facts, "Young Drivers", NHTSA, May, 2016
Web-based Injury Statistics Query & Reporting System, Centers for Disease Control and Prevention.