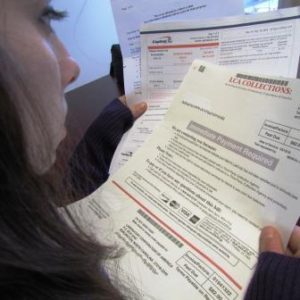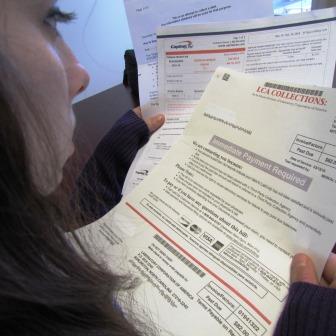 Collections are supposed to stop after you file bankruptcy.  Bankruptcy law imposes an automatic stay, effectively a federal court injunction ordering credit card companies, bill collectors, collection attorneys, banks and others to stop all collection activity.  Even collection law suits filed to collect debts must stop under the automatic stay of bankruptcy.
Creditors can be fined and forced to pay attorney fees and other penalties if they violate the automatic stay of bankruptcy.
But what if creditors claim a computer sent the collection notices automatically?  Creditors argue they should not face penalties where "the computer did it".  Is this a valid defense?
Do Automatic Computer Generated Collections Violate Bankruptcy Law?
The scenario sees the filing of a bankruptcy petition on day one.  At that point the U.S. Bankruptcy Code imposes an "automatic stay" halting all collection activity as long as the bankruptcy is pending.    But in cases that have gone to court, collections do not stop.  In one case, the creditor said collection demands were automatically generated by the computer.  In another, Citibank explained that collection notices went out after a bankruptcy filing due to the fact that a new software system was in the process of being installed.
Creditors are typically large companies with various departments that may be spread out even in different states.  In one actual case a company acknowledged receipt of the bankruptcy notice, but asserted that it did not intend to violate bankruptcy law.  Instead, the person's account was "miscoded" meaning that the computer system continued to automatically generate collection notices.
Does "The Computer Did It" Defense Work?
Courts reviewing the issue point out that the issue is not whether the creditor intends to violate the automatic stay.  The law states that an individual injured by any willful violation of the bankruptcy stay is entitled to damages including actual damages, costs, attorney's fees and in appropriate circumstances punitive damages.
But courts point out that specific intent to violate the automatic stay is not what triggers a violation and damages.  Instead, only two things are required.  First, that the creditor received notice of the bankruptcy.  The second requirement holds the company accountable only if it intended the action that makes up the violation.
In our typical cases, the company or one of its departments received the bankruptcy notice.  Another department, by way of a computer or whatever office practices employed, did in fact intentionally send out a collection notice.  With those two elements proven courts are required to find a violation.   One court held that under the applicable legal standard, "the computer did it defense is not viable".
Damages for Automatic Stay Violation
As pointed out above, where a creditor willfully violates the automatic stay of bankruptcy, damages can include actual damages, including costs and attorney's fees and in appropriate circumstances punitive damages.  The actual language of the law states that a person injured by a willful violation "shall" recover actual damages.  At the same time, the debtor bears the burden of proof, by a preponderance of the evidence, that he or she suffered damages as a result of the stay violation.
Flagrant and repeated violations may rise to the level of punitive damages, or what is called a "pattern of disregard for the automated stay."  Most often, the penalty for violations is more along the lines of actual damages, costs and attorney fees.  Under certain circumstances, where the burden of proof is sustained, emotional distress damages have been awarded by courts where evidence supports a claim of harm directly connected to the automatic stay violation rather than the anxiety and pressures inherent in the bankruptcy process.
When the Collections Don't Stop After Filing Bankruptcy
Courts reject creditor claims that their post-bankruptcy collections were innocent inadvertent technical violations.  Blaming the computer or the software fails as a defense in bankruptcy court.  But even when post-bankruptcy collections, where notice was received by the company, clearly violate bankruptcy law's prohibition against willful violation, proving and receiving damages can be a challenge without experienced counsel.
For more information on bankruptcy basics click here.
---
Sources:
U.S. Bankruptcy Code, 11 U.S.C. § 362, see: subsection (k).
In re: Silk, 549 B.R. 297, U.S. Bankruptcy Court, D. Massachusetts, (2016).
In re: Rijos, 263 B.R. 382, U.S. Bankruptcy Appellate Panel, (1st Cir. 2001).
In re: Dawson, 390 F.3d 1139, (9th Cir. 2004).
In re: Snowden, 769 F.3d 651, (9th Cir. 2014).
Photo model:
Rebecca Langelier