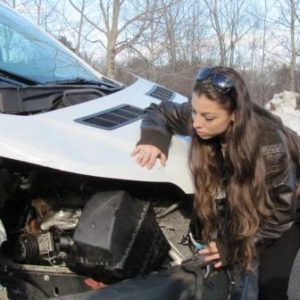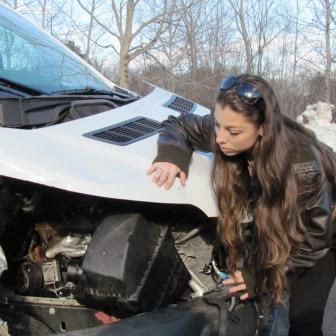 Head-on collisions top the list of motor vehicle accidents, with a fatality rate second only to intersection accidents.  These accidents happen when two or more vehicles' front ends slam into each other.  Either one driver crosses the center of the road and drives into oncoming traffic, or a driver goes the wrong way in traffic.
Such accidents occur less often than other types of accidents, totaling only about two per cent of all motor vehicle accidents.  That number comes from the National Highway Traffic Safety Administration (NHTSA). Seven per cent of all traffic-related deaths in cities result from head-on collisions.
In rural areas 13% of all traffic-related deaths stem from head-on crashes.   Although the risk of fatality from a head-on crash is high, airbags and seatbelts significantly reduce the risk.  NHTSA also reports that seatbelt use reduces the risk of fatality by over 60%.
Reducing Trauma in Head-on Injuries
The severity of a head-on collision depends on many factors such as the speed of each vehicle involved, the size of the vehicles involved, and other variables.  If your speed is relatively slow by the time impact occurs, it is possible to leave the scene of the accident with few or minor injuries. Unfortunately not many drivers and passengers involved in head-on collisions leave the scene of the accident unscathed, and suffer at least some injuries, if not death.
If you or any of your passengers are not wearing their seatbelts at the moment of impact, they can be ejected from the vehicle, especially if speed is involved. Accident victims ejected from a vehicle usually sustain death or catastrophic injuries requiring surgery, extended treatment or both.
Injuries in Head-On Collisions
Common injuries sustained from head-on collisions often include:
Concussion
Lacerations from seatbelts or glass
Contusions
Airbag burns
Whiplash & other neck injuries
Back injuries
Fractures
Spinal cord injuries
Traumatic brain injury
Blunt force trauma injury
Head-on collisions often crush vehicles, especially smaller cars.  The front end crushing most often causes torso and leg injuries to the driver and front seat passenger.  The injuries happen when people are pinned between the crushed parts of the vehicle and the seats people are buckled into.  This becomes even more life threatening if flames ignite after the collision.  Drivers and passengers trapped inside face even more severe injuries such as smoke inhalation, lung damage, burns and other harm, even death if fire breaks out.
Long term injuries after head-on accidents include permanent paralysis, loss of limbs and lifetime disability.  Survivors find severe quality of life impact including not only physical disability but also mental challenges such as depression.
What Causes Head-On Accidents?
You would think people could avoid driving head-on into another car.  Many things cause head-on collisions.  Those who study accidents report the most common causes include:
Driving under the influence of drugs, alcohol, or medications
Drowsy driving
Falling asleep at the wheel
Wrong-way driving
Texting, calling, or emailing while driving
Using and adjusting the radio, and other controls
Entering data or fidgeting with a GPS device
Reckless & aggressive driving
Unsafe passing of other vehicles
Ignoring traffic signs, signals, and warnings
Making a left-turn in front of on-coming traffic
Faded or unclear roadway markings
Failure to comply with roadway markings
Failure to center the vehicle within the lane
Poor road conditions
Over-correcting steering
Speeding to escape police & other authorities
Suicide attempt
Confusion in construction zones, or entering highway ramps
Dangerous weather conditions
Low visibility
Defective or malfunctioning vehicle parts
Wrong way drivers top the list of those who cause head-on collisions. Drunk and otherwise impaired drivers often drive the wrong-way since they will often swerve and cross over painted lane markings.  Impaired drivers become inattentive and confused.  This brings the potential for entering the wrong side of a highway on-ramp, or going the wrong way on a one-way road. Many times the drunk driver isn't even aware that they are swerving and feel that they have better control over the vehicle than they actually do.
Equipment Failure
Some head-on collisions occur due to equipment failure.  Such failures include faulty brakes, steering malfunctions, bad tires, engine seizures, or other disasters.  Sudden breakdowns occurring at full highway speed present a life-threatening situation.  Many equipment failures can leave the driver without control of the vehicle. One worst case scenario sends the vehicle careening into opposing traffic, causing severe injuries.
Equipment failures come in several varieties, driver error or actual part malfunctions.  Failure to change oil or timing belts causes engine seizures.  Bad tires also cause accidents especially at high speeds or in winter weather.  Where the driver was aware of a danger, or failed to take maintenance steps that should have been taken, fault lies with the vehicle owner and operator.  Other times, if the head-on collision occurs due to defective parts, there may be a products liability claim against the manufacturer.
Head-on Collision Liability
Finding liability after a head-on collision presents challenges to responding officers and ultimately insurance company adjusters. As soon as you or the other driver files a claim, the insurance company needs to determine liability for the accident. In head-on collisions, finding liability usually involves looking at who veered over into the wrong lane.  But it's not always that simple.
The question of "who hit who" raises issues when each car in fact struck the other's front end head-on.  Statements from witnesses, passengers, and bystanders assist with the investigation.  Unless there are unbiased bystander witnesses such statements can end up as a he-said, she-said scenario.  We've discussed this in another blog article.
Where witness statements offer no clear answers accident reconstruction is required, especially in serious accidents.  Such experts study evidence left behind by the crash.  They look at skid marks, weather conditions, road measurements, crush impact to the vehicles and many other factors.  Application of the laws of physics and other technology yields insight on vehicle speeds, whether and when brakes were applied, potential equipment failures, and ultimately how the collision happened.
Pursuing At Fault Driver after Head-On Collision
If another person was negligent and found to be liable for serious injuries or death from a head-on collision, you are likely able to file a successful claim.  The claim might include your injuries, property damage, loss of consortium if you lost a loved one or other losses. Remember though if your fault in causing the accident is 50% or more, you will likely have a claim filed against you.
In many states, the law applies a concept known as called comparative negligence.  Comparative negligence applies when both drivers may have contributed to the cause of the accident. If you are partly responsible for the collision, you may still be able to successfully file a claim and recover damages as long as you were less than 50% at fault.
Here's more on the law on comparative fault.
Avoiding Head-On Collisions
No sane person ever wants car accident, let alone a head-on collision.  Alert drivers can sometimes avoid an accident or reduce its severity by thinking and acting quickly.  Such accident avoidance steps can include steering away, braking, pulling over, using the horn or quickly changing lanes if possible to avoid a crash.  Success or failure depends on the facts of each case.  But such steps can lower the risk of injuries or death, compared to simply allowing another vehicle to slam into your car head-on at full speed.
Cities and towns can also help reduce the risk of head-on collisions by painting center lines on all roads, posting warning signs for bad road conditions and properly marking sharp corners to alert drivers to slow down.  Although the risk of a head-on collision cannot be eliminated entirely, practicing safe driving habits, making responsible decisions, and being alert at all times can significantly reduce the risk of a serious collision.
---
Photo Model:  Rebecca Langelier
Source: NHTSA, Summary of Motor Vehicle Crashes, 2015 data released October, 2017.