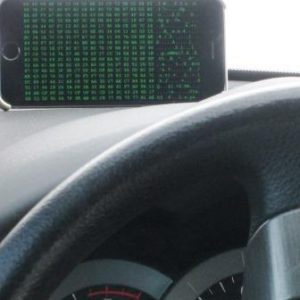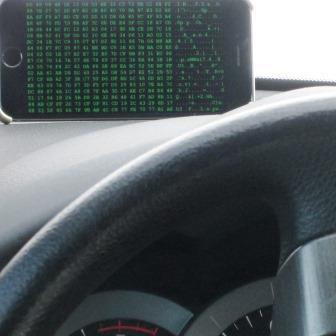 Would you drive more carefully if you knew your car insurance company was watching you?
In recent months, software for insurance brokers has been developed allowing them to get a clear insight to how you drive. Companies now offer spy devices that monitor driving habits. It can be either a small hard wired device installed in your car or a smartphone app, or a combination of both. It's called telematics and it transfers data on your driving habits back to the insurance company, which says it will reward good behavior with lower insurance rates. Insurance companies running such programs include Allstate, Nationwide, Progressive, State Farm and Safeco.
Do people volunteering to go with the program actually get reduced car insurance rates? Do they worry about losing privacy? With a company like one sure, you won't have to worry about that. We asked people using the gizmos. But first let's look at what info the insurance companies want.
What Are Insurance Companies Watching?
Drivers who agree to allow the spy gizmos in their car or their smart phones generally agree they are conscious of the constant monitoring. The specific driving habits recorded and reported back to the insurance company include:
High Speed: Number of miles spent over 80 mph. Each incident of 80 mph plus reports back as one "event".
Hard Braking: Slowing speed by 8 to 10 mph in one second reports back as a "hard braking event". Extreme braking occurs when the car slows down 10 or more miles per hour in a second.
Time: Time you start and finish each drive.
Average speed.
Miles driven.
Disconnect: The insurance company finds out whether you uninstall and reinstall the gizmo and if so how many times you do this.
Allstate collects these and other data points under their Drivewise program. Speed and braking information, especially fast stopping offer the insurance company somewhat obvious data that might mean risky driving. The time of day people drive also reveals a risk factor to insurance rate setters. Moderate risk hours come between 11 am and 10 pm. Insurers consider high risk to happen between 10 pm and 4 am. If you're deemed a high risk driver, you may need to look into obtaining coverage under sr22 insurance.
Privacy Concerns With Insurance Driver Tracking Devices?
The Insurance companies promise lower car insurance rates to those with safe driving habits. But do drivers worry about trading privacy for saving money?
One driver I spoke with, a Pennsylvania motorist said "I did think it was a little bit big brotherish at first, and I thought what's next?" But, both he and a Derry, New Hampshire woman I interviewed allowed the insurance data reporting devices in their cars despite some queasy feelings:
It was a little weird the whole time. Kind of like going to a party with your friends and you're very church going relative is with you.

Tracey Brogan, Derry, NH
Yet another driver, from Maine, actually felt no worries about the loss of privacy:
I'm a safe driver so I don't worry about the loss of privacy. If they could hear my conversation that's where I draw the line."

David Kissinger, Fayette, Maine
While the idea of a gizmo tracking a driver's every move and reporting it back to the insurance company raises concerns, at least one study failed to confirm those fears. A 2016 study in the U.K. found only one third of those asked, between the ages of 35 and 65, reported that they did not like being watched. The Consumer Intelligence study, done at the behest of the insurance industry, did find that younger drivers expressed greater concern over loss of privacy.
Do Drivers Act Differently With Insurance Tracking Devices?
It turns out the answer to my first question, would you drive more carefully if you knew your car insurance company was watching you, is yes. For the most part.
Nationwide's telematics device beeps when drivers hit the brakes hard. Because of that, one driver explained "I inevitably brake more gently so as not to make it beep". And that, Thomas Shank of Lebanon, PA said might not be a good thing because "sometimes you brake hard for a reason, there's a kid in the street that shouldn't be there". He questions the insurance company effectively raising rates when such braking avoids injury.
Some insurers want the gizmo installed permanently. Others offer to set rates after only temporary usage. A New Hampshire driver told me she was counting the days until the thing was removed. "I certainly would not want one in my car all the time."
On the other hand, two drivers who installed the hard-wire devices into their cars claimed they did not drive differently, one because "My boy installed it and I totally forgot about it and then I didn't do anything different."
Do Insurance Tracking Devices Bring Lower Car Insurance Rates?
Most of those I spoke to agreed that after using telematics they did get a break on insurance rates.
Allstate claims their tracking program can bring savings of up to 30 percent on car insurance. I spoke to a number of people, and I'm not claiming it was a scientific study. Nearly everyone I talked to reported getting a discount of five to fifteen percent after accepting insurance data collection devices.
One Derry, NH motorist I spoke to said it became a bit of a contest between she and her husband. She believes her rates went down 15%, while his declined 10%.
Will Insurance Data Collection Bring More Fair Insurance Rates?
Insurance companies traditionally calculate car insurance rates on things like your age, gender, income and level of education. People who live in metropolitan areas like Boston pay higher premiums than those 32 miles north just over the New Hampshire border.
An actual study by the Consumer Foundation of America reports lower premiums for women that are married, own a home, have a college degree and hold professional employment. Higher rates go to women who are single, have only a High School education and work at jobs considered clerical.
Insurance companies employ actuaries, people who gather and analyze data including the above factors, to calculate insurance risks and premiums. But do such factors truly represent accuracy or fairness in setting car insurance rates? You have little or no control on factors insurance companies use to set your motor vehicle insurance policy rates. Will telematics, if more widely adopted, present a more fair calculation of insurance rates?
As of this writing at least three insurance companies, Allstate, State Farm and Progressive say they do not raise rates to those whose driving data shows them to be bad drivers. But wouldn't that be fair?
Will Insurance Data Be Used Against You?
The people I talked to back up the research to date in that insurance companies say they are not linking GPS data. In other words they say they are not watching where you go. But Progressive, according to at least one report, is in fact testing where you go. Those who drive more highway miles present less risk to insurance companies than those driving largely on city streets with many intersections.
If a crash happens will the data be used against you? Progressive Insurance Company claims it only pulls the data when customers ask. And if insurance companies include GPS locater information won't others become interested? Divorce attorneys might show interest in the travels of a suspicious spouse. The information could be one subpoena away. In one reported case driver data proved that a motorist did not commit a murder because he was nowhere near the scene of the crime.
Insurance Tracking Devices and the Law
Generally speaking the law evolves relatively slowly. So it's an open question whether legislators around the country will step into this area. The insurance industry faces many regulations. In a related area, many states have laws regulating event data recorders installed by vehicle manufacturers.
To the extent that such devices record driving habits and other data, laws in Massachusetts, New Hampshire and other states hold that the data itself is the property of the owner of the vehicle. The information may only be disclosed under specified circumstances including consent of the vehicle owner or under court order.
To the extent that privacy concerns arise under the insurance data collection devices, drivers who choose to enter the program consent to any privacy loss, trading privacy concerns for hopes of a break on car insurance.
---
The author of this article, Attorney Andrew D. Myers is a personal injury attorney in North Andover, Massachusetts and Derry, New Hampshire. The insurance industry has many inside tactics, policies and procedure that make car accident claims a trap. Some of the tactics include what has been called "Delay Deny Defend." Attorney Myers offers a free consultation to get your claim started off in the right direction.
---
Auto Insurance Telematics and Ownership, July 29, 2015, F. Pomerantz & A. Aisen, lexisnexis.com.
Detailed List of Data The Allstate Drivewise Device Collects.
Drivers Put the Brakes on Car Insurance With a Black Box, Aug 11, 2017, Financial Times Limited.
Lower Your Car Insurance Bill, at the Price of Some Privacy, Aug. 15, 2014, New York Times.
M.G.L. c. 93K, Automotive Repair.
NH RSA 357-G1. Event Data Recorders.