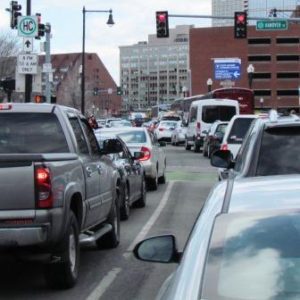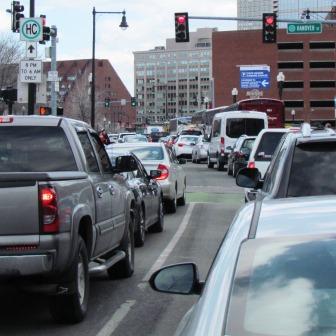 You know traffic presents a nightmare.  The more traffic the more accidents.  But how bad is it?
Anyone driving in a city on a regular basis knows that traffic isn't getting any better.  It kills time.  It drains productivity.   It causes serious accidents.  Traffic does nothing for mental health.
In fact, heavy traffic congestion forces drivers to spend an average of 41 hours a year stuck in traffic during peak hours.  It cost drivers nearly $305 billion in 2017, an average of $1,445 a year per driver.
How is the Worst Traffic Studied?
The numbers come from a global leader in transportation analytics, INRIX, Inc. whose research ranks the highways and the city streets of the USA as the most congested of any developed country on the planet.
The 10 U.S. cities with the worst traffic based on traffic congestion, in reverse order and based on the average number of hours stuck in no-move traffic each year are shown in the graphic below.  Dallas suffers the tenth worse traffic.  Los Angeles earns bragging rights as the number one worst city for heavily congested highways.  But then again if you live or visit either place you likely already know that.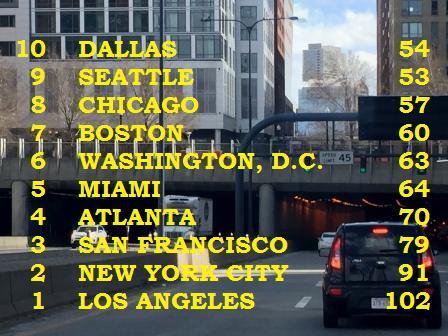 Those of us unlucky enough to drive in and out of the $25 Billion Dollar 'Big-Dig' tunnels of Boston know what it is like to endure the seventh worst traffic in the U.S.  Boston traffic worsened from the previous year when the city ranked number eight on the list.
The numbers in the right hand column mean that for example Boston drivers spend an average of 60 hours annually in bumper to bumper mind numbing congestion, compared to 102 hours for the year in Los Angeles.
Boston drivers also deal with congested traffic 14% of the time they are behind the wheel. This ties Boston for the worst in the U.S. for overall time spent in traffic congestion.
Worst Traffic Study Highlights
If you commute daily the fact that the numbers verify your pain offers no relief. Here are highlights of the study:
U.S. streets and highways represent the most congested in the world.
Los Angeles tops all for worst U.S. traffic congestion, L.A. drivers average over a hundred hours per year stuck in traffic.
Traffic congestion hot spots occur often in tourist destinations.  Vacationers can expect to devote part of their holiday stuck in traffic.
So if you're planning a vacation think about where traffic is worse and ask yourself whether you want to spend time off sitting in traffic with local commuter traffic. Business travelers, too, might think of any alternatives including the most obvious idea of staying as close to airports and business contacts as humanly possible.
International Traffic
People love to compare the U.S. to other "industrialized nations". The traffic experts found U.S. drivers generally fare better than Germany.  Traffic congestion cost the average German drivers $1,770 more each year than U.S. drivers.
While Los Angeles suffers with the worst traffic globally, Moscow stands right behind it in position number 2 worldwide. As for the top ten worst cities in the world, the U.S. holds only five of those positions.  While Moscow is number two, Sao Paulo, Brazil comes in at position four.  Bogota, Columbia holds position five.  London sports number seven.  Sidewalk café patrons in Paris, France enjoy the honor of watching the world's ninth worst traffic.
Why Traffic Increases
It doesn't take a rocket scientist to understand that more cars are cramming into highways hard pressed to keep up with demand. Between 1980 and 1999 U.S. highway capacity, that is, new roads, increased by 1.5%. At the same time the number of miles travelled by vehicles went up 76%.  According to the Federal Highway Administration, the crunch plagues metropolitan areas far more than rural areas.
Traffic and Accidents
With more cars cramming the streets and highways accidents are more likely. You're driving along and suddenly the cars ahead come to a standstill.  You brake safely and come to a stop, but does the vehicle behind you do the same?  This is one of many accident hazards brought about by congestion.  Other types of accidents occurring in heavy traffic include:
Rear End Accidents
Blind Spot Accidents
Brake Failure Accidents
Distracted Driving Accidents
Drowsy Driving Accidents
Inexperienced Drivers
Drunk and Drugged Driving Accidents
Slick Roadway Accidents
As we've pointed out elsewhere, driver distraction of all kinds tops the list of accidents in the U.S now. Whether drivers divert attention by texting, eating, drinking, adjusting the sound system or otherwise, even a moment's distraction when traffic suddenly slows down brings a deadly combination.  Stop and go traffic creates hair raising driving, requiring split second decisions even when the stop seemingly continues at length.
After these and other collisions take place numerous injuries can occur. The types of injuries range in severity from minor to severe injuries depending on many factors including speed and vehicle weight. While insurance companies scoff at sprain or strain types of injuries, those who have suffered such injuries know the effects can be debilitating and long term.  It is to be hoped that such injuries do not rise to the level of catastrophic injury.  But when they do the exponential increase in traffic congestion becomes a serious concern.
Car accident injuries add to the costs of delay and lost productivity brought about by ever worsening traffic. Medical bills, insurance costs and others represent monetary loss.  The effects of motor vehicle accident injuries don't fit on a spreadsheet but nevertheless take a significant toll on those stuck in traffic congestion and injured in resulting accidents.
---
The author of this article, Attorney Andrew D. Myers practices personal injury law in Massachusetts and New Hampshire. He has recovered millions of dollars for injured clients in over 25 years of pursuing accident claims.  Attorney Myers offers free initial consultations in his two offices in North Andover, MA and Derry, NH.
Sources:
INRIX Transportation Data, Released February, 2018.
Rush-Hour Woes Worsened in '17, Boston Globe, Feb. 11, 2018, p. B5.
The 10 US Cities With The Worst Traffic, Tim Winship, Business Insider Feb. 11, 2018.
Transit and Congestion Pricing, Federal Highway Administration, April, 2009.
What Causes Traffic Jams and Car Crashes?,  Naomi Mannino, Extra Mile, The Hartford, Sept. 20, 2017.