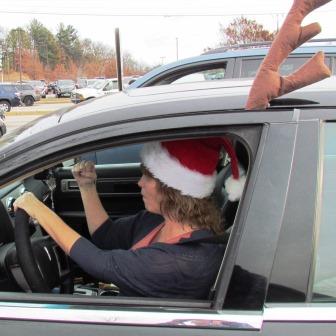 Aggressive drivers terrorize the highways all year round.
But over the Christmas holiday season they strike fear into other drivers at an even higher rate.
With pressure to buy gifts, attend social events and other seasonal stress, drivers often forget good driving manners.  If they ever had them.
How bad is aggressive driving in the holiday season?
Do studies exist?
Christmas Bad Driving
Nearly one-third of all drivers admit to driving more aggressively around the Christmas holidays.  Stress grips driver's psyches.  Yes, according to a study by a group called "GasBuddy" the seasonal holiday bad driving causes increased traffic accidents in the final days leading up to Christmas.
Whether it's frenzied last minute shoppers or stressed commuters attempting to get to a social event, car accidents occur in larger numbers at the same time as Christmas Carols blare over the car radio.  GasBuddy, a Boston based company operates various websites and apps aimed at monitoring gas prices at over 140,000 gas stations in the U.S. and elsewhere.
How Bad Are Aggressive Drivers Over the Holidays?
GasBuddy looked at driving habits of tens of millions of drivers in the U.S., noting the frequency of aggressive events.  Such events included speeding, hard braking or accelerating. This close-up look revealed that drivers are almost 200% more aggressive and wasteful of fuel over the holiday season.
Those outcomes came from data compiled from GasBuddy's smart phone app that provides motorists with an assessment of their driving habits.  The idea is to improve fuel efficiency by showing bad driving habits and those that cost money.  Don't laugh, the group reports aggressive driving habits cost bad drivers up to $477 per year.
Where are the Worst Aggressive Drivers over the Christmas Holidays?
The worst drivers in the country over the Christmas holiday season according to the study are in Georgia.  California and Texas rank second and third.
At the same time, even though Massachusetts drivers hold a reputation for bad driving, the Bay State came in 32nd in this study.  New Hampshire, which always looks to be number one, at least in presidential primaries, came in at number 44 in this study of bad driving over the holidays.
One insurance company also looked at car accident numbers during the Christmas season.  State Farm Insurance reports that 32 percent of drivers are more likely to become aggressive during the holidays.  The insurer's findings show parents and all drivers under the age of 50 more likely to drive in anger around the holly jolly Christmas season.
Aggressive Drivers Really Seasonal?
If bad driving peaks over the holidays, that doesn't mean the bad habits get packed away and stored in a box the rest of the year like the Christmas decorations.  In one single day recently I saw three different cars running stop signs.  Not the old "L.A. roll" where the driver slows, looks and resumes driving through the stop.  No, all three gunned it through.
Sometimes it appears people think an intersection is a game of who can get through first, before other traffic, regardless of signs.  True police cannot be in all places at all times.   That goes without saying.  At the same time anyone who drives any distance at all knows bad driving, aggressive driving, and downright rudeness behind the wheel are not getting better with time.
Aggressive Drivers Waste Money
Aggressive drivers cause accidents and over a thousand deaths on U.S. highways every year.  We've looked at those statistics and others in another blog article.   But, aggressive drivers also waste money.
The U.S. Department of Energy reports bad driving habits such as speeding, sudden braking and acceleration lower gas mileage between 15 to 30 percent.  And that's at highway speeds.  The same bad habits in stop-and-go type conditions can jack up fuel costs by up to 40 percent.
So aggressive drivers cause accidents and waste fuel.  They strike fear into other drivers simply attempting to get from point A to point B in one piece.  Finally, under the stress and self-imposed pressures brought on by the holidays bad driving habits make for not such a jolly experience on the highways.
---
If an aggressive driver causes an accident or injury to you or a loved one, our office can help.  With well over 20 years pursuing personal injury cases and representing victims injured in car accidents we will devote our attention to your best interests.  Bad drivers and negligent drivers are bad enough.  Don't let the insurance companies take advantage of you in the accident claim process.  Contact our office now.  Use the "contact us" feature below or call.  Your initial consultation is always free.
Sources:
GasBuddy Reveals that Drivers are Nearly 200% More Aggressive and Fuel-Wasting During the Holidays.
GasBuddy website, "About Us".
"New Tool Reveals Which Bad Driving Habits are Costing you Money", Michael Timmerman, Clark website, Dec. 13, 2017.