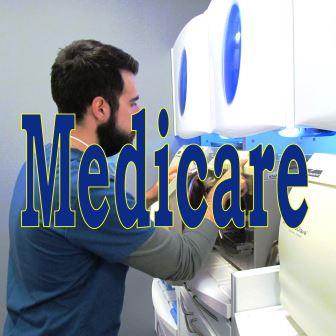 Medicare provides medical coverage for all Americans once they reach age 65.  People on Social Security Disability for two years also receive Medicare.  There are other twists.
But why do TV ads, junk mail and other sources barrage us all with alleged info on Medicare?
Medicare basics are out there.  But what direct sources give us accurate up to date information to clarify the facts?
Are you eligible?
When are you eligible for Medicare?
How do you apply?
What options exist?
What's the Difference Between Medicare and Medicaid?
If you wonder what the difference is you're not alone.  Those uninitiated to the two different programs often ask.  So some definitions help:
Medicare provides essentially health insurance, to those over age 65 and others, overseen by the federal government. If you're eligible it makes no difference what assets you have, whether you have a high income or no income.  There is no means test.
Medicaid, administered by the states gets funding from both the federal and state governments.  This is an assistance program, means tested, meaning Medicaid is intended largely for low income people and can help cover medical costs and long term medical care.
Who is Eligible for Medicare?
U.S. citizens reaching the age of 65 become eligible at that point.  Aging brings at least that one benefit.  Those under age 65 who receive Social Security Disability, or SSDI as the lingo goes, also qualify for Medicare 24 months after they receive their first SSDI check.
People with ALS on Social Security Disability also qualify for Medicare and do not need to wait the 24 month period.  There are other exceptions to the age 65 hurdle one of which is end stage renal disease, or ESRD.
Medicare "Parts" Explained
Medicare benefits break down by "Parts":
Part A provides hospital coverage.  This part, A, pays for inpatient hospital stays, certain skilled nursing facility care, hospice care and qualifying home health care.
Part B for the most part resembles traditional medical insurance without the above hospital coverage.  B pays for doctor's office visits, outpatient care, certain home health care, durable medical equipment and a number of preventative services.
Part C also known as "Medicare Advantage", works more like a managed health care plan.  It's an alternative to electing A and B.  As a result, Medicare Advantage includes the benefits and services under parts A and B.  Medicare approved private insurance companies run advantage plans subject to federal government rules.  The advantage plans usually have a yearly limit on out-of-pocket costs.  Also, such plans often provide additional coverage not included in A and B often for an additional cost.
Part D also known as prescription drug coverage, assists with paying the cost of prescription drugs.
Part A hospital coverage and Part B medical insurance often go by the name "Original Medicare".  Taken together with Part D prescription drug coverage they offer one option.  The other option, Medicare Advantage, offers a managed plan with the same benefits but working more like an HMO or a PPO.
Supplemental Medicare
The original part A and B coverage pays for much but not all health care services.  In other words without a supplemental plan the patient can get stuck with uncovered costs.  That's where something called Medicare Supplement coverage comes in.  Also sometimes called gap coverage, these plans are sold and run by traditional health insurers who must follow strict federal guidelines.
When To Sign Up For Medicare
U.S. citizens can first sign up for parts A and B 3 months before their 65th birthday.  The initial enrollment period runs for 7 months beginning 3 months before you turn 65, includes the month of your 65th birthday and ends 3 months after that.
Those missing the above window can still sign up during what they call a special enrollment period between January 1 and March 31 every year.  Noteworthy though, late signers face delayed coverage.  Also, they often face a 10% penalty.
Where is Reliable Medicare Information?
Throw out the junk mail and spam.  Calling advertisers who may or may not sell various supplements and advantage coverage will likely cause further confusion.  Better yet, learn the basics of coverage.  This blog provides a fundamental outline and could never dig into all of the details applying in every situation.
Health & Human Services publishes a handbook titled Medicare & You.  Authors update the guide annually.  Special editions state-by-state discuss the costs and list recognized companies that provide coverage.  We provide info on how to obtain the online and print versions below.
Does Medicare Pay for Accident Related Medical Bills?
Medicare considers itself health insurance giving coverage for normal health care and wellness.   But when the program pays bills related to an accident, federal law gives Medicare a right to take back any accident related payments it made out of any final settlement or judgment.  We have discussed such liens in another blog article.
Under this federal law most insurance companies take the position that they will not even discuss settlement unless and until the injured person acknowledges Medicare's right of reimbursement.  Also known as a right of recovery, this means people in a motor vehicle accident or any accident pursuing an insurance claim face another level of documentation.  A claim for "pain and suffering" damages requires clearance of Medicare's right of recovery.
People have told me "Medicare (or Medicaid) won't pay for my injury treatment" But, in fact hospitals and other providers bill Medicare and Medicaid for accident related treatment every day.  Likewise, they get paid.  As a result federal law by statute creates a lien on your personal injury case.  Attorneys and adjusters on both sides of the settlement must address the looming lien resolution process.
Medicare After an Accident
My office addresses Medicare and Medicaid requirements when settling claims.  Failure to push through the process lays the groundwork for problems down the road.  The regulations and the process itself present complexities and frequently change.
Most insurance companies refuse to settle a personal injury claim without proof that the federal rights of recovery are in hand.  That's because anyone including the insurance company who touches a settlement faces federal liability for failing to follow through.  Also, the person receiving the settlement faces potential penalties and the shutoff of future healthcare benefits if the right of recovery is not followed.
---
Sources:
"Medicare and You" published by Department of Health & Human Services
Online: Click Here.
Or Call:  1-800-4227
Or write to:
Centers for Medicare & Medicaid Services
7500 Security Boulevard
Baltimore, Maryland 21244-1850
Right of Recovery, 42 CFR § 411.24.
Note: The author, attorney Andrew D. Myers is a personal injury attorney in Massachusetts and New Hampshire.  He has taught continuing legal education (CLE) seminars on government and private health insurance liens.