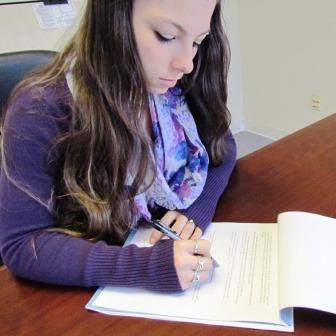 1. Will Must Go To Probate Court
Most people know that a Will tells people what you want to do with your money and other property after you pass away.  A properly executed Will can in fact be kept private until after you pass away.  But after you pass away, the Will means nothing until it is filed in the Probate Court.
In other words, the person taking care of where your money and property are distributed has no legal power to do anything until the Will is filed in the Probate Court.  Filing of the Will must be done by a petition and most often a bond, even if the Will requests no bond.  The court then reviews the papers and if they're in order, allows the appointment of the person who will take care of the legal finalities.
I've had people ask why they have to do anything in court when they already did a Will.   Think of the Will as a direction to the court to supervise the disposition of your legal estate.  Wills must be filed in the Probate Court before anything can be done with the money and property you leave behind.
2. Your Will is a Public Document
So after you pass away your Last Will and Testament must be filed in the Probate Court.  After that point, your Will becomes a public document.  The Will and other papers filed in association with finalizing the estate are available for inspection by anyone going to the court and asking to see the file.  This may or may not be an issue for you.
In some cases you may want the light of day to shine on the court's supervision.  But I've had people ask me whether everything can be kept private and the answer with a Will is no.
If you have done a Will and left someone out and you really don't want them to have anything to do with it, they can obtain the file and look through the papers.
3. Wills Deal with Money and Property – Funeral Wishes are Separate
Your wishes as to burial, cremation or other arrangements are separate from the Will.   True, you may include these details in the Will.   But a better plan is to make those arrangements with a funeral service.  Then let all of your family, loved ones, friends and others who will be around when you pass know what those arrangements are.  Let people know in advance.  You can write the arrangements down on a document given to those close to you.
The Will deals with money and other property like your house.  The reason that your other arrangements should be handled separately is that after the shock and grief of the passing of a loved one, the arrangements are an immediate concern.  Dealing with the money and property, although important, take an immediate back seat.  The Will might be and often is looked at later.  And if the Will is the only place you've included your wishes as to burial, cremation or other details it may be too late and others may have made those decisions for you.
4. Your Will is not an Advance Care Directive
Your Last Will and Testament indicates where you want your money and property to go after you pass away.  Distinguish this from a document known as a "Living Will".  The Living Will, a separate document, states your choice as to whether you want extraordinary life saving measures to be taken if you are no longer able to express your own informed consent.
Another separate document, the Health Care Proxy actually names someone to make those decisions on your behalf.  These documents share one thing in common with a Last Will and Testament.  To be valid the documents must contain all of the legal elements spelled out in state laws in all 50 states.
In New Hampshire, lawmakers gave the "Health Care Proxy" a different name: a "Durable Power of Attorney for Health Care."  But this is the same thing as a Health Care Proxy in other states.
5. Wills Require Legal Formalities
All 50 states have laws specifying the elements of a valid Will.  These laws spell out how many witnesses are required and other matters.  A person has to be named to handle financial matters set out in the Will.  Some states call this an Executor.  Others call it a Personal Representative.  This is a state by state requirement.
While not a technical absolute requirement, a self-proving affidavit is included in a Will meaning witness testimony will not be required before the Will is allowed by the Probate Court.   In other words, without this affidavit the court will not allow your Will until live witnesses are brought in.  If you pass many years after the Will was signed, who knows where the witnesses will be?  Why make people physically drive over to the courthouse when this simple step eliminates that requirement?
Without those and other formalities and requirements built into the Will there can be challenges, which can lengthen and complicate what should be a simple process.
Remaining Questions About Doing Your Will
Its true computer will forms exist.  Were the forms created by a licensed attorney bound to know the law and the formalities in each state?  Or are they quickie forms mass produced with no regard for actual legal requirements in your jurisdiction?
Only after the purchaser of the quickie form dies will such mistakes rear their ugly heads when the grieving family tries get the Will through Probate.  That's when saving a few bucks on a legal fee will look silly, too late.
Do the quickie forms tell you about spousal share laws?
Do internet form Wills tell you about pretermitted heir laws and the potential for a Will contest if they are not observed?
---
For more information about wills and other basic estate planning documents please click here.
---
Attorney Andrew D. Myers practices law in both Massachusetts and New Hampshire.  The office offers a free initial consultation centering on the client's needs and desires.  Call or contact us through this website to schedule an appointment.  Feel free to write down all of your questions and bring your list to your no-cost consultation in one of our offices.
---
Sources:
Durable Power of Attorney For Health Care:  NH RSA 137-J.
Massachusetts Health Care Proxy:  MGL c. 201D.
Model:  Rebecca Langelier