Do you think that older drivers should have their driver's licenses taken away at a certain age?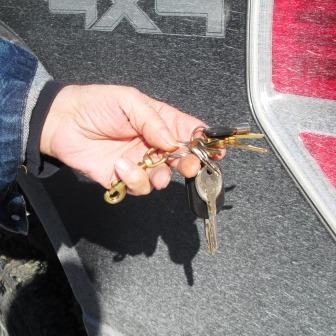 Taking car keys away from an older driver presents a nearly unthinkable task.
First of all it would be the rare senior voluntarily surrendering the car keys.
Car keys don't simply start the car. They represent freedom and independence, two things no one gives up willingly.
No state automatically revokes driver's licenses at a certain age cut off for several reasons.
For one, no politician would be elected or re-elected for wanting to take keys away from older drivers. Senior citizens enjoy a well-earned reputation for voting reliably.  Unlike any other group of voters or "demographic" if that's your lingo.  Senior citizens drive to the polls in a blizzard or complete absentee ballots like no other age group to make their voice known.
At the same time the underlying issue raised deserves further thought. At some point where dementia or other cognitive impairments set in, should a person's right to drive undergo scrutiny?
Senior Citizen Driving and Studies
Take a look at a study by the National Highway Traffic Safety Administration. NHTSA for short points out the issue will not go away any time soon.  The number of people age 65 and older doubles in the next 25 years.  People 80 and over will triple.
"Driving provides independent mobility that improves older adults' access to the goods and services they need and enhances their ability to participate in community and family activities that support quality of life."

Mild Cognitive Impairment and Driving Performance, NHTSA, January, 2019, DOT HS 812 577
So, count on senior citizens to fight any attempt to give up the car keys. At the same time, traffic research indicates that those with dementia present a greater risk for getting into accidents.  And one third of people with dementia continue to drive.
Loss of License for Medical Reasons
Another reason no state cancels driver's licenses at a given age is that licenses can be suspended or revoked for medical reasons. Whether it's called the Registry or the Department of Motor Vehicles, these agencies grant drivers licenses.  They also possess authority to suspend driver's licenses for medical reasons.  This happens where a medical condition poses an immediate threat hindering the person's ability to drive safely.
Suspensions like this come most often from law enforcement where there's been a car accident caused by a medical condition. Such conditions include stroke or heart attack.   Less severe medical challenges like a temporary blackout or dementia can also pose a threat to driving safely. Police can report drivers as a threat and have licenses taken away.
Medical providers can also report patients who may present a danger on the highway.  Whether they do this or not raises another question.
Most states offer those who have lost driving privileges this way various appeals. Whether it's a paper review or an actual hearing the person submits medical evidence and argues they are now fit to drive again.
Senior Citizens & Renewing Drivers Licenses
Special rules apply to drivers who are 75 and older who seek to renew their licenses.
Massachusetts drivers who reach the age of 75 must renew their licenses in person every five years. That means once you are 75, in order to renew your driver's license every five years the Registry of Motor Vehicles must conduct an eye test before the renewal.  As an alternative, the senior drivers can take an eye exam by an outside ophthalmologist or optometrist, and submit a vision screening certificate.
Other states including New Hampshire impose no special rules on older drivers. The New Hampshire Department of Motor Vehicles, the DMV, requires all drivers to renew every five years.  An eye test is mandatory for all ages.
Should senior citizens face loss of driving licenses at a certain age?
Legitimate concern comes up over the physical and mental health of drivers where statistics show the U.S. has an increasingly aging population.
At the same time, many states already have a process in place to take licenses away where a medical condition might make the driver unsafe. More and more states also require eye tests.
So weighing those factors together, it does not seem fair to arbitrarily take the keys away from older drivers simply because they have reached a certain age.
---
For more on what causes most car accidents click here.
For Mild Cognitive Impairment and Driving Performance  NHTSA study click here.