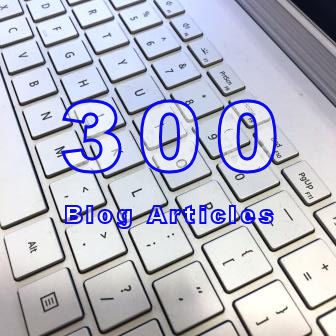 The Law Offices of Andrew D. Myers reached the mile mark of posting 300 blog articles after posting new material on a frequent basis for a number of years.  Articles focusing on legal issues faced by clients and others provide updates on our central practice areas including personal injury law, bankruptcy and estate planning.
Why do we post legal blog articles?  The law develops in new directions.  Courts decide groundbreaking cases.  Sometimes a new study gives fresh perspective on a long standing legal or social issue.  We hear common questions from clients and others.  Sometimes a crazy news item catches our attention.  In any event, posting regular blog articles provides an efficient way to reach the largest audience.
OK, the computer guys advise us that posting "new content" boosts our online presence.  And the law requires the label "advertising" on the website. But there's no apology here for any of that where we believe our posts give updated key legal info to those who might have no other way to obtain such material in the course of their daily lives.
Our first 200 blog posts are indexed here.  Our last 100 are highlighted below:
Personal Injury Law
Our "core content" on personal injury law includes a look at a central question:  What Causes Most Car Accidents?
Insurance law provides a challenge to those injured in accidents and we gave a glimpse of some twisted Massachusetts law in: Unique Massachusetts Law – No Fault Car Insurance
We asked whether an answer exists to the time honored question:  Worse Drivers, Men or Women? The Survey Says …  and yes there are actually "studies" on this.
Alright so we looked at Massachusetts insurance law, here's one on New Hampshire Car Insurance.
One major issue hitting those in accidents is how do deal with medical bills, so, we posted Medical Bills and How to Handle Them – Insurance Issues
Finally but in no way least, major serious threats caused by those who fail to clear snow from their vehicles, here's the law:  Jessica's Law: Dangers from Snow & Ice Buildup on Vehicles
Bankruptcy Law Posts
Core content focusing on bankruptcy basics included 5 Top Bankruptcy Facts: Weighing the Reality and Impact
Lawmakers cleaned up a contradiction in bankruptcy law benefiting social security recipients and harming those who receive veterans benefits with a new 2019 law, so we explained in Veterans in Bankruptcy – V.A. Benefits Excluded from Means Test
Those facing potential bankruptcy nearly always ask "what about my car", here's one answer: Car in Bankruptcy: Redeeming & Other Options
People considering bankruptcy also nearly always watch their credit score.  Here's a blog post we did when the scorekeepers tweaked their own rules:  FICO Credit Score: New Scoring System Helps Some Borrowers
Student Loan Debt needs no introduction here as a major economic issue.  Yes we hear the politicians talk about it.  But will bankruptcy law provide an answer? Student Loan Debt: Will Bankruptcy Law Ease?
Estate Planning Simplified
Estate Planning can be complicated or less so depending on the size of one's estate and the goals one has in mind.  Pretty much everyone knows what a will is.  But a look at the basics helps build some perspective on the task at hand.  5 Things to Know About a Will
So will basics are pretty simple, right?  How do you prevent a will contest in advance?  In Terrorem Clause: Putting a No Contest Clause in Your Will
One thing physicians, other health care providers and lawyers agree upon is that people should have advance care directives.   If it seems confusing at first we tried to simplify the issue with this post:  Advance Care Directives: What Are They?
Again, a will should be a simple matter and here's how to keep it that way:  Your Will: Make it Clear and Precise to Avoid Disputes
At the same time, a will and advance care directives are not the only legal documents to be considered so we offered some basic definitions in this post: Wills and other Basic Estate Planning Documents
Personal Legal Questions
So while the above topics address our "core" every day legal work, sometimes other issues grab our attention.
If you've shopped for a new car you know car prices are through the roof.  But despite years of advances are new cars really any safer?  New Cars: Any Better? Safer? Better on Gas?
Studies exist on nearly every imaginable topic.  Here's one on seating position in a passenger car if you're in an accident: What is the Safest Seat in a Car During an Accident?
While many of our articles touch universal topics, others look at more local concerns to my clients, oh and by the way, myself:  Route 495: Uniquely Bad Road in Massachusetts
We are not trying to stir controversy but as the population ages so too do those on the roadways.  Older Drivers: Should Their Licenses Be Taken Away?
Anyone who reaches the age of 65, or who is disabled, in the U.S. needs to know what Medicare does and does not do.  Unfortunately there's a lot of bunk that hits us all by mail, email and otherwise.  Here are Medicare facts and links to the only actual source on the subject:  Medicare Basics: What are the Parts? Does Medicare pay Accident Bills?
Why 300 Legal Blog Articles?
We hope we reach our goal of providing useful and readable articles on legal topics through blogs like those summarized above.  Often we get our ideas not only from present clients but also from web surfers who stop by.   You can suggest an idea by contacting us here.  Or, each blog article, at the bottom, provides a contact link allowing you to comment on an article or ask a question.  We have answered as many of those questions as time allows.   We have also written new articles based on your suggestions.
---
We're all bombarded by information by email, mail, TV advertising and elsewhere.  At the same time when do any of us have ability to sit down and find the info we want and need?  Especially in the legal area where some lawyers will charge you hundreds of dollars just to have a consultation and ask a question.
Do you think the TV lawyers are there to sit down and provide personal information or are they more interested in going to the studio and producing the latest newest slick TV ad?  In my office you will meet the lawyer who will handle your case.  Feedback shows that people read our blog articles and reach out for help.
After an accident, here are two of the top info blogs that our clients and potential clients click and read:
What You Should Do After a Car Accident in Massachusetts
What You Should Do After a Car Accident in New Hampshire