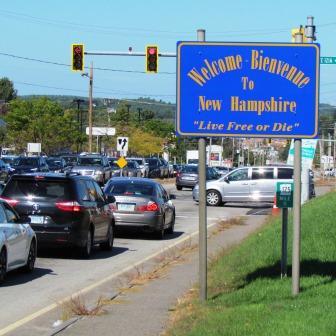 New Hampshire's unique laws point the finger at anyone and everyone who might share fault for an accident or injury.  We're talking negligence here.  Whether a car accident, a slip and fall or other injury case, NH applies its own law on dividing damages.
New Hampshire is unique in many ways.  The state holds the first in the nation primary.  Derry native Alan Shepard was the first U.S. person in space.  New Hampshire passed the first legal lottery in the U.S. in 1963.
The state also has a somewhat unique comparative fault law.  We're talking about what happens when more than one person or entity might be responsible for an accident or injury?  In another blog article we explained the basics of comparative fault, contributory negligence and apportioning liability.
Consider an example.  Mary is stopped at a red light.  Ben is pulled over in the breakdown lane texting his girlfriend but his car is sticking out in the roadway by a foot.  Harry is speeding along at 60 miles an hour in a 35 mile an hour commercial zone.  Harry swerves to avoid Ben's car partially blocking the road, then slams into the back of Mary's car causing injuries.
It's a rear-end accident.  Who is at fault?
Divvying up Damages Where More Than One is At-Fault
New Hampshire law allocates liability among all people and entities causing an accident or injury.  The problem comes up because the law allows that allotment to include even parties who have settled, parties who are not even present in a lawsuit and entities immune to liability.  For example, many government functions enjoy immunity to some degree from liability.  And charities often have limited liability at best.
When injury cases end up in court New Hampshire's unique laws control.  The law requires the court or jury to determine the amount of damages proportional to each party.  Further, in this context the word 'party' means not only to those who are actually before the court in the lawsuit.
The jury must consider all parties contributing to the accident or injury.  That includes those who may have settled, those not in the lawsuit, and parties immune from liability.  As a result a jury award can include people or companies not before the court.  So a Swiss cheese like award can have holes in it leaving the injured party's actual payment less than what it could or should be.
Can You Just Blame Anyone in Court?
Another twist in the law reduces the potential harshness of the scenario.  Someone sued for an injury can't simply point the finger at someone else.  Such claims blaming someone else require at least some evidence.
For example a major oil company ended up in court on claims they polluted New Hampshire groundwater with the additive MTBE.  The company tried to point the finger away at others.  They filed papers including the names of gasoline suppliers, gasoline importers, foreign refiners, domestic refiners, distributors, trucking companies, and persons with leaking underground storage tanks.  They actually named "several thousand non-litigants" they wanted to blame.
The court in that case pointed out that NH juries may apportion fault to all persons or entities who contributed to causing an injury, even if they are not parties to the lawsuit.  But the court rejected the oil company's attempt to pass the blame, or at least part of the liability, to the other non-parties in that case.  For one reason, the procedure was not followed, part of which requires that when a person or entity in a suit is found liable, then the burden of proof shifts to that party to prove why some or all of its fault should be allocated to the nonparties.
Application of the concept presents a challenge in following the law and the procedure.  In this case the liability poses what some like to call a trap for the unwary.
Massachusetts Comparison: Joint & Several Liability
Massachusetts law embraces a slightly different approach.  Under what is sometimes called pure joint and several liability. Multiple defendants share liability equally, no matter their degree of fault.
If one defendant pays more than their share, they are entitled to contribution from those who paid less.  An injured plaintiff's own comparative negligence reduces the defendants' payout proportionately.  When the plaintiff's liability exceeds 50%, they get nothing.
New Hampshire's Unique Laws
The New Hampshire case law establishing the apportionment principles only summarized above has been called "must reading" and "a big defeat for the tort litigation bar."  At the same time the law withstood Constitutional challenge.
State courts in all 50 states follow their own procedures and laws.  This is one example of how things vary from state to state. So in a case of serious injuries, failure to correctly put it together may leave the injured person with less than a full recovery.
---
The Author, Attorney Andrew D. Myers is a personal injury attorney with offices in New Hampshire and Massachusetts.
Sources:
DeBenedetto v. CLD Consulting Engineers, Inc., 153 N.H. 793, 903 A.2d 969 (2006).
Lex Loci: A Survey of New Hampshire Supreme Court Decisions, Charles DeGrandpre, NH Bar Journal, Fall, 2006.
RSA 507:7-e
State of New Hampshire v. Exxon Mobil, 168 N.H. 211,  126 A.3d 266,   (2015).
Zeller v. Cantu, 478 N.E. 2d 930 (Mass 1988).