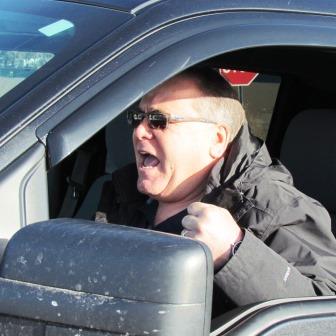 Road rage kills.
Aggressive drivers also scare the daylights out of drivers simply trying to get to work or other destinations.
Whether it's the stress many feel on a daily basis, or the crushing press of deadlines, driving often becomes a challenge.  Hitting massive traffic jams choking U.S. highways does nothing to improve anyone's mood.  Stop-and-go traffic or just simply facing stopped traffic, the roadways often turn into pressure cookers for those prone to aggressive behavior.
In an actual New Hampshire case, the driver of an SUV tailgated a smaller sedan, a Volkswagen Jetta on Interstate 89.  Approaching a construction area the SUV driver, in the words of the case "made a hand gesture".  The SUV then swerved into the right lane, passing the sedan, then abruptly cut back into the left lane.  In the sudden movement the rear of the SUV clipped the front of the sedan, forcing the VW driver to brake heavily, veering to the right .  The driver of the car lost control and crashed into a bridge abutment.  Although the SUV driver left the scene, he was later tracked down.  Video cameras in the front and back of the VW captured the events.
The New Hampshire Supreme Court found facts of that case fully supported a conviction for felony reckless conduct with a deadly weapon: the SUV.
Two Aggressive Drivers
Sometimes two drivers tangle, threatening everyone else on the road. In an actual Massachusetts case a motorist drove onto Route 128 allegedly cutting off another vehicle.  The second driver then started throwing objects at the vehicle that cut him off, cracking the windshield.  The Massachusetts courts agreed the conduct of throwing objects supported the charge of operating to endanger and malicious destruction of property.
A pickup truck and another vehicle started a high-speed chase on Route 28 in Stoneham, Massachusetts. The pickup driver swerved, causing the other vehicle to veer sharply, striking a curb, launching the car into the air before it landed upside down in the oncoming lane.  The driver died at the scene, the passenger was pronounced dead on arrival at the hospital.
Courts allowed a personal injury case brought against the truck driver to proceed.  Family of those killed in the crash brought a wrongful death case which the truck driver's insurance company attempted to dismiss on procedural grounds.  The Superior Court rejected the attempt and allowed to case to continue.
How Bad Road Rage?
Samples above represent only three of many road rage related cases handled by the courts every day. In fact bad drivers and aggressive drivers haunt the highways 24 hours a day 7 days a week.  In one study over one half, 51 percent of drivers, actually admitted to purposefully tailgating another vehicle.  Five other bad driving habits documented in the AAA Foundation study:
47% of those polled admitted to yelling at other drivers. That's 95 million people behind the wheel distracting themselves by yelling and screaming while driving.
Honking the horn to show annoyance or anger with another driver: 45% of drivers or 91 million drivers admitted to this.
33 percent admit to giving an obscene gesture while driving. I don't think we need to illustrate the famous salute admittedly given by 67 million drivers in the study.
24 percent of all drivers admit to actually trying to block another vehicle from changing lanes. That's 49 million drivers intentionally moving to block another driver from changing lanes.
Cutting off another vehicle on purpose: 12 percent or 24 million drivers.
AAA Foundation for Traffic Safety study
In smaller numbers 4 percent of those surveyed admitted to getting out of their vehicle to confront another driver.  Three percent admit actually bumping or ramming another vehicle on purpose.  Statistically that 3 percent might seem small but imagine how the 6 million drivers who were rammed by the road rager felt.
Vehicles as Deadly Weapons
In the above New Hampshire case, the SUV driver appealed his reckless driving conviction.  He questioned the finding that the SUV was a deadly weapon.
"A deadly weapon is defined … as "any firearm, knife or other substance or thing which, in the manner it is used, intended to be used, or threatened to be used, is known to be capable of producing death or serious bodily injury"

RSA 625:11, V
That language quotes New Hampshire law.  At the same time it represents such laws elsewhere and varies in no significant manner.
An average mid-size sedan driving the highways in the U.S weighs 3,351 pounds. The average SUV weighs in at 4,799.  The SUV in the case came in at 7,300 pounds.  Drivers of U.S. vehicles control between 1.4 tons and nearly 4 tons as they yell, gesture, swerve and otherwise navigate the highways.
"We have never required" the court held in this case, "that an object be intrinsically capable of causing death or injury."  Most noteworthy the court also explained that many simple everyday objects become deadly when they "are put to assaultive uses."
Cooling the Rage
True, it may be more easily said than done when it comes to staying cool behind the wheel in avoiding the wrath of aggressive drivers.  At the same time, the group that did the study mentioned above says there are things you can do to avoid becoming victim to inconsiderate angry drivers.   Maintaining adequate following distance, using turn signals and letting people merge top the list.  Tapping the horn but not using long blasts may avoid enraging other drivers.  Similarly, responsible use of high beams can avoid problems.  Finally, you know what, that "center finger salute" might make you feel better, but it's not going to help cool down an already bad situation.
Above all, remember your goal is to get from point A to point B.  Other drivers likely care less about your safety. Their issues include distraction, stress and anger.  Is tangling with them worth ending up in a hospital or court room?
For more on aggressive drivers click here.
---
When an injury occurs through no fault of your own we are here to help.  Road rage, distracted drivers, just plain bad drivers cause accidents and injuries every day.  My office has many years of experience representing those injured in car accidents and other mishaps.  Feel free to contact us through the contact us block below or call the numbers at the top of this page.
Sources:
Aggressive Driving, AAA Exchange, Link.
Commonwealth v. Young, Massachusetts Court of Appeals, 2007.
Kirschning v. Constantino, Middlesex County Massachusetts Superior Court, 2007-MBAR-086.
State of New Hampshire v. Carnevale,  NH Supreme Court case, decided November 26, 2019.