Slip & Fall Injuries & Hazards

Slip & fall injuries happen when hazardous conditions get in  the way.
Ankle injuries, wrist injuries and others result from slip and fall or trip and fall accidents.  Such injuries range from the less severe sprains to much more serious injuries.
At the same time, holding property owners liable for those injuries presents its own hazards.
A legal framework exists with a series of rules and laws that can make or break a legal claim.
Consider a Massachusetts case in which a man brought suit after falling on stairs and suffering an injury.  The man said he did not know what caused him to fall.  One witness claimed they saw a child's ball rolling away after the fall.  The court then spelled out three factors which can generally be required in any slip and fall case, with only slight variations from one jurisdiction to another:
The injured person must show that the property owner failed to maintain their location in a reasonably safe condition.
That a hazard or defect existed on the premises which caused plaintiff's fall.
That the property owner was on notice that such a defect existed, and had sufficient time to take remedial measures.
Evidence showed none of the above.  So the court dismissed the claim on summary judgment.   That's a fatal motion described in another blog article.  It means case closed; no trial.
Most states impose what's known as a duty of reasonable care under all the circumstances in maintaining property.  Courts in New Hampshire, not far off from the above standard, hold that this means property owners may be liable for failing to remedy or warn of a dangerous condition of which they know or in the exercise of reasonable care should know.
Five Types of Slip & Fall Accident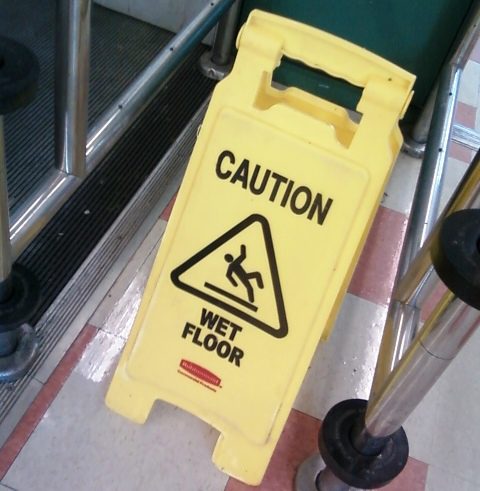 1. Water on Floor
Whether a business floor has recently been waxed or not, spilled liquids pose a slip hazard.  Workers at busy but smart restaurants clean up spilled food & drink fairly quickly.  The longer the stuff stays on the floor, the greater the case that management "knew" yet failed to act.
2. Other Substance on Floor
A grape on a supermarket floor becomes a slippery hazard.  So too do other fruits, vegetables, chemicals and many other things that end up on the floor.  They're not supposed to be there. There have been cases of green beans causing a fall, bananas and even an out of place single piece of gravel.
3. Snow & Ice
Icy outdoor surfaces pose significant problems in winter.  On the one hand courts in Massachusetts, New Hampshire and elsewhere make it tough.  They pretty much come right out and say New Englanders should be used to bad conditions.  On the other hand, bad weather or not, property owners still face a duty of reasonable care.  At one time Massachusetts courts drew a distinction between a "natural accumulation" of snow and ice or an "artificial condition".  There was no liability for injuries caused by one, liability for the other. Courts got rid of that distinction.  At the same time snow and ice injuries can still pose a challenge.
4. Unmarked Hazards
Failure to warn people about safety hazards can create liability.  Such hazards include holes in the floor, slopes or angles in the ground surface, uneven levels, and bumps in carpet or maintenance work.
5. Broken Railings
Secure railings can prevent a serious fall on stairways and landings.  People may or may not be paying full attention when climbing or going down stairs.  They may be distracted by an armload of packages or anything else.  Broken, loose or missing railings then cause or at least contribute to the severity of a fall.  Evidence of negligence often arises in commercial properties from failure to adhere to building codes.
Above all poor lighting can cause or contribute to any of the above hazards.  In a well-lit area people can see there's a problem and face an easier task of time going around the problem or taking other steps to proceed more cautiously.
Self-Serve: Mode of Operation
You fall and suffer an injury.  You hold the burden of proving the store or other property owner had notice.  Actual notice is rare. So often those injured must prove that there was "constrictive notice".  The condition existed for sufficient time the store should have known.  So the injured person bears the burden of proof either way.
Let's turn that idea on its head.  Some courts, notably Massachusetts, adopt a "mode of operation" theory.  Here, the injured party satisfies the notice requirement if they establish that their injury resulted from a reasonably foreseeable dangerous condition related to the owner's self-service mode of operation.
For example, the customer falls on a grape in the produce section.  So-called "self-service" areas let customers handle and pick their own fruits and veggies.  Self-service applies to other items but the cases often involve produce.  Some courts hold that this results in foreseeable spillage and breakage littering the floor, requiring owners to use extra care.
Simple, Right?
People expect you to watch where you're going.  You fall; you're told "hey look where you're going."  If others can prove you bore at least some of fault for the accident it impacts your case.  The law calls this contributory negligence or sometimes comparative fault.  That's actually a discussion for another blog article.
At the same time if your own action in any way contributed to the accident, they'll be sure to bring it up.  So if the insurance company claims you had any role in the accident, like texting and walking or coming out of a bar after even one pop, they'll call it negligence.  Insurance companies ask whether you were carrying anything, even a purse.  They ask what kind of shoes you wore, where you were looking, were you wearing headphones, and more.
Slip & Fall Injuries
Common injuries in slip and fall cases include ankle fractures and sprains.  Injuries range from minor sprains to serious fractures causing permanent residual symptoms.  Head, neck and back injuries and broken bones often result after a slip and fall or trip and fall accident.
The law in most states including Massachusetts and New Hampshire requires property owners to maintain their properties.  The law also carries hidden traps including notice requirements for those injured in some cases.
At the same time, proof of fault is not as simple as in many other types of injury cases such as auto accident claims.  You're stopped at a red light and someone plows into you from behind, that's one case.  Walking along a cement sidewalk in a commercial complex, talking to your friends, carrying shopping bags or other items, and you trip on a hard-to-see crack, that's a different case.
If you have been injured in any case that was not your fault, do yourself a favor and retain an experienced personal injury attorney in your jurisdiction as soon as possible to optimize our case.
---
The Law Offices of Attorney Andrew D. Myers represent those hurt in accidents in Massachusetts and New Hampshire. Our experience includes 25 years of handling auto accident, slip and fall and other injury cases, recovering millions for our clients.  Contact us now through the "Contact Us" link or the telephone numbers listed at the top of this page.
---
Sources:
Bowers v. P. Wile's, Inc., 475 Mass. 34, 54 N.E. 3d 1089, (2016 Massachusetts Supreme Judicial Court case).
Ouellette v. Blanchard, 116 NH 552, (1976 New Hampshire Supreme Court case).
Sheehan v. Roche Bros. Supermarkets, Inc., 448 Mass. 780, 863 N.E.2d 1276 (2007).
Thomas v. Distaula, et al., Middlesex County Massachusetts Superior Court Case # 01-0311(B).