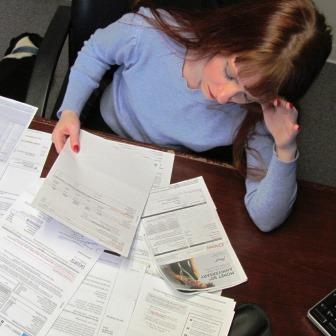 Stopping the bills.
They pile up.
You want to pay them.
You think about how to juggle finances to stop the bills and collection notices.
Some of the bill collectors or credit card companies behind them may even have started actions in small claims or other courts.
The automatic stay of bankruptcy stops all collection actions by creditors.  With the force of a federal injunction the automatic stay of bankruptcy prohibits continued collection of debt.  That includes phone calls, mailed collection notices, court cases and liens.
Bankruptcy law allows certain creditors to ask the court for relief from the stay.  At the same time this applies largely to secured lenders, not to unsecured debt such as credit card debt.
Exceptions exist to the immediate halt of court process under the bankruptcy stay.  First of all, criminal charges and cases remain unaffected despite a bankruptcy filing.  Other matters excluded from the stay of bankruptcy include paternity matters, domestic support cases and domestic violence matters.
As you can see the automatic stay of bankruptcy applies broadly to debt, collection and financial matters.  At the same time bankruptcy law offers no protection against criminal cases or most matters falling under the umbrella of family law.
Is there a minimum amount of debt required to file bankruptcy?
Chapter 7 bankruptcy discharges debts.  The law imposes no minimum amount of debt.  As a practical matter most of our clients consider all options prior to turning to bankruptcy.  Unfortunately creditors often refuse to negotiate or work with people.  Repayment plans often fail to include all debt.  And those continuing to pay find themselves swimming in snowballing interest, fees and charges. Finally, the basic principal amount owed often goes down slowly if at all.
So, a chapter 7 bankruptcy imposes no minimum or maximum debt limit.  At the same time a chapter 13, which requires a payment plan, applies only if the filer owes no more than $419,275 in unsecured debt, $1,257,850 in secured debt.  Those amounts change periodically so check before filing.  But remember those are maximum limits applied only in chapter 13.
Bottom line: neither chapter 7 nor chapter 13 impose a minimum amount of debt required in order to file.
What kind of debt is discharged in bankruptcy?
Credit card bills top the list of debts wiped out by the bankruptcy discharge.  Others include medical bills, repossession deficiency judgments, personal loans and back rent from prior landlords.  The automatic stay halts collection when bankruptcy is filed.  If all proceeds well, a bankruptcy discharge issues at the end of the case, eliminating the legal obligation to pay those debts.
Student loans remain after bankruptcy; they are not discharged unless the debtor files a separate case within the bankruptcy and proves "undue hardship", a standard usually fairly difficult to meet.
Debts not discharged in bankruptcy include the following:
Alimony
Tax Liens
Debts incurred by fraud
Debts incurred by willful injury or wrongful death, this would include judgments arising from a drunk driving accident
Most noteworthy, as we pointed out above, bankruptcy generally applies to financial headaches.  Bankruptcy for the most part gives no relief to legal challenges outside of finances.
Stopping the Bills
The automatic stay of bankruptcy under section 362 of the U.S. Bankruptcy Code provides protection against collection lawsuits, phone calls, repossession actions and any continued enforcement of a prior court judgment.  Although creditors must stop collection lawsuits, the debtor or their attorney file a "suggestion of bankruptcy" or other notice in the court to stop the suit.  The automatic stay precludes debt collectors from taking other steps including foreclosures and other actions against the bankruptcy filer or their property.
At the same time, while the automatic stay grants the person filing bankruptcy some "breathing room" exceptions do exist to the stay.  Creditors can and do file motions for relief from the stay to go forward with certain actions including foreclosure.
---
What happens if creditors violate the automatic stay of bankruptcy?  Click here.
---
The Law Offices of Andrew D. Myers represent consumer debtors in New Hampshire and Massachusetts.  Click the "Contact Us" link above or call one of our phone numbers at the top of this page for a free initial consultation.  Our offices are located in North Andover, Massachusetts and Derry, New Hampshire with free parking at both.
The Automatic Stay of Bankruptcy; 11 U.S. Code § 362.
Federal Register Number Update.