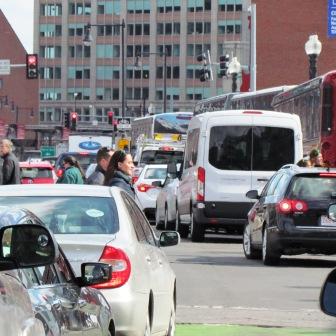 Ride-sharing started out as an idea aimed at least in part at reducing heavy traffic.
But that goal eludes reality.
In fact, traffic worsens nationwide despite lofty goals.
Ride-share inventors thought people would happily give up their own personal battles with traffic jams and "share" a ride with other people going in the same general direction.  Drivers for Uber and Lyft, the two best known rideshare operatives would pick up passenger A in one spot.  On the way passenger B would hop on, heading to a final destination not far from A's goal.  And so on until as many as four or more cars were off the road and A through D were dropped off at their final stop s without having to parking or other nightmares.
Ride-sharing software
"Cutting-edge algorithms, they believed, would steer behavior through pricing and route-matching, letting drivers spend little time between trips."

Wall Street Journal, Feb. 15, 2020, p. B1.
That dream fizzled when the idea got off the drawing board.  Like so many utopian promises of computer software and hardware solving all of our problems, actual experience defied the dream.
According to the Wall Street Journal, most people actually use ride-sharing as a taxi substitute.  The venerable newspaper reports most riders order their own individual Uber or Lyft, wanting nothing to do with actual pooling.  They insist on the private ride even though pooling provides a lower rate.
Rather than using rideshares as a feeder to mass transit, city officials report the habit reduces use of mass transit.  77% of metropolitan area trips are requested by only one party.  Mass transit use declined overall in the last decade. Research indicates only between 20% and 30% of rides in cities are actually "pooled".   That, despite early promises that ride sharing would reduce traffic.
Ride-Sharing Accidents
More traffic means more accidents.  Increased traffic congestion from whatever source leads to heightened likelihood of motor vehicle crashes.  Enter a study claiming accidents increased following the introduction of ride-sharing:
"The rise of ride-sharing services has increased traffic deaths by 2% to 3% in the US since 2011, equivalent to as many as 1,100 mortalities a year, according to a new study from the University of Chicago and Rice University."

MIT Technology Review, Oct. 25, 2018.
It might seem hard to believe that simply putting a few ride-share vehicles on the roads would cause more motor vehicle accidents.  But researchers from the University of Chicago and Rice University examined statistics on file with the National Highway Traffic Safety Administration, or NHTSA.  They compared the numbers with dates Uber and Lyft started up in named cities.  The number of accidents per-miles travelled increased in a number of U.S. cities following the launch of ride-share services.
Contrary to the initial promise of ride-share apps, researchers documented the increase of traffic congestion caused by such vehicles.  They found ride share drivers spend 40% to 60% of their time behind the wheel searching or waiting for the next passenger.  Known as dead-heading, the empty cars driving around clog city streets and rural highways alike.
What if you're in an accident with a ride-share vehicle?
Like any other moving vehicle ride-share cars get into accidents. Your recovery depends on whether the ride-share driver or the other car or cars were at fault.  Uber and Lyft both carry liability auto insurance.  The driver him or herself is also required to carry their own auto insurance for periods of deadheading.
What if you're a ride-share passenger and the other car is at fault?  Of course you, the driver of your car and hopefully law enforcement document the name of the at-fault driver.  That's because the other, negligent driver's insurance must kick in.  What if they're uninsured, which happens in New Hampshire where auto insurance is not mandatory or in cities where scofflaws prevail?  Then the ride-share uninsured provision takes over.
Suppose you're injured in an accident with a ride-share driver on the way to pick up a waiting passenger matched on the app?  Once the match kicks in usually Uber and Lyft insurance provides primary coverage.  But if the driver is on the way, look to the driver's coverage.  At the same time, drivers may have a minimum under state law and in that event both the ride-share service and the driver's insurance coordinate coverage.
Two states clarified the overall national issues by passing specific auto insurance laws for ride-share vehicles.
Massachusetts Ride-Share Insurance Requirements
Massachusetts law requires ride-share cars logged in to the network but not actually carrying any passengers to carry liability insurance with limits of $50,000 per person and $100,000 per accident for bodily injury caused by an accident.  Insurance in case of property damage must cover up to $30,000.  When the driver actually carries a passenger the required insurance must cover up to One-Million dollars.  That total covers death, bodily injury and property damage in a single accident.
New Hampshire Ride-Share Insurance Requirements
New Hampshire has no mandatory auto insurance law in general.  But ride-share drivers must carry auto insurance.  Even if they're not carrying a passenger, as long as they are "logged in" they must carry liability insurance with limits of $50,000 per person, $100,000 per accident. They must also insure themselves for up to $25,000 for property damage.  When engaged with a ride-share passenger the mandatory insurance level rises to $300,000, including coverage for death, bodily injury and property damage.
What to do after a Ride-Share Car Accident
Accidents involving ride-share vehicles can bring in at least three insurance companies.  Insurance coverage may include the ride-share services company, the ride-share driver, and the insurer of the other, potentially at fault vehicle.   Enter the frequent cloud placed over split liability scenarios.  This happens most often involving intersection accidents where drivers point the finger at one another.  Who ran the red?  What driver stormed through a very latent yellow?  Did someone impatiently gun it before it turned green?
---
With multiple insurance companies all too eager to point the finger at the next insurer, those injured face a challenge.  Trying to get an answer from an insurer on coverage, liability and medical bills those injured may end up on hold listening to elevator music and the inevitable "your call is very important to us", of course realizing the opposite is true.
The Law Offices of Andrew D. Myers handle auto accident liability issues in Massachusetts and New Hampshire.  Contact us through the 'Schedule a Consultation' tab above on this page or either of the phone numbers at the top of this page.  We are here to help navigate through the insurance maze and drive towards an optimized settlement.
Sources:
Massachusetts Law, M.G.L. c. 175, § 228, Transportation network drivers; Insurance requirements.
New Hampshire Law, RSA 376-A-1, Transportation Network Company.
The Ride-Hail Utopia Got Stuck in Traffic, Wall Street Journal, p. B1, Feb. 15, 2020.
Uber and Lyft are behind a sharp rise in US traffic deaths, MIT Technology Review, Oct. 25, 2018