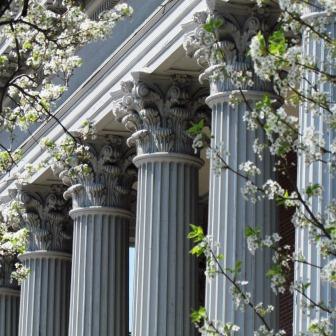 New Hampshire Courts have shut down normal operations in response to the COVID-19 pandemic.  By order of the New Hampshire Supreme Court all in-person proceedings are suspended through Monday, April 6.
Essential Services in NH
Legal actions join many other sectors of society gutted by the Corona Virus now knows as COVID-19.  Governor Chris Sununu announced a stay-at-home order, ordering the shut down of all "non-essential" business.  If you, like me, wonder what that means here is the list of "essential services" allowed to continue.  Not on that list?  The Governor's edict mandates you to stay away from work.
Attorneys providing services to protect their clients from prejudice gain recognition as "essential".  My office remains open with precautions, more on that at the bottom of this post.
---
New Hampshire Courts and Covid-19 Going Forward
The New Hampshire Governor's declaration of a State of Emergency applies to all matters pending in the Circuit, Superior and Supreme Courts. The Circuit Court includes local district courts, family court and probate courts.
All civil and criminal jury trials from March 13 through April 13 are cancelled, to be rescheduled later.  If you have received a notice to appear for jury duty during that time period you are excused.  For all jury duty notices April 14 and after, the courts ask you to check the New Hampshire Judicial Branch website.
Exceptions to the court closings include cases involving protection of constitutional rights such as bail hearings and plea agreements for those incarcerated.  Other emergency matters are being heard on a case-by-case basis as determined by the court.  These cases would include requests for orders of protection for domestic violence, child-related emergency orders and emergency mental health orders.
People needing the above emergency services can still go to a courthouse but they'll first be screened for any signs of the virus.  The screening questions are first, whether you have a cough, fever, shortness of breath or difficulty breathing. Second, have you traveled internationally in the last 14 days?  Third, have you had contact with anyone who has or might have COVID-19?
Those who answer yes to any question are denied entry for health reasons.  If and only if the answers are no, then the person can enter and speak with court staff regarding emergency matters.  If denied entry, assistance is available over the phone.
You Get a Notice to Appear in Court.  What do you Do?
If you have an official court notice requiring your appearance in court on a civil matter, the appearance has been suspended at least until after April 6.  Cases off the list include speeding tickets, small claims and the like.  Those in doubt about whether a particular case is going forward can call 855-212-1234.
I spoke with New Hampshire Judicial Branch Acting Director of Communications, Tammy Jackson who explained that as many court personnel as possible are working remotely.  While some of the busier New Hampshire courts can hear hundreds of cases in a day, Jackson explains actual in-court hearings are substantially down.
She also points out that court personnel now enforce protective measures.  The social-distancing standard of staying 6 feet apart is a must.  The courts also now observe rigorous cleaning procedures especially in public areas.  Also expect to be asked to use hand sanitizer before entering court.
A question I often get is from people who have received a summons indicating they've been sued.  Generally in most civil cases an answer must be filed within 30 days.  If no answer is filed a default judgment can be entered against the individual.  At this time New Hampshire courts are electronic and an answer can be filed from your home computer.
Are Court Deadlines Affected by COVID-19?
Court orders and many laws impose various deadlines like the answer deadline mentioned above.  The current order extends all deadlines falling between March 16 and April 6, 2020 to April 7, 2020. For example a statute of limitations set to expire between the above dates now expires on April 6.
At the same time, if the statute expires after April 6, the suspension period does not extend the date.
I have made every effort to ensure the accuracy of this information. But due to the immediacy of the COVID-19 situation things could change.  I asked and as of deadline time there's no word on whether the April 6 deadline will be extended.
What About Federal Court Cases in New Hampshire During COVID-19 Pandemic?
All of the above applies to New Hampshire state courts.
As for the federal courts, the Warren Rudman Courthouse in Concord has been closed until April 13, with the exception of certain hearing days.  The federal court clerk's office remains closed to the public until further notice.  Civil and criminal jury trials scheduled before May 1 are continued.
The federal court initiated a website providing more detailed information.  Especially see Standing Order 20-05.
Realistically most of what happens in the courts now takes place electronically.  Over the first days and weeks of COVID-19 developments my office posted and received electronic filings by other attorneys.  So far, that side of things is going smoothly and the state and federal clerks are moving things along.
---
Our Law Offices are Open With Precautions
The Law Offices of Andrew D. Myers in Derry, NH and North Andover, MA remain open during this extremely difficult time.   We see clients one at a time by appointment only.  Please feel free to call in advance to schedule an appointment.   When we confirm, we assure that you are comfortable with coming to the office.  Our rigorous cleaning protocols at this time include sanitizing all surfaces such as conference room tables, desks, door knobs and others.  We provide hand sanitizer.  Our policy also asks all clients not to come to the office if you have symptoms or answer yes to any of the questions in the above screening test.  We are happy to provide your free initial consultation in our areas of practice by telephone or Skype.
We also invite you to explore our many blog articles which may answer some more basic questions:
What to do After an Accident in Massachusetts
What to do After an Accident in New Hampshire
Again, we are here to help.  Contact this office now through the "contact us" tab above or call one of the numbers at the top of this page.
Above all:  Be well and be safe.