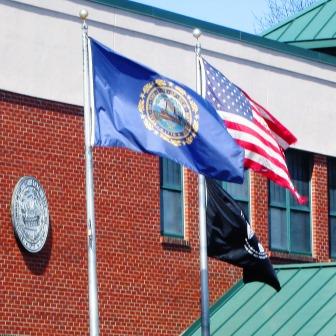 COVID-19 legal shutdowns continue.  The New Hampshire court COVID-19 shutdown continues.  Consistent with national efforts hoping to stop the spread of the virus, New Hampshire state courts have extended the suspension of normal operations.  The initial shutdown of normal state court operations went through April 6.  That date has now been pushed forward to May 4.
In making that announcement, court administrators indicate that New Hampshire state courts remain open on a restricted basis only.  That means Superior and Circuit courthouses throughout the state remain open only to those filing for emergency relief or those who have scheduled in person proceedings.  Courts are not open to the general public for routine matters including viewing files or copying papers.
To some extent the world can't stop.
Certain pressing matters like those rising to constitutional proportions still move along.  Bail-related hearings and other cases requiring protection of constitutional rights of criminal defendants must be heard.  At the same time the New Hampshire courts now conduct many hearings by telephone conference call or by video to avoid direct physical human contact.
UPDATE
---
This blog updates a previous post providing more detail on the COVID-19 shutdown and how it impacts particular types of cases and looks at the federal court closure in New Hampshire.
---
Those affected by New Hampshire state court deadlines falling between now and May 4 can take a breather.  For example if you have received a civil court summons requiring a response within 30 days, that deadline now stretches to May 4.
If you have any question not answered here on a case pending in the state courts, or notice you have received, the court clerks ask you to call 855-212-1234.
Constitutional Issue raised by COVID-19 Legal Shutdowns?
No question, the spread of COVID-19 poses severe health risks to be taken seriously by all.  At the same time valid legal questions remain over the extent to which authorities have simply shut down normal activities.
For example the Governor of New York and President Trump played verbal ping-pong over a possible stay-at-home order for New York, Connecticut and New Jersey.  The Governor raised a legal question – unconsummated – because the President never acted.
But Constitutional questions over what authority our leaders possess to actually disrupt business and other daily activities came up, even if only briefly, in New Hampshire courts, with a possible further answer at a later date.
On March 20, a Merrimack County Superior Court judge dismissed a case challenging Governor Chris Sununu's emergency orders regarding the COVID-19 virus.  Now, the court has explained its reasoning in a 22 page decision.
One key issue presented questions the governor's authority to ban gatherings in excess of 50 people and to ban dining-in at restaurants and other places.  A later federal, and then state, directive reduced that gathering to no more than 10.  But when filed, this case came on the heels of orders that no more than 50 people gather at one place at the same time.
Those filing the New Hampshire case claimed the order was unconstitutional in part because it violated their right of public assembly under the First Amendment of the U.S. Constitution as well as the New Hampshire Constitution.  They also claimed the restrictions violated their right to religious freedom under both the federal and state Constitutions.
Government Order to Shut Down Business Constitutional?
Addressing the restaurant closings, the court held that as long as the governor's actions were in good faith and based on sufficient factual basis the order could stand.  Sufficient basis in fact was found where, if the spread of the disease hit New Hampshire as it already had elsewhere in the world, the state would be overwhelmed.
Superior Court Justice John C. Kissinger pointed out that multiple jurisdictions acknowledge an executive's authority to suspend or infringe upon certain civil liberties during a state of emergency.
"In an emergency situation, fundamental rights such as the right of travel and free speech may be temporarily limited or suspended".

United States v. Chalk, 441 F.2d 1277 at 1280, 1971 decision in 4th Circuit Court.
A three-part test measures the Constitutional validity of restrictions on assembly and religion:
(1) Is the restriction "content neutral"?
(2) Does the government action narrowly serve the intended purpose? and
(3) Does the restriction allow for alternative opportunities?
The court found the order at issue impacted all types of gatherings equally.  The order passed step one.  People, the court found, can still get take-out, go to a drive through and watch church services on TV.  The order is limited in time.  So, the order was found narrow enough to pass step two of the test.  Adequate alternatives survive the order. People can communicate by telephone and the internet and gather in smaller groups.
So for all of the above reasons, the court found the Governor possesses authority to suspend or limit fundamental rights during a state of emergency.
Beyond New Hampshire Court COVID-19 Shutdown
The court itself noted there is not a wealth of actual New Hampshire case law on the issues raised.  Most, not all, of the law cited in the case come from other jurisdictions including lower federal courts.
Further, the final decision was based in part on a NH state statute declaring that:
"the governor shall have the power to declare a state of emergency …".

RSA 4:45, § I.
However a state statute is not the "end of the story" ever in any legal analysis.  Any acts of a legislature must be found, if challenged, to be consistent with Constitutional standards.  In other words, state statutes, RSAs or other, must be able to withstand Constitutional challenge.  The Constitution, whether U.S. or state, stands as the overriding legal standard against which any legislative act must comply.
So, no state, or federal, statute is ever the "final word" on any issue if it fails to measure up to standards stated in the Constitution of the U.S. or the state in which it was enacted.
Without question the COVID-19 pandemic poses serious issues.  At the same time valid legal questions linger over when and how executive action can shut down every day activities. Valid grounds exist for appeal of the above decision.
COVID-19 Legal Shutdowns and Future Ramifications
Government response to the COVID-19 virus brought every day activities largely to a halt.  The virus will be stopped.  Legal questions shaking the very foundation of constitutional law on state and federal levels will remain.  How far can such orders reach?  What facts justify such orders?  Is there room for abuse of such government action and what measures will be taken to assure reason?
---
Law Office Open
The Law Offices of Andrew D. Myers in Derry, NH and North Andover, MA remain open.  We have a limited number of people in the offices at this time, we sanitize surfaces, we "socially distance".  We also offer free consultation by telephone regarding any Personal Injury or Bankruptcy matter.  Feel free to contact us through the "Leave a Reply" block below or call one of the numbers at the top left of this page.
---
Article Sources:
Binford, et. al. v. Governor Christopher Sununu, Merrimack County New Hampshire Superior Court, Docket No. 217-2020-CV-00152.
NH Judicial Branch Website.