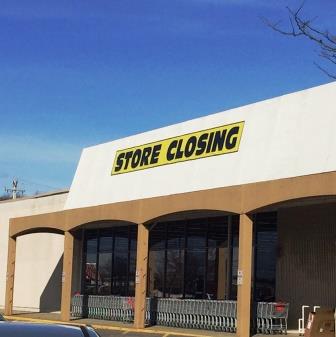 2020 has been a year marked by trauma, virus, political upheaval and bankruptcy filings.
For years the ease of online shopping gained enormous popularity.
How easy is it to simply search, click and buy as opposed to getting in the car, fighting traffic and dealing with the hassle of parking, malls and all the rest.
Add to that, old school merchants so set in their vintage marketing ways that their appeal simply burned out and faded away.
Then came the pandemic and retailers fell like flies.
2020 alone brought bankruptcy filings by the following well-known if not iconic businesses:
J.C. Penney
Lord & Taylor
J.Crew
Nieman Marcus
Pier 1 Imports
Tuesday Morning Retailer
Hertz
It's true that Chapter 11 allows for reorganization as opposed to crash-and burn.  It's also true that the over two dozen retailers filing bankruptcy in the year of the pandemic face, at best, an uncertain future.
Final Straw Broke Camel's back
Some stores and brands struggled even before the Covid-19 nightmare.  They carried massive debt and faced sky high mall and other monthly lease payments.  Managers often looked more towards how they used to do things than blazing a trail into a new retail era.
"Department-store chains … were already retrenching before the pandemic, struggling with falling sales as shoppers buy more online and shift their preferences to small specialty stores."

Wall Street Journal, August 3, 2020.
Business experts see the trend towards bankruptcy at least in part as a drive by retailers to get rid of overpriced leases where landlords refuse to negotiate.  In any event the increased bankruptcy filings, if nothing else "are the latest indications of the Covid-19 pandemic's ruinous effect on storied American retailers" according to the author of the above cited article.
But what does it all mean to the rest of us?  Older shoppers used to their bricks and mortar stores and shopping trips now face fewer and fewer choices.  At the same time are they the only ones hurt?  When the number of retail options shrinks that means less competition.  Will the online retailers take advantage of less competition and slowly but surely jack up their prices?
Companies filing Chapter 11 can sometimes reorganize, get rid of overwhelming debt, and emerge slimmer and trimmer.  Examples of companies coming out of Chapter 11 to survive include Six Flags, Sbarro and of course GM and Chrysler.  Other times the company's assets are sold to pay debt and the company is done.  Lehman Brothers and Enron hit the end of the trail in their filings.
Bankruptcy & Consumers
Contrast the business filings above with personal bankruptcy.  Sometimes called consumer bankruptcy, Chapters 7 and 13 commonly help individuals and families deal with overwhelming debt.
Chapter 13, sometimes called a wage earners payment plan allows people to catch up on the arrears in a mortgage through a three to five year payment plan.  This assumes there is enough income to make all payments.   If you can't make every payment timely, the person filing ends up back at square one, losing the money paid into the plan
Chapter 7, sometimes called "straight bankruptcy" refers to a relatively fast discharge of debts for individuals and married couples.  The legal name "Liquidation" refers to the idea that all property is liquidated in exchange for a discharge of debts.  In reality, in consumer bankruptcy, nearly all filers of personal bankruptcies find that their property is exempt and they go through the process unscathed.
Those filing Chapter 7 receive a discharge usually in a few months, retaining all exempt property.  While secured debts face the chapter 7 discharge, the filer has choices.  Most people simply reaffirm the debt and it sails through as though there were no bankruptcy.  But, an old car that's not running, for example, that still carries a loan, can be surrendered and the debt discharged.  A third choice involves finding a redemption lender and filing a motion to essentially reduce the loan to the actual value of the car.
Bankruptcy filings going forward
Overall bankruptcy's goal in the words of the U.S. Supreme Court is to provide honest debtors with a fresh start.  That's probably why Enron went out of business.  At the same time the vast majority of consumer bankruptcy filers generally end up retaining their property, receiving a discharge of credit card debt and enduring a hit on their credit.  Many consumer bankruptcy filers find that the credit hit can be managed and that it is an acceptable trade off for getting rid of overwhelming debt.
Here's more on Bankruptcy Exemptions.
-0-
The author of this article, Attorney Andrew D. Myers represents consumer debtors in Chapter 7 and Chapter 13 filings in New Hampshire and Massachusetts.
Sources:
Busted Retailers Use Bankruptcy to Break Leases by the Thousands, Bloomberg.com, Doherty, Katherine & Hill, Jeremy, August 6, 2020.
Lord & Taylor in Bankruptcy, Wall Street Journal, Scurria, Andrew, p. B-1, August 3, 2020.