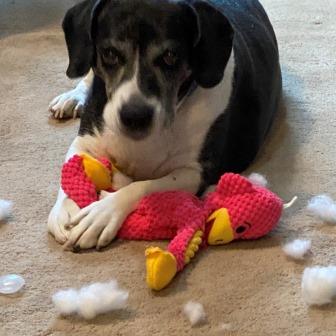 My name is Lilly.
Look at how fast I destroyed one of my birthday presents.  Ha Ha.  So you think I'm old?
Here's the thing.
I have been the office mascot for years.  Clients in Derry, New Hampshire and North Andover, Massachusetts luv me.
Most of them anyhow.  The very very few exceptions can go walk on my lawn.  LOL.  If U know what I mean.
This year in the pandemic my dog walker home sheltered for much of the year so Dad took me into the office.  When my doggy walker, and you know who you are, felt OK about going to my house and walking me again, I was missing from the office and lots of the clients asked "Where's Lilly".
This has been a tough year for me.  I got sudden bad arthritis and some of the first medicine was worse than the arthritis.   But, after they got it straightened out, I seem OK.  I didn't go for my usual weekend hikes for a while.  But with the cooler weather I'm doing better.
My 10th birthday is no big deal.  But, my dad is like excited because his previous dog (imagine that! a dog better than me?!?!) crossed the bridge before his 10th Birthday.  So, this is big.  Hey, I'll be here forever.  Only the good die young.  LOL.
I have even served as a model for the office blog articles. See?
Well that's my story.
If you come to the office I'm happy to great you as I have many clients.  Going to see your lawyer should not be stressful.  I'm here for you.
Signed, Lilly.  a/k/a Lilly-the-Legal-Beagle.