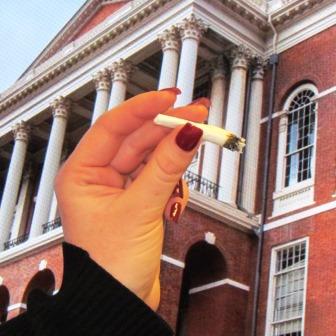 Medicinal marijuana after an accident may, some feel, help with symptoms.
Should insurance pay for medical cannabis after you've been injured in an accident?
Whether you've sustained an injury at work or in a car accident, insurance covers medical bills.
At the same time, laws evolve slowly but surely.
As weed becomes legal in more and more states, both medicinally and recreationally, shouldn't insurance pay if it reduces symptoms?
As of the time of this blog 33 states allow medicinal marijuana.  The laws generally set up a licensing framework allowing patients with qualifying medical conditions to obtain cannabis.  State laws give the providers and patients no risk of criminal prosecution.  Massachusetts adopted its Medical Marijuana Act after a passage in 2012 of a ballot initiative.
Massachusetts Court Considers Insurance for Medicinal Marijuana After an Accident
A valid question comes up when those injured in accidents look to insurance companies to reimburse expenses for cannabis used to treat injuries.  The question arose in a Massachusetts worker's compensation case.  And the issue went all the way to the top Massachusetts court, the Supreme Judicial Court.  There, justices faced the question as to whether an insurance company may be ordered to reimburse an employee for medical marijuana expenses.
In the case, Daniel Wright injured his knee twice.  Once the cable installer injured the knee stepping off a ladder.  But after a second injury and two surgeries, severe postoperative complications set in.  The diagnoses included deep vein thrombosis and complex regional pain syndrome.  Symptoms included difficulty sleeping, anxiety and anger issues.
When all else failed the injured worker turned to medical marijuana.   He obtained a certificate to enroll in Massachusetts' medical marijuana program.  In time chronic pain subsided.  The use of medical cannabis increased his mobility, improved his sleep, and reduced both anxiety and anger.  Mr. Wright also said the medical marijuana eliminated his need for opioids.
Workers compensation law requires insurers to pay for medical treatment as long as the treatment is reasonable and necessary.  The treatment must also relate back to the person's work-related injury.
Mr. Wright spent about $100 every one or two weeks on marijuana vaporizing products.  He also consumed some $75 worth of edibles every day.  Over an eighteen-month period, the total cost of the legal medicinal cannabis products added up to $24,267.86.
Not surprisingly the workers compensation insurance company denied the claim.  The claim faced defeat also at the Massachusetts Department of Industrial Accidents, which hears such matters.  Finally, an appeal landed in the dockets of the Massachusetts Supreme Judicial Court.
Medicinal Marijuana After an Accident – What the Court Considered
The court started out its analysis pointing to contradictory state and federal law.  While many states allow medicinal marijuana it remains illegal under the federal controlled substances act.
"We recognize that the current legal landscape of medical marijuana law may, at best, be described as a hazy thicket."

Massachusetts S.J.C., Daniel Wright's Case, October 27, 2020.
Massachusetts law holds there should be no punishment for those qualifying for medical marijuana.  The administrative judge earlier found the employee's testimony entirely credible where he pointed to positive benefits from the medical cannabis.
But the bottom line in the appeal hinged on language in the medicinal marijuana law.  The troublesome language states that health insurance providers, government agencies and providers can't be forced to reimburse medical marijuana costs.  In fact, the court found many states with medical marijuana laws protect insurers from being ordered to pay for medical cannabis.
"It is not unreasonable, given the current hazy regulatory environment and shifting winds of Federal enforcement, for insurance companies to fear that paying for a claimant's marijuana could expose them to potential criminal prosecution."

Massachusetts SJC – October 27, 2020.
Most insurance companies operate nationwide.  So, the rationale that convinced the court held that the illegal status of weed under federal law could find insurance companies in hot water if paying for medicinal cannabis.
Bear in mind most observers consider Massachusetts one of the more liberal courts in the U.S.
Medicinal Marijuana After a Car Accident?
The above case answered the question in the workers compensation context. Things are no better for medicinal marijuana users after an auto accident.  Those injured in car accidents in Massachusetts find coverage for medical bills under something called "Personal Injury Protection".  Also known as "PIP", the provision in every auto insurance policy sold in Massachusetts pays for up to $8,000 in medical bills and/or lost wages after a car accident.
But that so-called "no-fault" insurance provision specifically excludes medical marijuana.   Another provision in car insurance policies covering medical bills known as "medical payments" or "med pay" also excludes any payment for medical cannabis.  That's true of Massachusetts and New Hampshire, the two states in which I'm licensed.
One insurance industry publication claims there are actually six U.S. insurers offering medicinal marijuana coverage.  But such coverage appears rare if existing at all in the context of insurance payments after an accident.
Insurance Industry Reservations About Medicinal Cannabis
Insurance companies raise many questions beyond the patchwork of cannabis laws.  For one, the medical profession points to numerous factors doctors would have to consider.  One such factor is determining the correct dosage of medical marijuana to prescribe.
During development and testing, prescription drugs evolve with dosage guidelines.  Insurance people point out that the marijuana industry has not even agreed to standard terminology covering correct dosage of CBD and THC.  Issues include avoiding headaches, intense highs or other discomfort while taking medical pot products.  Marijuana patients also face skepticism over the extent to which treatment is in fact valid.
No question, legal and other uncertainties exist at this time.  The highest court, no pun intended, in one of the more liberal states in the country resists the question.  So, finding insurance coverage for legitimate medicinal cannabis after an accident is likely to take time.
---
The author, attorney Andrew D. Myers, practices personal injury law in Massachusetts and New Hampshire with offices in North Andover, MA and Derry, NH.
Here's more about Massachusetts Personal Injury Protection or "PIP" auto insurance coverage.
---
Sources:
Cannabis and Insurance,  National Association of Insurance Commissioners, The Center for Insurance Policy and Research, article last updated May 15, 2020.
Daniel Wright's Case, Supreme Judicial Court of Massachusetts, No. SJC-12873, October 27, 2020.