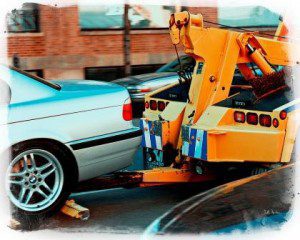 Question:  One night it was extremely dark and I backed into a car.  It was in a tow zone and there aren't supposed to be any vehicles parked there.  I go to this place all the time so I did not expect there to be a vehicle there.  Am I at fault if I hit a parked car that was in a tow zone?
Answer:  Here's your problem: you were moving and the parked car was not.  The car you struck may have been illegally parked, in violation of ordinances, statutes and all the rest.  But, the negligence formula requires a look at conduct.  You were in control of the vehicle that was moving.  The other car was stopped like a rock.
Fault Determination: Illegally Parked Car Hit
Look at it like this: although the other car's driver left the vehicle in a bad place, you had the last clear chance to stop a collision.  There is in fact a legal doctrine known as last clear chance which will not be your friend in that the parked car, although in the wrong place at the wrong time, did nothing in the moment before the crash to cause the damage.
To be fair, some jurisdictions have abandoned the 'last clear chance' doctrine.  Comparative fault or contributory negligence formulas are used to look at facts and circumstances leading up to a collision.  Proportional fault is then assigned to each of the parties.  There's a more thorough explanation of these legal concepts in another article.
Under this concept, parking the car in a tow zone violated an ordinance or other law largely intended for public safety and traffic control.  That wasn't what caused the actual collision.  Starting up the car and backing into the stopped vehicle caused the crash.  Under either analysis the result is the same.
Hopefully you have insurance which can adjust the loss and everyone can back out of the situation and move on with their lives.
More legal topic in this link.
This blog post based on an article © 2012 Eagle Tribune Corporation, originally appearing in Derry News "About the Law"