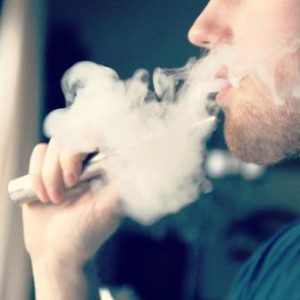 Vape Pens are battery operated nicotine delivery devices that heat "vape juice", nicotine, and other chemicals producing a heated vapor. Some consider it a good way to quit smoking tobacco.
But vaping also brings controversy and potential dangers.
There's a difference between "e cigarettes", "Advanced Personal Vaporizers", "Vape Pens" and "Vape Mods". Prices range from reasonable up to several hundred dollars for higher tech devices. What they share, though, is a system to deliver nicotine into the body, and the need to be powered, most often by a lithium-ion battery.
Vaping popularity
Vaping popularity is no secret. Actor Leonardo DiCaprio attended the 22nd Annual Screen Actors Guild Awards in a tuxedo, and puffed away on a high end black vape device.
Part of the reason for vaping's popularity comes in the ability to vape inside. Indoor cigarette smoking has been prohibited for years. As well as rapidly growing in popularity, some are taking vaping to another level turning it into an 'extreme' sport!
Some go crazy for this trend. Vape stores sell a variety of flavors for all tastes. Vape-juice or e-juice flavors range from tobacco and menthol flavor to sweet tooth favorites like strawberry and Gumi-bear.
Vaping dangers & Lithium-Ion Battery Explosions
Many consider vaping extremely dangerous to use. Aside from the flavoring agent called "diacetyl" being a cause of lung disease and popcorn lung, there are serious threats of injury, other than by illness. All too often these modern "vapes" and E-cigarettes explode and cause injuries.
A 26 year old Moultonborough, NH man suffered 2d and 3d degree burns when a vape battery exploded in his pocket in February, 2016, requiring multiple skin grafts. The man had bought the device to assist him to stop smoking.
A 34 year old Los Angeles air traffic controller and Air Force veteran suffered permanent facial and shoulder scarring when a vape battery exploded. Don George has brought a civil action against the store that sold him the device.
Most of the national TV news networks aired a February 24, 2016 incident in which a lithium-ion e cigarette battery exploded in a man's pocket in a shower of flames, the video caught on an Owensboro, Kentucky convenience store's security cameras. The man was hospitalized with severe burns.
Vape Injuries and Products Liability Law
Common causes for explosions stem from claimed misuse and improper charging or handling of lithium-ion batteries. The U.S. Fire Administration reports 25 fires or explosions between 2009 AND 2014.
Products liability law holds manufacturers liable for dangerous and defective products placed into the marketplace. Design and manufacturing defects underlie many products liability injuries. Occasionally, manufactures fail to adequately test their products.
Local retailers who sell the product and companies that distribute them do not escape liability. Products liability laws in most states hold those who place defective products into the marketplace liable regardless of whether there is negligent conduct on their part. In another article we explained a $20 Million verdict against Toys-R-Us after a Chinese manufactured swimming pool ladder caused a death. The store sold the item in a closed box.
Liability For Misuse and "Improper" charging of Lithium-Ion Batteries?
We understand this is a controversial issue. People blame the user for not charging batteries correctly or using "incorrect" chargers. After an explosion or injury, vape fans and manufactures attempt to deny liability by claiming that users are misusing their products by charging them incorrectly, assembling them incorrectly, installing improper batteries, or otherwise improperly handling the devices.
However, these accidents are occurring often, so the damages and injuries may be considered to be reasonably foreseen. Products liability law generally holds manufacturers and others liable for foreseeable misuse. So, manufacturers, retailers, and distributors cannot so easily walk away from claims for damages and injuries by simply blaming user error or misuse.
Anyone thinking of using these products should understand the potential for problems. Safety tips include using the correct charger, keeping away from high heat and water and reading all instructions. Other musts for avoiding problems include using the correct charger, not overcharging and keeping heating elements from overheating.
---
Photo Credit: "Vaping 360″ by Vaping360.com under Creative Commons license.