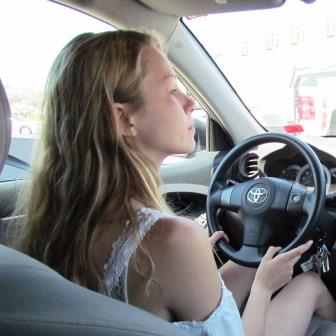 Are teenage drivers with ADHD or Attention Deficit Hyperactivity Disorder more likely to get into car accidents?
Researchers at the University of Pennsylvania placed 60 drivers aged 16 and 17 in a driving simulator to find the answer. All of the teen drivers in the study received driver's licenses within 90 days before the study.
In addition to the driving simulator the new drivers in the study also filled out mental health assessments. The assessments allowed them to report ADHD symptoms as well as depression, or other issues. Teens also completed a form asking about risky driving habits. Such habits include a tendency to speed, use a cell phone while driving and to carry multiple passengers. Road safety is serious and if it isn't taken seriously then people can get hurt, it is important to consider all of the options to make people safe whilst driving, Blackbox My Car is a great solution to stop people from speeding and causing unfortunate crashes. Due to all of the crashes on the road, people with ADHD need to be looked at more closely in order to prevent further risks…
After giving the personal data the teens entered the actual driving simulator. Scenarios thrown at them included rear end collisions, hidden hazards, stop signs and lane changes. A total of 21 potential crash situations came up while the new drivers navigated the simulator. Simulator designers intended the results to show how well the new drivers took evasive actions to avoid a crash.
Results of Study on ADHD and New Drivers
No surprise drivers with ADHD were more likely to get in accidents. It was not so much the ADHD itself as it was inattention. The more inattention symptoms the new drivers reported in the paper part of the research, the more mistakes they made in the simulator.
"Inattention was associated with more errors in the simulator, and self-reported symptoms of hyperactivity and conduct disorder were related to more self-reported risky driving behaviors."

Catherine McDonald, PhD, U. of Pennsylvania School of Nursing
The researchers explain that the survey has limitations. The goal is to bring mental health care providers, such as ADHD Doctors, educators and others into the process of screening new drivers, stepping up treatment and assuring that proper driver training is available.
Making Sure New Drivers Focus
Car accidents are the number one cause of teenage deaths in the USA, and injuries. Many devices are being put in place to try and lower this statistic, such as dashcams and blackbox devices, this will hopefully have an impact. If you, unfortunately, find yourself in a car accident though, you should consider finding a good personal injury lawyer to help you. If your collision was caused by a dangerous teenage driver, Owen, Patterson, and Owen are experienced Palmdale, and Lancaster California personal injury attorneys with million dollar results, meaning that they might be able to help you gain compensation for your injuries or damage to your vehicle if the accident wasn't your fault. So, where inexperience and inattention make up two factors behind the carnage, there are things parents and schools can do. Experts give the following tips to encourage focused attention and to reduce accident risk:
Eliminate all electronics in car interior.
Turn off all notifications on cell phones, tablets and all electronic devices. Do not allow ring tones, chirps, bells, or other distractions to randomly steal attention away from the driver.
Review driving rules of the road including turn signal use, speed zone rules, construction zone rules to eliminate the likelihood of surprises
Take a driver education program that covers ADHD issues.
Goes without saying always keep up to date with medical and or educational providers and follow a treatment plan including correct medication.
ADHD Drivers Under Study
We're all barraged by studies. Turn on the TV news and every day it seems some new study fills time on the "news" shows. But the UPenn researchers indicate that their work provides a starting point. When drivers first get their driver's license time is ripe to think about the relationship between driving and mental health issues.
When first thinking about posting a blog article on ADHD and how it affects teen drivers there was some pushback. Why would you do an article on that? In an era of extra sensitivity and questioning, the idea itself presented a negative. How do we dare even suggest a link between those struggling with ADHD and a higher risk of car accidents.
First, we simply report findings of sincere researchers pursuing peer reviewed work at a major U.S. University. Second, if any group presents a higher risk of injuries in a car accident, highlighting that risk serves a purpose. That purpose is served all the more if awareness leads to taking steps to reduce that risk, as suggested above.
Is it Really ADHD Causing Accidents?
The study's authors point out that it was the symptoms of inattention, hyperactivity and impulsivity that linked to risky driving, and not necessarily an actual ADHD diagnosis itself. At the same time the new drivers with a high enough level of symptoms to raise a red flag scored higher for risky driving behavior.
Either way the difference is not as important as what can happen if the entire idea is rejected. Top injuries caused by car accidents include neck injuries, leg and knee injuries, broken bones and concussions. Serious head injuries and traumatic brain injuries as well as spinal cord injuries also happen in high impact auto accidents.
ADHD, also sometimes referred to as ADD, is one of the more common childhood conditions. Although some say nearly everyone exhibits symptoms at one time or another, only about 5 to 11 per cent of children in the U.S. carry the diagnosis. And the old myth that only boys suffer ADHD is just that. Both genders find themselves equal when it comes to this condition.
ADHD impacts functions including memory, concentration, attention, impulsivity, hyperactivity and what the experts call executive functioning skills. There should be no stigma associated with the condition especially where treatment can largely if not entirely control the condition. The causes, diagnosis and best recommended treatment for ADHD are beyond the scope of this blog article. For that reason, we've footnoted the website of a major authority on the subject with a wealth more information.
ADHD Only One Risk Factor in New Drivers
ADHD then becomes one factor increasing the potential for accidents by new drivers according to the University of Pennsylvania study. Other factors include speeding and the fact that new drivers are more likely to underestimate dangerous situations. The NHTSA also finds teens have the lowest rate of seat belt use. New drivers tend also to have a higher risk of decision-making errors.
---
If you have been injured in any motor vehicle accident, whether an inattentive driver, a distracted driver, a drunk driver or other negligence, let a seasoned professional go to bet for you. The Law Offices of Andrew D. Myers have pursued personal injury law including motor vehicle negligence cases for over 25 years. Don't allow the insurance companies to injure you a second time. Contact our office now for a free initial consultation.
Model Credit: Alyssa Antoniou
Sources:
ADHD Facts: Attention Deficit Disorder Association
National Highway Traffic Safety Administration [NHTSA] Road Safety Teen Driving Statistics.
Simulated Driving Performance, Self-Reported Driving Behaviors, and Mental Health Symptoms in Adolescent Novice Drivers , University of Pennsylvania School of Nursing; March, 2018.