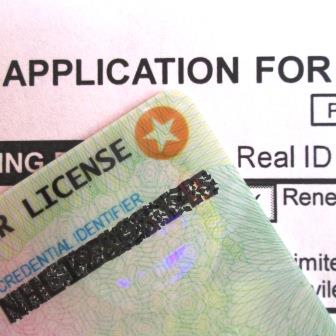 Real ID is the name given to kicked up federal standards for driver's licenses and other types of identification.
When your driver's license comes up for renewal you need to quickly brush up on the choices facing you. Hopefully this article simplifies the issues.
Congress passed the REAL ID Act, following the lead of the 9/11 Commission to set better standards for identification such as drivers licenses.  The idea embraced creation of minimum standards for identification documents primarily driver's licenses and state issued photo ID cards.  It took a while but at this point all 50 states issue more secure drivers licenses than they did before.
The problem is, when renewing your driver's license you have to make a choice: you can either get a standard driver's license like you had before or you can opt for the Real ID card.  Here's the difference:
REAL ID
REAL ID driver's licenses and other identification cards have a gold star symbol in the upper right-hand corner.  See the photo above.
As of October 1, 2020, Real ID licenses will work as a federal ID that you can use to fly within the United States or to enter federal buildings.
If your current old style license is about to expire, you need to physically go to the registry or division of motor vehicles with some documents (see below) to get the newer Real ID.
Standard Driver's License
Driver's licenses and cards not complying with the new standard will in fact state in the upper right hand corner: "Not For Federal Identification".  There will be no star in the upper corner as in the above photo.
Standard driver's licenses will not be an acceptable form of identification to board a flight after October 1, 2020.  On and after that date some other form of identification will be needed to board domestic flights.
Most people who are simply renewing an expiring driver's license can renew online, this applies in both Massachusetts and New Hampshire.  For other states, check online.
Does Getting a Real ID Cost More?
No.  Getting the Real ID carries no additional cost.  This applies both to a Real ID compliant driver's license and also to the non-driver photo ID card.  The only drawback to getting the initial Real ID card is that an application must be done in person at the DMV or RMV.  After that renewals may be done online.
Must I get a Real ID?  Is the Real ID Required?
No.   But remember, as of October 1, 2020, a Real ID Driver's License or Photo ID will be required in order to board even a domestic flight inside the borders of the U.S.A.  Without it you will need a U.S. Passport to fly a domestic flight.  The Real ID or a passport will also be required to enter any secure federal building.  If you still have the older standard driver's license, it will be acceptable for those purposes until October 1, 2020.
If your license expires before October, 2020, simply wait until renewal time to renew.  At that time switch to the Real ID.  The Real ID costs no more than a regular renewal.  If your renewal date falls after October 1, 2020 and you want the Real ID you can apply for the new ID at any time.   There's no extra cost for the Real ID but there is a $3.00 replacement fee.
What Documents Do I need to Get a Real ID card?
If you are going to the registry or DMV to obtain a Real ID license or photo ID save yourself a second trip by bringing the right:
One of the following, showing citizenship:

Birth certificate: original or certified copy, or
S. passport: valid unexpired, or
Certificate of naturalization.

Plus one of the following, confirming social security number:

Social security card-original NOT laminated, or
Paystub with full social security number, or
W-2 form with full SS number, or
1099 with full SS number.

And one of the following showing residency:

Valid driver's license or state issued photo ID,
Title application prepared by municipality,
Lease, rental agreement or deed showing name & address,
Property tax bill for current year,
Direct verification by parent or guardian – notarized if person not present,
Utility bill showing name & address, or
Mortgage statement.
What if My Name Has Changed?
The key to upgrading your driver's license comes in providing proof positive that you are a U.S. resident and that you are who you say you are.  So if your name changed as a result of marriage, take your marriage certificate when applying for the Real ID.  If there have been multiple name changes as a result of multiple marriages, yes they'll need a marriage certificate for each name change.
Sometimes for whatever reason people opt to change their name legally through the Probate Court.   If that's you, take a certified copy of that document.
After an Accident Always Check Other Drivers' License
Any time you're in an accident be certain to look at the other person's driver's license.  They may offer to write down their name and address on a piece of paper or to let you write down the info.  Not good enough.  Ask to see their driver's license.  First, do they have one?  Second, is it valid?  Third, are they who they say they are and will you be able to track them down after they leave the scene?
Just taking down the license plate is NOT enough.   What if they're driving someone else's car and the car is not insured or even worse, stolen.  Check the person's license and if at all possible take a photo before giving it back.  We've covered basic steps after an accident in another blog article.
---
Sources and for more information:
We've tried to answer as many questions about Real ID as possible.   For more answers, here's the TSA page on the subject.
Department of Motor Vehicles: New Hampshire
Registry of Motor Vehicles: Massachusetts