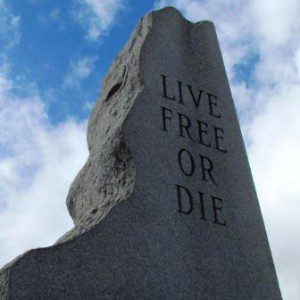 New Hampshire does not require that all vehicles be insured. Unlike most other U.S. states there is no compulsory auto insurance law in New Hampshire.
As a practical matter, when most people buy a new vehicle, they need a car loan, and lenders won't allow the car to be driven off the lot without insurance. But, for those who can pay cash for a car, who buy cheap used vehicles, or who have paid off their loan, auto insurance is not required.
New Hampshire is one of the few states that do not require insurance on all vehicles.
What If There's an Accident?
Instead of mandatory insurance, New Hampshire has a 'Financial Responsibility' law. If an uninsured driver causes an accident, they are then required to post a bond or cash equal to the amount of damage caused by that accident.
If an uninsured New Hampshire driver causes personal injury or over $1,000 in property damage, the state can suspend their driver's license and registration privileges.
If you've been in an accident with an uninsured New Hampshire driver, you can request suspension of their driver license and registration. Submit the following to the Safety Department 'Financial Responsibility Crash Unit':
copy of a police report or operator report,
written damage estimate
written request for suspension/revocation.
After New Hampshire drivers without auto insurance are found at fault they're required to file proof of insurance for a minimum of three years. New Hampshire's 'Financial Responsibility' law allows continued operation of a motor vehicle only with proof of insurance.  Coverage must have minimum limits of $25,000 per person,  $50,000 per accident for bodily injuries caused to another.
If You Are Injured by a New Hampshire Driver Without Auto Insurance
The section above summarizes available penalties against the uninsured. They depend on the machinations of government.  But, what about those injured by uninsured drivers?  You can sit and wait for the person to pay an order to compensate your damages.  But, do you really think someone who drove without insurance will suddenly be responsible enough to pay?
The Uninsured Provision in your own auto insurance policy pays for your injuries in this scenario. The biggest question I get is why claim against my own insurance company when I wasn't at fault?  Won't my rates go up?  Rates don't increase if you were not at fault.  Also, you've been paying your own insurance, shouldn't you make a claim where you've been paying for that right?
For details about uninsured insurance coverage, click here.
Proof of Insurance in New Hampshire – What is an SR-22?
The proof of insurance form previously uninsured New Hampshire drivers must file after causing an at-fault accident is called an SR-22. The "Safety Responsibility" requirement also applies to those convicted of DWI, habitual offenders and others whose licenses have been suspended when they seek reinstatement.
Uninsured NH Drivers Crossing Borders
New Hampshire drivers who drive into other states cross into a world where most states require auto insurance. In Massachusetts those driving uninsured face fines ranging from $500 to $5,000 or imprisonment up to one year.  Also any vehicle driven in Massachusetts for more than 30 days in a year must be insured.  Compulsory insurance also applies to any vehicle whose owner lives or works in MA.
Sources for information in this article: NH RSA 264:3 and M.G.L. c. 90: Section 34J