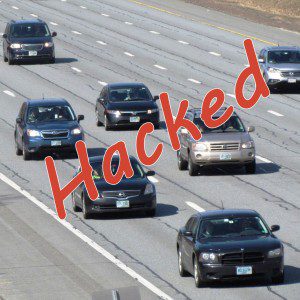 Car hacking. The practice of high tech hackers remotely accessing a moving car and taking the controls.
Far fetched?
Perhaps it was at one time. But with computer technology advancing into more and more functions of newer vehicles, car hackers have dallied in this area. So much so the FBI and NHTSA both are looking at the situation.
Come on, Car Hacking?
Tooling along on the Interstate one day in 2015 a motor vehicle driver suddenly feels cold air blasting out of the air conditioner vents at maximum setting although he had not touched the controls. Next the radio blares hip-hop at full volume without being turned on. The driver attempts to turn it down, and the control is disabled. The windshield wipers then activate and wiper fluid spurts onto the windshield.
Hackers accessed the car through its entertainment system. The real-life prank is documented in Wired magazine, July 21, 2015 edition. Using software dubbed "an automakers nightmare" the hackers could have accessed the car's steering, brakes and transmission, all remotely. Fortunately for that driver, while the events were real, the hackers were conducting a "friendly" experiment.
Cars are Rolling Computers
While much has been made of the specter of driverless cars some key components exist now.  The first steps toward autonomous vehicles are here now with various computerized vehicle functions presently available:
Automatic braking
Active lane keeping assist & Lane centering
Adaptive cruise control
Active Blind Spot Assist
Night View Assist Plus
Active parking assist & automated parallel parking
Electronic stability control
General Motors promises a "Super Cruise" including hands off lane following, braking and speed control for highway driving in 2017.
Tesla offers a pricey $70,000 car with long-range radar, image recognition allowing the car to recognize things like stop signs and pedestrians, and 360 degree sonar.
Volvo's near term plans include a model able to detect and avoid collisions with other vehicles, pedestrians, and cyclists. The car will be able to park itself in perpendicular spots. Another feature will brake the vehicle when making a left turn if it senses an oncoming car. That and more is documented in Fortune, 12/6/2014, Want a self driving car? Look on the driveway.
Car Hacking Potential
The fact that our vehicles are increasingly electronic, and that vehicles have more and more wireless capability has prompted a warning from the FBI:
"While manufacturers attempt to limit the interaction between vehicle systems, wireless communications, and diagnostic ports, these new connections to the vehicle architecture provide portals through which adversaries may be able to remotely attack the vehicle controls and systems."

FBI Statement, Washington Post, "The Car Connection", 3/18/2016.
Hooking "third party" devices into the diagnostics port or entertainment system increases a vehicle's vulnerability. While laptops, iPhones, thumb drives and other devices are increasingly inter-connective with cars, they compromise the previously inert characteristic of our vehicles.
The potential for cyber-attacks is said to be low at this time. Especially with older less wired cars. Let's hope it stays that way. But the possibilities for mischief boggle the mind. More in a later article.