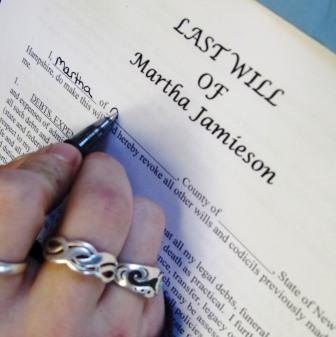 No-contest clauses in a will discourage or prevent people from challenging the will in court. Lawyers now rarely use the Latin language as they did at one time. But one surviving Latin language phrase known as the in terrorem clause goes into a will literally to place potential challengers "in terror" of challenging the will.
The no contest clause or in terrorem clause serves several purposes. When you find a quickie will template online, in a workbook or even a fancy looking kit in a store or elsewhere, you're lucky if it meets the basics like correct formalities or what is known as attestation clauses.
But more advanced legal concepts like the no contest clause simply fail to show up in the do it yourself will kits.
How Do I Make My Will Air Tight?
Working with an experienced estate planning attorney your will takes into account all of your potential heirs, whether you actually leave anything to them or not. What you do with your possessions is your business and no one else's. Leaving your hard earned money and possessions to whomever you choose is what a will is all about.
After all, without a will, your possessions go to those closest relatives named under state law. The point of a will is to allow you to select those persons who will receive anything and everything you own after you pass away. Done right, your will makes sure that all of your property, whether real estate, money or individual personal possessions goes exactly to those you select, without a chance that anyone contesting it will succeed.
How Do I Challenge A Will?
People contesting a will usually base their challenges on one or more of several theories. They claim the person signing the will lacked testamentary capacity, that the will was the product of duress or undue influence, or that there was fraud in the process of doing the will.
Digging up evidence to support such claims presents a challenge. But the hurdle is even higher in that the burden of proof is generally "by clear and convincing evidence", a higher burden than the usual civil standard, which is "by a preponderance of the evidence". You can read more about how to contest a will nsw
or in other places of the world on trusted attorney websites of the particular place, as the laws with respect to wills may differ from region to region.
Should There Be An In Terrorem Clause In Your Will?
Courts recognize the validity of provisions forfeiting the interest of beneficiary who contest a will. In terrorem clauses deter will challenges. People who include an in terrorem clause in a will to discourage challengers can rely on the fact that wills must be filed in Probate Court. The filing of the will makes it a public document, immediately notifying potential challengers of the existence of the in terrorem clause.
A properly drafted no-contest clause does the following:
Cuts off any share in the estate.
Dismisses will contest.
Forces challenger to pay legal cost to estate of defending against challenge.
Do In Terrorem Clauses Always Work?
The no-contest clause can be very effective. Cautious people doing a will must understand that correct legal terms must be drafted in the context of the will. And in fact in terrorem clauses have been invalidated where they were incorrectly placed into an estate plan.
Some states refuse to allow in terrorem clauses, claiming that they are against public policy. But both states in which my office provides estate planning services, Massachusetts and New Hampshire fully recognize no contest or in terrorem clauses when properly included in a will or overall estate plan.
Your best bet, and probably far less expensive in the long run, is to retain an experienced attorney to review the plans you have, to answer any and all questions you have, and based on the facts and circumstances of your individual situation, to then draft legally valid documents that will correctly distribute your possessions without creating unwanted legal hassles.
---
For More Information:
What Are the Basic Estate Planning Documents? Click Here
Why Should You Consider a Trust Instead of a Will? Click Here
---
Sources:
Savage v. Oliszczak, Appeals Court of Massachusetts, (2010).
Enforcement of No-Contest Provision, New Hampshire RSA 551-22.