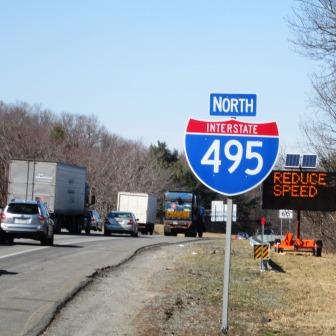 Route 495 in Massachusetts makes horrific headlines:
2 Killed, 3 Injured in Wrong-Way Crash on I-495 in Lawrence.  December 5, 2018.  Kia Sportage driven in the southbound lane by a 38 year old Lawrence woman inexplicably crossed into northbound lane, sideswiping a pickup truck then hitting 2 SUVs head on.
3 Cars, tractor-trailer collide on I-495 in Methuen.  February 5, 2019.  The accident in broad daylight at around 2:20 in the afternoon brought traffic to a standstill causing delays for hours.
New Hampshire Man dies after single-car crash on I-495 in Tewksbury.  January 19, 2019.   37 year old Peterboro man pronounced dead after single car crash, said not to be wearing seat belt and ejected from vehicle.
A 56 year old man died when his car went airborne off I-495 on ramp in Lawrence at Marston Street exit.  February 27, 2019.
These are only some of the many tragedies making I-495 through the Merrimack Valley of Massachusetts a bad stretch of driving.
Route 495: Bad History
Statistics support the above headlines which some might call anecdotal or even random.
Ninety-five people died in 87 car accidents along Interstate 495 in Massachusetts in the decade leading up to statistics compiled in 2017. While not the most dangerous highway of all deadly highways, I-495 still stands out as a bad road. Route 495 cuts a semi-circle around the Greater Boston area through the metro suburbs.
Route I 495 rates as the most dangerous Massachusetts highway by a group calling itself Geotab.  Using National Highway Safety Administration data tracking the annual number of road fatalities and fatal crashes, together with average daily traffic counts by the Federal Highway Administration, Geotab determines the most dangerous highway in each U.S. State.  I-495 bears the unfortunate distinction of 87 accidents that resulted in a fatality in the decade leading up to the report.
Route 495 Dangerous Mix of Drivers
The road's problems include the fact that it has a split personality. Part Interstate highway and part local metropolitan bypass, Route 495 sees distinct types of traffic that mix as well as dynamite and an open flame.  Drivers intent on high speed long-hauls from Maine to the Midwest and people hopping on and off the road for short links to pick up groceries do not mix.
On one hand Route 495 is part of the interstate system.  495 picks up Route 95 coming southbound from Maine and New Hampshire in Salisbury, Massachusetts.  495 connects with I-93 running from New Hampshire to Boston.  A major connector to Worcester, Massachusetts, New York and the rest of the country comes at the Route 290 Exit in Marlborough. I-495 then heads south to the Massachusetts Turnpike, and ultimately to Cape Cod.
On the other hand Route 495 provides local connections from one point to the next.  Five exits connect various local roads in the Haverhill area.  Route 495 offers seven exits serving Greater Lawrence, including exits in North Andover, Methuen and Andover.  Six Route 495 exits cover the Greater Lowell area including the Lowell Connector and Route 3 which heads north into New Hampshire and south to its connection with Route 128 in Burlington.
So local traffic uses the road for short hops from home to the big box stores, grandma's house and other nearby errands, perhaps staying on the road for only a couple of exits.  At the same time long distance drivers navigate through the region barely paying attention to local specifics, headed for some destination likely hundreds of miles away.  Imagine attempting to mix electrical wiring with both the low current needed for your laptop computer and high voltage transmission lines at the same time.  It wouldn't work.  The two don't mix.
Common Route 495 Accidents
Rear end accidents make up the most common type of highway accident.  The National Transportation Safety Board numbers show that 29 per cent of all highway crashes are rear-end accidents.  They happen because drivers follow too closely and don't pay attention.  Lazy drivers simply assume the cars in front will keep moving at the same speed.  As anyone who frequently commutes on I-495 knows, sudden stops are a way of life.  In fact the traffic reporters coined a word for it: stop-and-go traffic.  That pretty much sums up I 495 and most other interstates and highways anywhere near the Greater Boston Metro area, especially during rush hours.
Sideswipe accidents also occur with frequency on Route 495 and other interstates.  Drivers are in a hurry to pass that last car before swerving right to make an exit.   Others simply misjudge speed, distance and the sizes of vehicles and brush too closely.
Another unfortunate but increasing type of accident happens when wrong way drivers inexplicably enter the roadway going in the opposite direction.   We've discussed this in another blog article, in which we've pointed out that highway designers scratch their heads figuring how to make entrances and exits extremely clear with new signs and other markings. Unfortunately drunk drivers and distracted drivers do what they do without regard for normal signs and traffic patterns.
Solar glare accidents occur mornings and evenings when the sun is low in the sky.  Route 495 runs largely east and west through the Merrimack Valley of Massachusetts.  This means the sun is in your eyes if you drive east in the early morning.  Westbound traffic heads directly into the sun in some stretches of the highway in the evening.
Route 495 Construction
First conceptualized in the 1940's Route 495 came to life in construction stretching largely through the 1960s and 1970s.  Not surprisingly then repairs and rehab projects sprouted up in the the 90's and continue to the present.  Major road work saw much of the Lowell stretch repaired and redone.  The Greater Lawrence stretch needed, and received upgrades including work to the dreaded "double decker bridge" ongoing at the time of this post.  Likewise Haverhill hosted and continued to host various rehab projects.
Construction means a lot of things, not the least of which include slow-downs, disrupted traffic flows and accidents.
A final factor causing Route 495 danger is the weather.  Route 495 may be no more or less subject to bad weather accidents.  But with the local stop and go traffic mixing with long distance drivers attempting to fly through the area it seems rain and snow often bring  high proportion of accidents to this somewhat unique highway.
Highway Accident Cases
If you have been injured in a car accident through no fault of your own which has set you bck financially, you don't need more grief from insurance companies.  And do you really think the TV lawyers will give you the personal attention that you deserve?  The Law Offices of Andrew D. Myers untangle the insurance web of confusion.  We provide the personal attention to you based on the facts of your case.
We help injured drivers, passengers and pedestrians in Massachusetts and New Hampshire whether the injuries are catastrophic or less severe.
Contact us now either through this website or by phone.
---
Sources:
NECN.com    12/5/2018
EagleTribune.com  2/5/2019
Boston25news.com 1/29/2019
WHDH.com. 2/27/2019
Most Dangerous Highways on the East Coast.  Click Here.
The Most Dangerous Highways in America, Geotab.  Click Here.