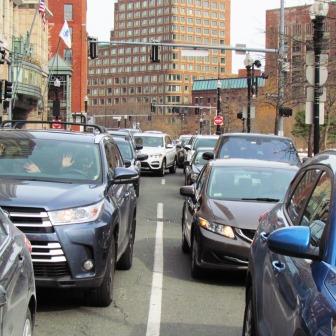 Traffic, accidents and headaches.
Those three things seem to go together.  For those who sit in traffic day in and day out there's no relief in numbers.  But people who study such things tell us Massachusetts has reason to be proud.
Boston rush hour traffic ranks number 1 worst in the country.
That rank comes from a company called Inrix which analyzes traffic in 200 cities around the world.   The numbers, released in February, 2019, cover the previous year.  They mean that Boston rush hour traffic both in the morning and evening tops the list of worse gridlock anywhere, even Los Angeles, notorious for gridlock.
Los Angeles traffic ranked number one in the worst category in the previous year.  We focused on that study in a previous blog article, pointing out that only one year earlier Boston traffic ranked seventh.
One reason Boston's numbers worsened and Los Angeles improved in that one year period may have more to do with the way researchers compiled the numbers.  The new study employed a new analysis.  In previous years the company looked at traffic throughout the entire day.  This time researchers measured how much longer it took to commute during peak rush hour traffic, when roads are at their worst.
How do They Figure Traffic Statistics?
Putting the findings a different way, Los Angeles congestion is a relative constant at all hours of the day.  At the same time Boston traffic conditions degenerate quickly over rush hours.
How are the traffic numbers compiled?  Sensors in vehicles, phones, GPS systems and other data collectors report traffic data back to Inrix.  That information, compiled into readable form, is sold to government agencies, billboard advertisers, trucking fleets and others.
Boston may rank number one as the worst traffic in the U.S. at least in this study.  However worldwide seven cities are worse than Boston, including Moscow and London.  Here's the top 10 list from worst to, let's just call it less bad:
Moscow
Istanbul
Bogota
Mexico City
Sao Paulo
London
Rio De Janeiro
Boston
Saint Petersburg
Rome
Massachusetts drivers enjoy a reputation.  Perhaps the roads themselves provide one reason.   Boston city streets notoriously evolved from random cow paths.  The roads in and out of the city, most Massachusetts cities for that matter, were never designed for efficiency.
"When you have older street networks like Boston, they clog much faster than in a city that was built around the automobile … It doesn't lend itself well to moving vehicles."

Inrix Analyst Trevor Reed, Boston Globe, Feb. 12, 2019.
At the same time public officials respond by promising to improve public transportation, traffic signals, and to make it easier for pedestrians and bicyclists to get around.
Worst Traffic Means More Traffic Accidents
So it comes as no surprise that the city said to have the worst traffic also has the worst drivers.  That conclusion jumps off the pages of a Forbes magazine article titled The Cities With The Worst Drivers in the U.S.  Reporting on an Allstate Insurance Company study, the magazine said massive accident data supports the conclusion.
"The city that can lay claim to having America's worst drivers for 2016 is beautiful Boston, MA where the typical driver gets into a collision once every 3.7 years, which is a staggering 167.6 % more likely than the national average."

Forbes, July 8, 2016.
The top 10 cities suffering with the most accident prone drivers were all in northeastern states or California.  Oddly, New York fails to make this dubious honor.  Flyover states in the heartland and Florida tend to host cities with the safest drivers.
Though the study at this time dates a few years back I've seen nothing at all refuting the above numbers and conclusions.  And we all know studies flood us all the time.
Traffic Accidents & Fatalities
Sharp increases in fatalities reported by the Centers for Disease Control came at the same time.  Whether people are checking Facebook on their smart phones or shopping on Amazon.com while behind the wheel, distracted driving ranks as one of the top reasons for accidents.  Traffic experts also say a healthier economy means there are more cars and trucks on the road.  More vehicles also means more traffic accidents.
The insurance company study focused on property damage claims coming in during a two-year period.  Collision statistics compared on a city by city basis formed the basis of rankings for 200 U.S. cities.  The study defines collision as any car accident that formed the basis for a property damage claim to the company.
What U.S. City enjoyed the number one ranking for the safest drivers?  Brownsville, Texas came in at number one.  The others in the top five were Kansas City, KS, Madison, WI, Cape Coral, FL and Boise, IA.
---
Every day thousands of Americans seek emergency room and other medical treatment due to preventable personal injuries.  From car accidents, crashes caused by trucks to other traffic collisions, personal injury takes place when an individual is hurt through no fault of their own.
After an injury caused by the recklessness or negligence of someone else, you may have a right to compensation.  Don't let them tell you "it was just and accident".  Don't let the insurance companies string you along.  Let my office get the answers you deserve and the top compensation for your injury.
Call now or simply click through the contact block for a free consultation.
---
Sources:
INRIX 2018 Global Traffic Scorecard
The Cities With the Worst Drivers in the U.S., Gorzelany, Jim, Forbes, July 8, 2016.
The Worst Gridlock in the US is Right Here in Boston, Vaccaro, Adam, Boston Globe, Feb. 12, 2019.