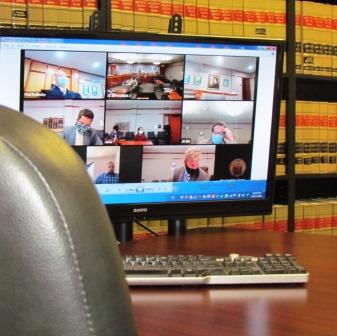 Can courts guarantee constitutional rights by holding virtual court?
The coronavirus pandemic changed many things in our daily lives.  As of this writing Covid-19 challenges continue.  Schools, restaurants, small businesses and others struggle to comply with ever changing rules and requirements
But what about the courts?
While lots of people would just as soon stay out of court if at all possible, the judicial system must go on.
Criminal cases, civil matters and other day-to-day court hearings can't just be cancelled. The U.S. Constitution and most state counterparts guarantee the right to a speedy trial to those facing criminal charges.  At the same time civil court matters also must go on
Many in the business world fairly quickly adopted to "telecommuting".  People working desk jobs found employers suddenly willing to let them stay home.  Business somehow struggled to keep up with daily demands.  It let employees do their job on the home device without having to commute.
Telecommuting and Virtual Court
Those facing criminal charges receive a presumption of innocence.  The Sixth Amendment to the U.S. Constitution also guarantees a speedy trial. But what if that day in court comes in virtual form?  Are rights violated with a zoom hearing?
One criminal defendant objected to a court plan to conduct a motion to suppress hearing on Zoom.  Such motions make up a key part of a competent defense.  Such motions attempt to narrow evidence against the person at trial.  The defendant claimed a virtual court hearing violated his constitutional rights to be present for a hearing and to directly cross examine witnesses.
In tossing out the objection the Massachusetts court held that "proximate physical presence" was not necessary.  The defendant could still effectively confront adverse testimony virtually.  Also, electronic court allows submission of evidence.
Video Conferencing
Long before Covid-19 New Hampshire courts considered issues raised by replacing actual court hearings with video conferencing.  The context was using video conferencing for inmates instead of freeing them to attend actual court hearings.
In one case an inmate filed a small claim action against his former girlfriend claiming she took $7,000.00.  The inmate said holding the hearing by video conference, not letting him actually appear in court violated his right to due process.
The court agreed that video conferencing is not the same as being in court.  The ability to observe demeanor and to assess other personal cues is lacking.  At the same time the court noted no inherent right exists allowing personal attendance at a hearing.  Documents and other evidence could be submitted to the court in advance.  Further, the hearing afforded ample opportunity to present the case and question the opponent.
Since that case was decided, online platforms evolved to the point where they provide a function allowing presentation of evidence electronically.  In the above Massachusetts case the court found the "share screen" function actually gave the judge and others in the courtroom a "much better chance" to see exhibits than when they sit in a huge courtroom.
So in the case of the inmate objecting to video conferencing his case, the court held that the right of access to the courts does not equal the right to appear personally inside a courtroom.  The key factor comes in one's ability to actively participate.
Technology, Online Hearings and the Constitution
Many people believe telecommuting and working from home provide excellent solutions for both businesses and employees.  True, not everyone agrees. At the same time, is it OK for the courts to shut the doors and require access via virtual portals only?
The Fourteenth Amendment to the U.S Constitution provides, in part, that a state shall not:
"…deprive any person of life, liberty, or property, without due process of law; nor deny to any person within its jurisdiction the equal protection of the laws."

U.S. Constitution, amendment XIV.
Courts have held that prisoners do not have an absolute right to be present in their own civil actions.  Here are just a few other examples:
Bench trials, trials without a jury, have been found not to violate any federal due process right of access to the courts.
Telephone access only to divorce proceeding resulting in alimony award was found not to violate due process.
A prisoner was found not to have constitutional right of access to courts to litigate a personal injury claim unrelated to conditions of confinement.
So, if courts find prisoners, who receive Constitutional protection, can be forced into online virtual hearings, what about the rest of us?
Personal injury cases and many other matters in fact have gone virtual.  The courts acknowledge that jury trials present a huge problem.  But many other court matters, motions, mediation, pretrial hearings just to name a few fall squarely within that which is allowable virtually.
What Online Hearings Miss
No question, technology provides the ability to connect people wherever they are.  Platforms including Zoom, Webex and others give courts and others the means to connect.
At the same time critics question the ready acceptance of such online capabilities.  Over the computer can you really see whether everyone is fully paying attention?  Can one truly assess witness credibility?  Experienced attorneys point out that credibility rests on more than just the testimony, but in fact body language.
"Dishonest witnesses tend to fidget, perspire, and have difficulty maintaining eye contact.  These critical emotional cues can become ambiguous when a witness is not physically present."

Atty. Vikas Dhar, Mass. Lawyers Weekly, p. 25, Aug. 31, 2020.
Other concerns include that participants in online hearings can't tell if others are being coached out of view of the camera.  Not everyone is tech savvy enough to set up a computer camera so that bright outside light or a dark room detract from physical appearance.  One judge commented about an attorney who pointed the camera only to the top of his head.  Among distractions one would hope not to hear in actual court was the loud crumpling of paper overpowering testimony.
Virtual Court and Rights
In a world where masks, social distancing and conducting business from home make up the "new normal" some observers believe virtual court holds a role in the judicial system on an ongoing basis.  Courts look to comply with constitutional rights.  At the same time the law holds there is no federal constitutional right of confrontation in civil proceedings.
---
The author, attorney Andrew D. Myers is a personal injury lawyer with offices in Derry, NH and North Andover, MA.  The office also represents consumer bankruptcy clients.
Sources:
Commonwealth v. Hipolito Masa, Jr., Middlesex County, Massachusetts Superior Court, (1981CR0307), August 10, 2020.
In re: Kempton, 167 N.H 198 (NH Supreme Court, 2015)
Vincent v. MacLean, 166 N.H. 132 (NH Supreme Court, 2014)
Zoom evidentiary hearing constitutional, Mass. Lawyers Weekly, (Aug. 31, 2020)
---
More on the U.S. Legal System Post-Covid 19 here.