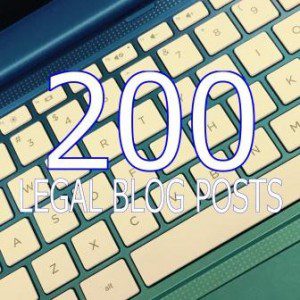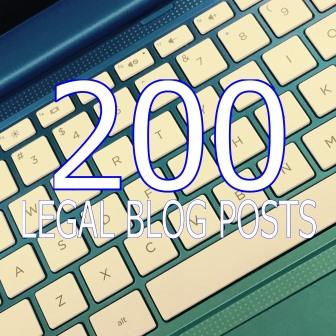 When we hit the benchmark of our first 200 legal blog articles at the Law Offices of Andrew D. Myers, we indexed them.
Blogging presents everyone with the opportunity to become part of the internet.
Here, though, we focus on the areas of the law that we practice, we know about and we care about.
We often post information based on what you, our audience, our clients and newspaper column readers ask about.
The basics include what personal injury law and bankruptcy are all about.  At the other end of the spectrum, we write to keep it lively and entertain.  Always, we base what we write on actual law.  No fluff.
Our "web gurus" tell us 'keep it relevant'.  That's our goal.  As well as being informative and accurate.
So, in alphabetical order, here is an index of blog articles posted by us to date:
BANKRUPTCY
Bankruptcy Basics: Chapter 7, Chapter 13
Bankruptcy Exemptions: Why You Need Them
Bankruptcy Schedules Focus on Key Categories of Filer's Finances
Credit Counseling: Bankruptcy Requirement
Debt Collectors and Bankruptcy Violations
Discharge of Student Loans in Bankruptcy: Exception to Rule
First Meeting With Attorney: Bankruptcy – What To Take
Frederick's of Hollywood Files Bankruptcy
Include All Income Assets and Debt
Is ADHD A Defense Against Not Disclosing All Assets?
Keeping Cars in Bankruptcy: Asset Value and Exemptions
Parking Tickets and Bankruptcy – Discharged?
Personal Injury Claims In Bankruptcy
Statement of Financial Affairs
BANKRUPTCY QUESTIONS
Can I Ever Get Credit After Bankruptcy?
Charge Off: What is it? Do I Still Have to Pay Charged Off Debt?
Is Rebuilding Credit After Bankruptcy Possible?
Must I Disclose Income In Bankruptcy?
Should I File Bankruptcy? What Basics Should be Considered?
Trusts and Bankruptcy: Does A Trust Protect Property in Bankruptcy?
What Address Do You Use For Creditors in Bankruptcy?
What is a Bankruptcy Discharge Violation?
What Will The Bankruptcy Trustee Ask at the Creditors Meeting
CIVIL LITIGATION
Adverse Possession Law – Boundary Disputes
Can You Sue a School? When, Why and How?
Court Papers – Always Answer Complaints and Other Legal Documents
Dispositive Motions- Motions for Summary Judgement, Etc.
Electronically Stored Information in Lawsuits
He Said She Said Cases- Evidence & Credibility
Necessity: Defense in Criminal and Civil Cases
One Person's Trash – Another Person's Evidence
COURT RULES AND QUESTIONS
Can Social Media Posts Like Facebook be Used as Evidence in Court?
Health Care Decision or Court Review of Congressional Power?
Photo and Video Evidence: Always Allowed in Court?
Spoliation of Evidence: Penalties Available in Civil Law
Texts as Evidence: Electronically Stored Information in Court
What If I Didn't Go For My Day In Court?
Why Are There So Many Courts? Where Do I File A Case?
DANGERS ON THE HIGHWAY
Can You Sue a City or Town for Failing to Remove Snow Properly?
Cell Phones and Accidents: Is Legal Cell Phone Use Negligence?
Distracted Driving: Eating While Driving
Drowsy Driving and Serious Accidents
Impaired Drivers: Alcohol, Illegal Drugs, Prescription Drugs & Marijuana
Motorcycle Accidents: Causes and Statistics
New Hampshire's Hands Free Law
Rules of the Road: Turn Signals
Snow, Ice, Bad Drivers and Negligence
Texting and Driving: Deadly Combination with Legal Consequences
Top 10 Most Dangerous Intersections in Massachusetts
Top 10 Most Dangerous Intersections in New Hampshire
Unlicensed Drivers and Fatal Accidents
DEBT COLLECTION AND CONSOLIDATION
Debt Collection Abuse. Legal Constraints on Collection
Debt Collection Harassment: When Bill Collectors Go Too Far
Debt Collectors & Original Debt
Debt Consolidation and Other Options
DRONES AND THE LAW
What's the Law on Small Private Drones? Commercial Drones?
ESTATE PLANNING
Advance Care Directives: What Are They?
Digital Estate Planning: Your Social Media Posts After You Die
Wills and other Basic Estate Planning Documents
Your Will: Make it Clear and Precise to Avoid Disputes
HOW PERSONAL INJURY CLAIMS WORK
Adversarial System of Law & Personal Injury Claims
Delay, Deny, Defend Insurance Companies & Claims Handling
Double Impact Car Accidents & Complex Accident Claims
Health Plan Liens on Personal Injury Cases
Injury Claim Evaluation By Computer
Injury Claim Handling: Hidden Pieces, Unknown Dynamics
Insurance Claim Secrets Revealed
Interrogatories: Why Must I Answer These Annoying Questions?
Liens on Personal Injury Cases
Negotiation of Personal Injury Cases
Notice Requirements in Personal Injury Cases
Obesity Can Reduce the Value of Personal Injury Claims
Optimizing Personal Injury Claim Value: Stepping it Up
Proximate Cause: Personal Injury Claim Causation Requirement
Reserves And How They Reduce an Injury Claim
Seat Belt Use Admissibility in Injury Claims
Settlement of Personal Injury Cases: Settlement or Trial?
INSURANCE
Auto Insurance. Understanding Some Basics.
How the Insurance Company Will Minimize Your Injury Claim
Medical Payments Auto Insurance
New Hampshire Auto Insurance Law: Car Insurance Not Required
Unfair and Deceptive Insurance Practices
Unfair and Deceptive Practices in the Business of Insurance: An Update
INSURANCE QUESTIONS
Insurance Exclusions: When is a Comma Worth One Million Dollars?
No Fault Insurance: What Does It Mean?
What Are Unfair and Deceptive Insurance Practices?
What is an Insurance Low Ball?
LAW & GENERAL LEGAL BLOG TOPICS  
150 Legal Blog Posts: Injury Law, Bankruptcy, Drones & More
Boston Bomber Trial: Impartial Jury & Change of Venue
Donald Trump: Lightning in a Bottle
New Year's Resolutions: Legal and Financial Matters
Pardons and Thanksgiving: Turkeys and Famous Pardons
LEGAL QUESTIONS AND ANSWERS
Are Taxes Voluntary? Federal Income Tax?
Backing Into Illegally Parked Car: Who is at Fault?
Burden of Proof: How Much Evidence is Enough?
Can Private Facebook And Other Social Media Posts Be Ordered Open If I'm In A Personal Injury Claim or Lawsuit?
Children Drawn To Danger: What Is The Attractive Nuisance Law?
Does Posting My New Job Online Violate My Non-Compete Agreement?
Is There Pain and Suffering for a Dog?
Minor Settlements: Why is Court Approval Required?
Name Wrong on Marriage Certificate: Marriage invalid?
That Never Happened Before – Defense to an Accident Case?
What Can You Do About Spam Email Abuse?
What Is The Three Reindeer Rule?
When Does U.S. Turn Clocks Back This Year?
Why are Lawyers Getting Involved in Deflategate?
Why Do Attorneys Say Don't Talk About Your Case?
LIABILITY AND NEGLIGENCE
Are Parents Responsible For Bad Acts of Children?
Comparative Fault: Contributory Negligence & Apportioning Liability
Damages – Compensatory & Punitive Damages in Products Liability Case
Dram Shop Law– Injuries & Negligent Service of Liquor
Liability Waivers: Attempts to Avoid Injury Claims
Negligence, Gross Negligence & Willful, Wanton Conduct
Prescription Error, Pharmacy Negligence & Damages
Products Liability: Personal Injuries Caused by Defective Products
Vicarious Liability – Responsibility Flows Up
PERSONAL INJURY
Broken Baseball Bat Hits Fan: Spectator Injuries & The Law
Confidentiality Agreements in Personal Injury
Dog Bite Cases in Personal Injury Law
HIPAA: Authorizing Release of Medical Records & Personal Injury
Independent Medical Examination in Personal Injury: the "IME"
Initial Consultation: Personal Injury
Injury Cases: 10 Reasons Not To Do It Yourself
Liability – No "Guilt" or "Innocence"
Life Expectancy Tables In Personal Injury Cases
Massachusetts PIP – Personal Injury Protection
Mitigation of Damages in Personal Injury
Never Give "Statements" in Your Injury Case Without An Attorney
Personal Jurisdiction Out of State
Preexisting Injuries and Conditions
Settlements are Forever – A Full Final Release is Eternal
Snow and Ice Personal Injury Cases
Supplemental Needs Trust & Personal Injury
The Truth About The McDonald's Hot Coffee Case
Video Surveillance: Used Fairly to Kill Personal Injury Cases?
PERSONAL INJURY QUESTIONS
Can a Personal Injury Case be Reopened After Settlement?
Can Recreational Use Statutes Stop Personal Injury Claims?
Car Accident Claims Are Simple, Right? How Can There Be Hidden Perils?
Does Open and Obvious Defense End an Injury Claim?
How Are Personal Injury Claims Investigated?
How Can Waiting to File a Personal Injury Claim Hurt?
How Do You Prove Lost Wages After an Accident?
Is There Tax on Personal Injury Settlements & Awards?
Slip And Fall Cases: What Is Mode Of Operation Law?
What Is My Personal Injury Case Worth?
Why Do Personal Injury Claims Take So Long?
PRIVACY RIGHTS
Is My Privacy And Security Protected If I'm In A Lawsuit?
Sony Hackers: Crushing a Movie and Exposing Private Information
Surveillance Cameras: When Do They Violate Privacy Rights?
PROPERTY LIABILITY
Negligent Security: Property Owners Liable For Security Failure?
Premises Liability Law and Injuries
Property Dangers: Premises Liability
Uninsured Motorists: Car Accidents with the Uninsured & Underinsured
THE INTERNET
Be Careful With Internet Postings
The Yelp Bill & Prohibiting Bad Reviews Online
WORKER'S COMPENSATION
Lots of lawyers blog.  Others don't, thinking they're 'above it all'.  What distinguishes this blog is our goal of keeping it relevant and readable, with as little "legalese" as possible.
You can be a part of our legal blog by sending questions through our contact page or our apps.  You can also comment on any blog article by simply writing your thoughts in the data field below every blog article.
The way I look at it this is just a start.